Yoga saved my life. I was depressed for decades. Sometimes the black dog still bites me. If it wasn't for yoga I wouldn't be here. I owe my life to yoga. So the purpose of yoga for me is to help diminish suffering for all sentient beings. I love handstands and the physical experience of yoga, but all of that is impermanent. I'm dedicated to being a Bodhisattva.
Ultimately, I want freedom from Samsara – from the cyclical suffering of life. Moksha. I have unshakable faith in the path. I practice to attain sanity in a sometimes very difficult world.
An important part of my spiritual path is travelling to sacred sites. My sadhana has been a pilgrimage through India and the Himalayan regions to have darshan with places, deities and yogis. The act of seeing and being seen. Ultimately, I found the outer and inner guru. The energy in these holy places helps me to cultivate Bhakti devotion towards others and feel connected to the planet. Without devotion there is no path. My yogic journey has led me from darkness to light, healing existential wounds and giving me true meaning in my life. Let me take you to the spiritual heart of the practice.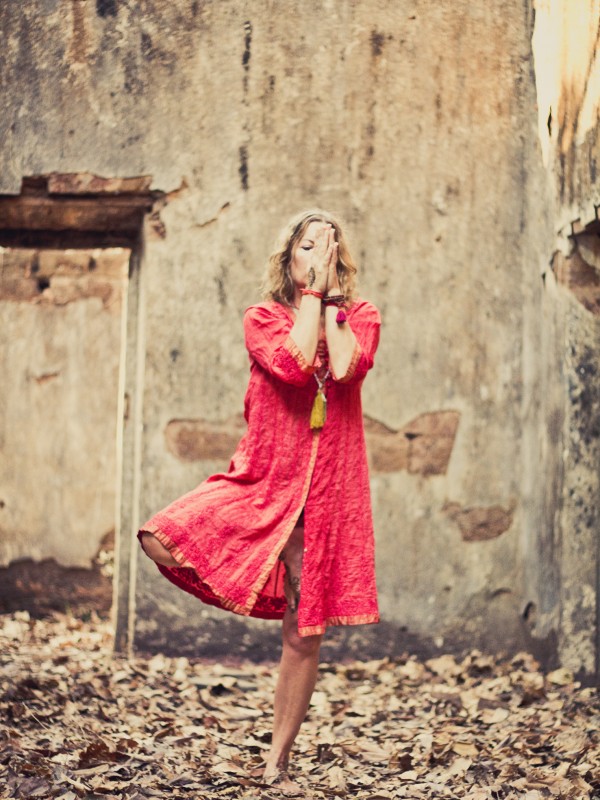 Chakra Savasana
Be guided by Heather Elton through a deeply relaxing Savasana that slowly moves through the chakras as you feel yourself letting go of tension, worry and stress.