Travel by luxury jeep, and take short day hikes, through a spectacular high-altitude desert,
surrounded by snow-capped peaks, dotted with colourful prayer flags, chortens and Buddhist monasteries.
Follow the steps of Padmasambhava through a mythical landscape to Ghami where he slew the Naga demon
Marvel at the mystic caves on the face of steep caves and the deep gorges of the Kali Gandaki river valley
Spin Tibetan prayer wheels, meditate in a Milarepa cave, visit 14 CE Buddhist monasteries adorned with wall paintings drawn with hues of turquoise, malachite, cinnamon and gold
Relax in charming Tibetan-style rammed earth guesthouses and luxury boutique hotels with delicious Mustangi cuisine
Deepen your yoga practice and learn about Buddhist dharma in one of the last authentic cultures on the planet
The Last Forbidden Kingdom

What you'll experience
The Yoga Adventure in Upper Mustang takes you on an authentic journey into yoga practice, Buddhist dharma and Mustangi culture, in spectacular mountain landscapes dotted with colourful prayer flags, chortens and monasteries. We will wander through small villages with white Tibetan-style rammed earth houses in the midst of barley and buckwheat, and mustard fields reminiscent of early Tibetan medieval civilisation.
Upper Mustang is the Last Forbidden Kingdom, one of the most remote places in the world, and the gateway to the mysterious world of the old Buddhist kingdom of Mustang, also called Lo. Mustang only opened to travellers in 1992, so the kingdom has its own distinctive culture and rich traditions closely tied to Tibet. Mustang was a separate kingdom within the boundaries of Nepal until 1950. The Royal family still lives here. Being in the walled town of Lo Manthang, a Buddhist refuge, makes you feel as if all your worldly sufferings momentarily come to a standstill.
Mustang was part of South Asian Silk Road and the heritage path has been trodden by a great saint and yogis. Padmasambhava, or Guru Rinpoche, came through Mustang in 8 CE on his way to Tibet to spread Vajrayana Buddhism. It was here that he slew the demon responsible for destroying Samye Ling Monastery in Tibet. We will wander through this mythical landscape, along the Mani Wall at Ghami that said to be the demon's intestines, the Dakmar Cliffs stained red with blood, and to the oldest monastery in Mustang, Lo Gekhar, under which the demon's heart is buried. Lo Gekar is one of the most significant sites of cultural and religious heritage of Mustang.
We will travel in luxury jeeps, and take short hikes, through deep gorges of the Kali Gandaki river valley, surreal high altitude deserts on the edge of the Tibetan plateau with steep jagged cliffs sheltering monastery caves, expansive terrain stretching into infinite sky, to visit the royal palaces and dzongs of Tsarang (14 CE) and the fortified village of Lo Manthang (15 CE) adorned with exquisite wall paintings, old Buddhist thangkas, and manuscripts in silver and gold. Lo Manthang, a Buddhist refuge, makes you feel as if all your worldly sufferings momentarily come to a standstill.
The thread of this unique Himalayan pilgrimage is the Yoga and you will practice daily meditation, pranayama and asana, as well as receive Buddhist teachings continuously as we travel to sacred sites in Mustang.
Buddhist holy places are charged with divine presence. They are the abodes of the Gods. These mysterious power places open up a space within us where we may connect to our own divine essence. Upper Mustang is a trip of a lifetime that will leave you feeling inspired, peaceful and serene.
The tour is open to all levels of yoga practitioner – yoga and Buddhist – and does not require previous experience.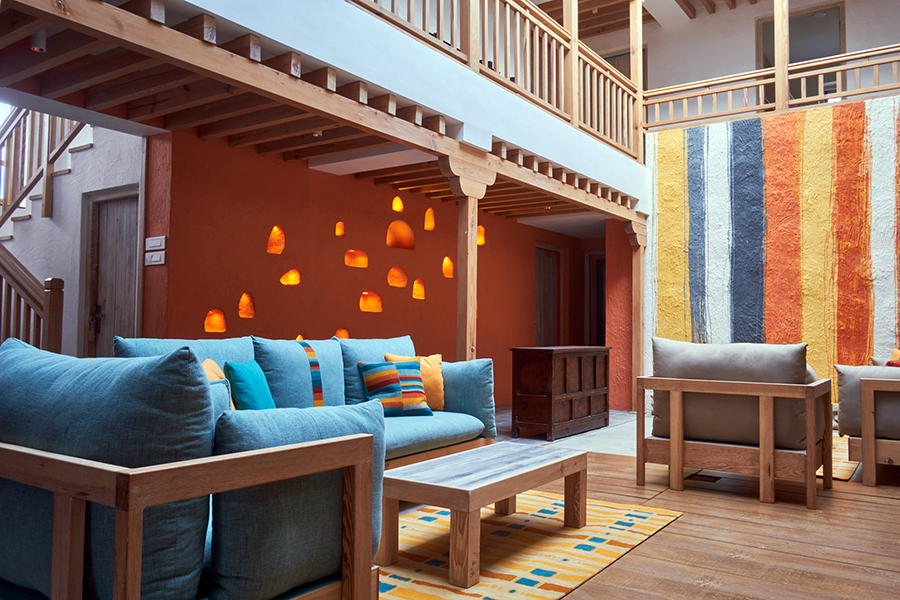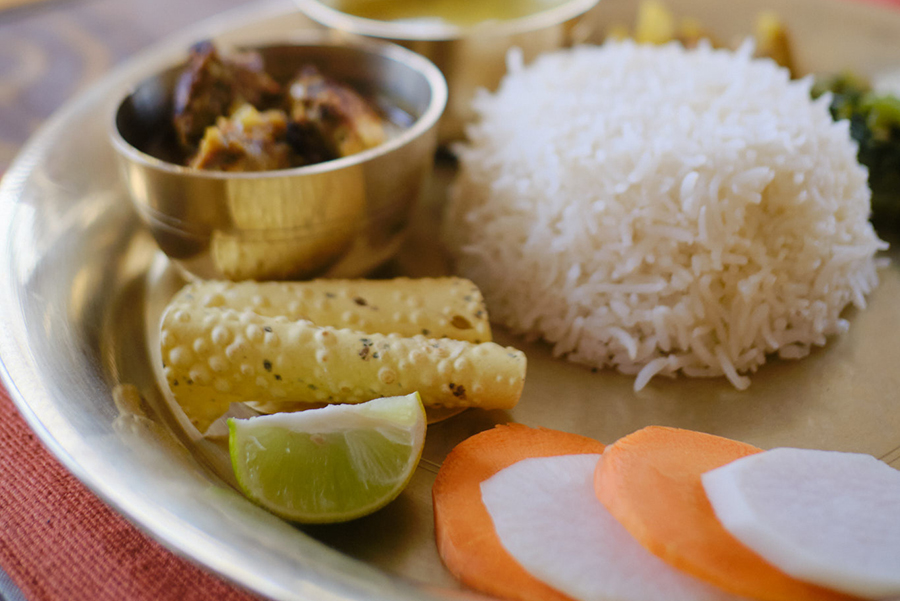 Where you'll stay
Once in Upper Mustang, we'll stay in five locations each offering a different aspect to Mustangi culture – Kagbeni, Chele, Ghami, Tsarang and Lo Manthang – where we will relax in charming Tibetan-style rammed earth guesthouses and a luxury boutique hotel, and enjoy delicious Mustangi cuisine after a full day of adventure.
Maya's Heritage Inn is a beautifully designed luxury hotel located in the picturesque village of Tsarang, surrounded by majestic mountains, wildflower meadows, pristine rivulets and blue skies and is a perfect place to relax, unwind and escape from their otherwise hectic and stressful lives.
In each location you will awaken to the peaceful sound of birdsong and awe-inspiring views of Himalayan peaks in these serene natural environments. We'll eat delicious local vegetarian cuisine, and dress and behave respectfully in accordance with local custom.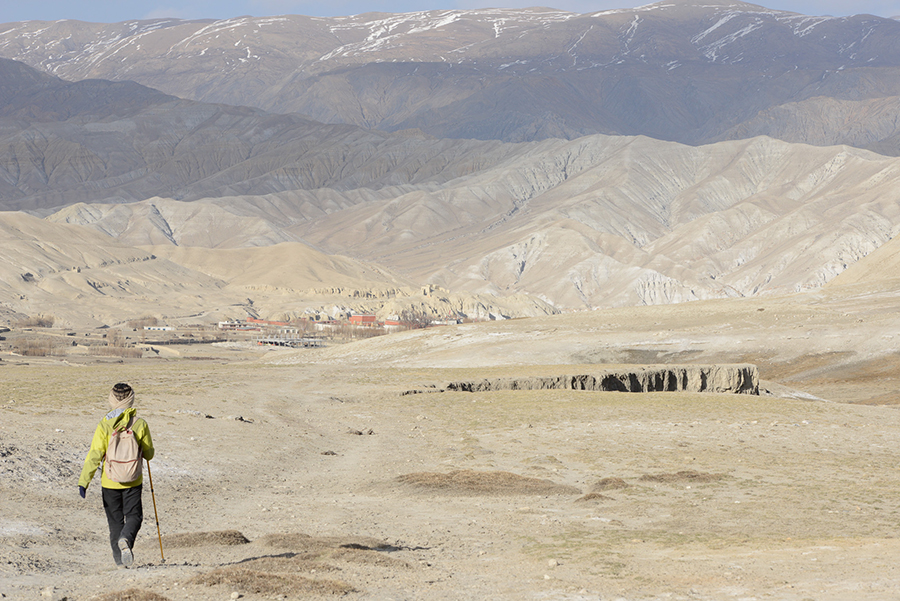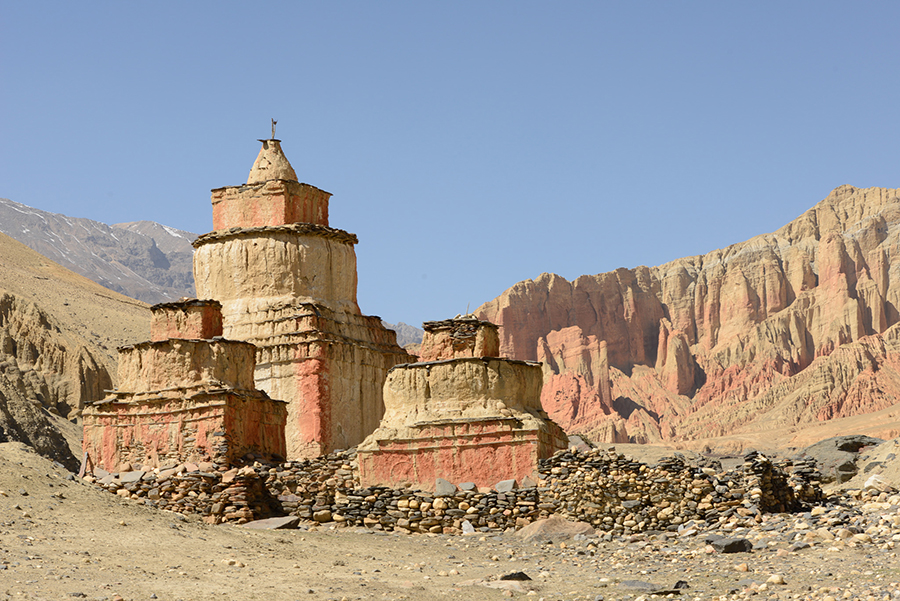 Is this experience for you?
If you're interested in yoga, Buddhism, Mustang or mountain culture, this Yoga Adventure is for you! It's great if you're interested in spiritual practice and have a regular asana practice, but beginner's are welcome too. Dharma practitioners, artists, sculptors, and photographers are all welcome. This adventure is ideal for yoga teachers who want to integrate yoga philosophy and texture into your teachings, or for academics and scholars who want to embody the theory into a living practice. You need to be fit enough to hike a couple of hours each day and to be comfortable with high altitudes. Mustang is on the roof of the world and we ascend to 3,820 m | 12,533 ft. A curious mind and a desire to experience the wider realms of yoga are essential.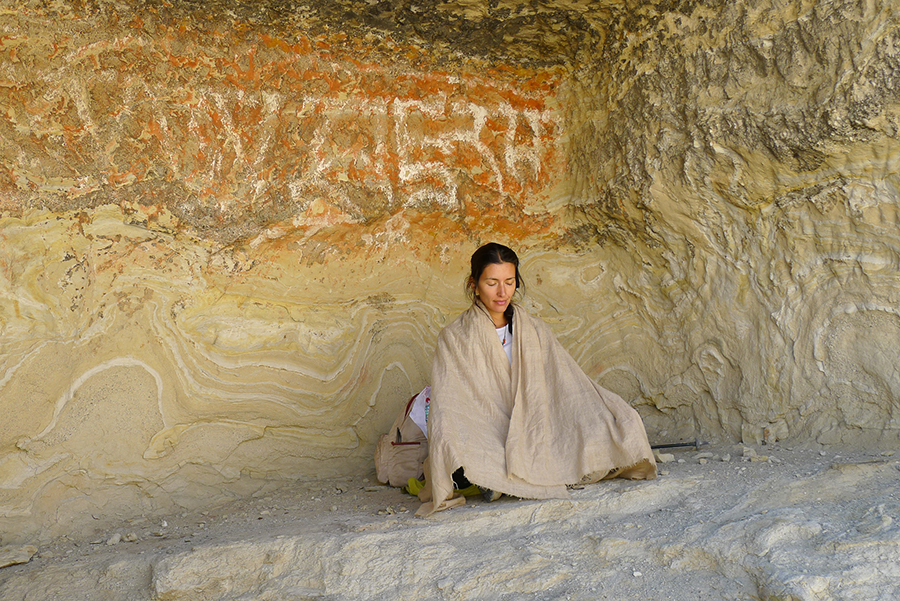 Heather Elton and has led international yoga retreats in India and Nepal for over decade. She believes the Himalayas are the most authentic places to practice yoga since ancient yoga traditions are still alive here. This realisation led to the creation of Himalayan Yoga Adventures in 2014.  Heather began her practice of Modern Postural Yoga in the 1986 and has taught yoga for close to 20 years. She is also a Buddhist practitioner and has travelled extensively in Himalayan regions.
Heather is the main teacher on the journey and teaches Pranayama, Meditation and Asana as well as Tools of Tantra, which includes includes basic techniques of spiritual practice: How to use a mala, recite a mantra, spin prayer wheels, experience darshan and learn how to enter a temple in a respectful way and what to do inside. Make an offering to the deity. Receive darshan, puja and blessings. Respectful conduct in the presence of realised beings.
Hatha Vinyasa Yoga is taught in a way that integrates ancient wisdom traditions with contemporary psychology into a mindful practice designed to diminish suffering in our lives.
For details about Heather see here

"The biggest highlight of my year"
"Thanks to you I experienced Nepal in all its beauty and devotional energy. Still remembering of the Durga temple at sunrise and the monks doing Puja. All the experiences on the road, the caves, Pashupati. All this was possible because you put the love into bringing us to this world you hold dear and for that I am thankful."

– Yessica Gallegos
"A great experience "
"Heather's knowledge of Nepal, the local people, and the entwined evolution of yoga, Buddhism and Hinduism, combined to form an amazing experience. She is also an excellent yoga teacher and accomplished photographer. We stayed in several different places and saw nooks and crannies you would never find on your own. I felt I really got to see some of the real Nepal as well as improving my yoga asana (from a very low base!) in its cultural context rather than a British gym."

– Mark Rowley
"Meticulous care with details"
"Every morning I found myself completely undone by the experiences; sharing meditative space with monks, journeying to sacred sites, conversing with Rinpoches, communing with Nath & Aghori yogis, and being on the pulse of true tantra in Nepal. The care that went into each component was so meticulously crafted. "

– Kat Owens
"The perfect balance of asana and philosophy"
"Heather is an outstanding yoga teacher who provides the perfect balance of asana and philosophy. She is authentic with a strong approach and style of teaching. Our group was a mixed level group and Heather excelled at teaching to all levels. She is concise, competent, and supportive yet firm. She created an atmosphere of trust and we all bonded as a group from the first day."

– Connie Muradyan
"Profound knowledge and teachings"
"Heather's precise details of the most basic yoga postures has given me a more conscious practice to become a better human being, which is always my ultimate goal. I loved her and had the chance to meet some very loving, funny and interesting new friends who I intend to keep in my life."

– Flavia Ambrosetti
"An extremely knowledgeable and experienced teacher "
"Heather single-handedly lead the group of 20-60 year olds, from first day beginners to qualified yoga teachers, into a varied and dynamic journey. We all gained insight from her yoga philosophy, calmed ourselves through her guided pranayama and I had some of the best yoga sessions of my life. No matter age, ability or experience Heather will guide you to peace on her yoga retreats."

– Ellie Roberts, Pyschotherapist, Oxford
"She speaks truth to what is"
"My yoga teacher has created an authentic yoga journey in Mustang. Go if you are called to explore the roots of Buddhism, yoga and meditation. Go if you are curious about what you are capable of reaching in this life. She is a true yogi, has dedicated her life to study and practice with gurus; she is the real deal when it comes to teachers who can facilitate spiritual growth and curiosity because she has first faced herself, she has looked inward and done the work for decades."

– Paula Cáceres
"Spiritually and physically restored"
"I will never forget my yoga retreat with Heather. There was incredible attention to detail and every corner of it was a haven. I met wonderful people and enjoyed stunning surroundings. I was a beginner and I fell in love with yoga, thanks to our expert teacher Heather, and I felt spiritually and physically restored. "

– Amrana Qureshi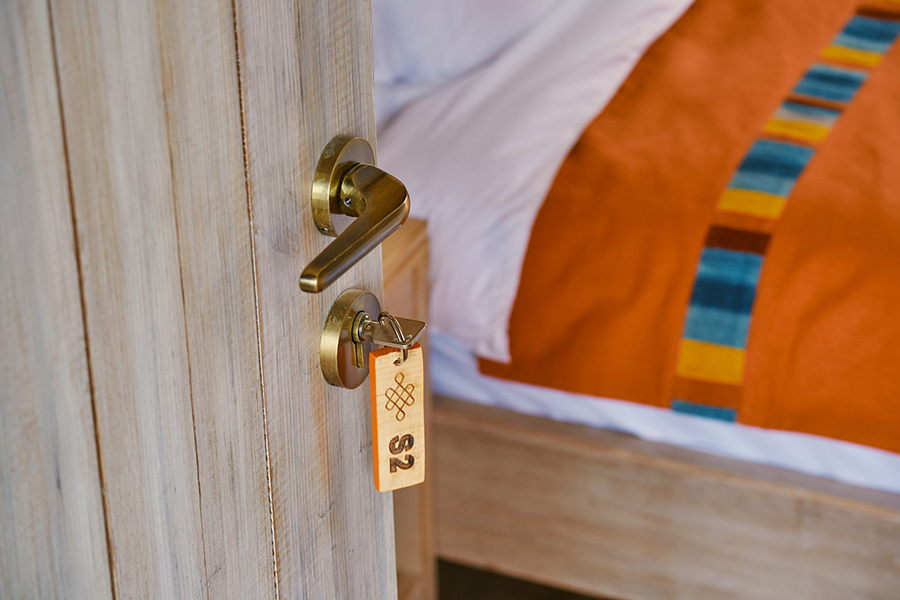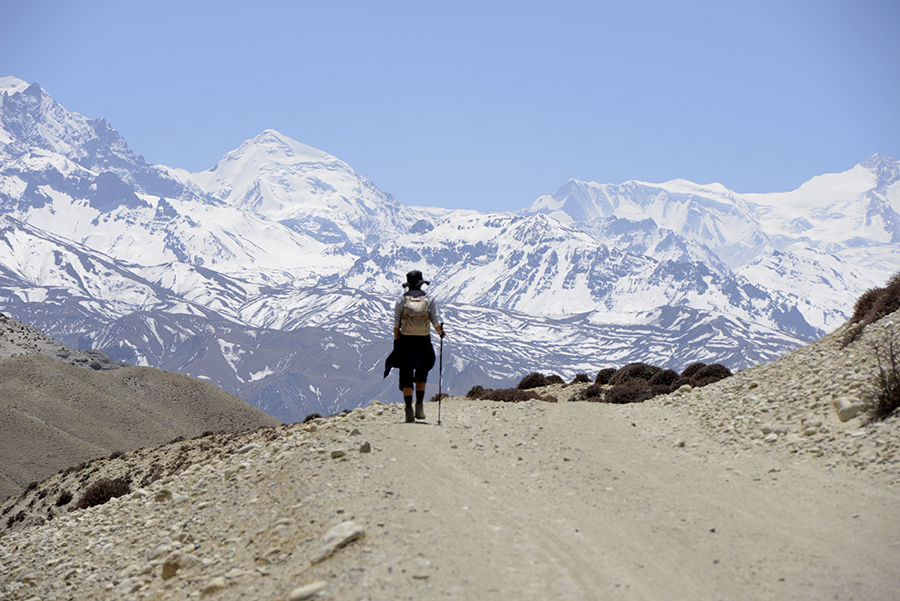 Dates: May 7–18, 2024
Cost: $3,500 USD
Single Supplement: $500 USD
The Yoga Adventure in Mustang is produced in partnership with Mustang Adventure Trek Pvt. Ltd in Kathmandu.
Inclusions and exclusions
Included in the trip
11 nights in handpicked heritage and boutique hotels; twin sharing room. Single supplement is available.
Domestic flights from Jomson to Pokara and Pokar to Kathmandu. (Domestic flight schedules may be delayed or changed without notice.) Also, note that domestic flights do not include the same baggage allowance as your international flight. Any extra baggage will be at your expense.
Three vegetarian meals per day
Assistance from arrival until departure
Welcome by your travel representative upon your arrival at the airport.
Daily meditation and yoga classes with Heather Elton (Please note that there are no proper yoga studios in Ladakh. We will do the best we can given the circumstances in each location.)
English speaking senior travel guide to accompany tour leader
Transfers from airports to hotels
Transport by luxury jeep
Entry fees for temples, monuments and museums
Heritage Walk of Lo Manthang
VAT included; GST as applicable
Not included in cost
Nepal Tourist Visa
International airport taxes
International flight
Medical or Travel Insurance (we always recommend)
Costs towards evacuation of customers for medical or any other reason
Expenses arising from unexpected fuel hikes, and any costs arising out of unforeseen circumstances such as bad weather, landslides, road conditions and any other circumstances beyond our control.
Any meals/services not mentioned above
Alcoholic drinks and machine-made coffee
Optional excursions or spa treatments
Personal expenses (telephone calls, laundry, shopping, massage etc.)
Personal items or souvenirs
Tips. Tipping is part of Nepali culture and are appreciated by Rinpoches, scholars, guides, drivers, waiters, etc.
Please note that it's recommended to book your return flight on May 20, or later, in case flights from Jomson or Pokara are cancelled due to weather.
Mustang Adventure Trek Pvt. Ltd and Heather Elton Yoga reserve the right to change, alter or cancel a trip due to any reason which might not be in the best interest of your safety, like dangerous water levels, landslides and extreme weather conditions etc.