Visit the famous Tiger's Nest temple perched on a mountainside
Study pranayama, meditation and asana to stabilise your mind
Tools of Tantra: Learn how to use a mala, recite a mantra, make a bhakti offering to a deity, receive darshan and blessing
Have a traditional Bhutanese Khuney massage and Hot Stone Bath
Hike through ancient forests to visit Buddhist temples and dzongs
Camp under the full moon and make an offering at the Dakini Temple
The land of the thunder dragon

What you'll experience
The Yoga Adventure in Bhutan is the perfect opportunity to explore the land of the Thunder Dragon. It's an authentic journey into yoga practice, Buddhist dharma and Bhutanese culture situated in breathtaking Himalayan landscapes where you can relax in pure nature. The tour is open to all levels of practitioner – yoga and Buddhist – and does not require previous experience.
Journey through spectacular landscapes to visit impressive Buddhist temples and ancient dzongs, receive blessings from Rinpoches, meet local yogis, meditate with monks in monasteries, hike through first growth forests with views of the snow capped Himalayan peaks. We will wander through small villages, experience the gentle flow of rural life and meet friendly and hospitable local people.
The thread of this unique Himalayan pilgrimage is the Yoga and you will practice daily meditation, pranayama and asana, as well as receive Buddhist teachings continuously as we travel to sacred sites in Bhutan. Buddhist holy places are charged with divine presence. They are the abodes of the Gods. These mysterious power places open up a space within us where we may connect to our own divine essence. Bhutan is an inspiring destination that will leave you feeling nurtured, peaceful and serene.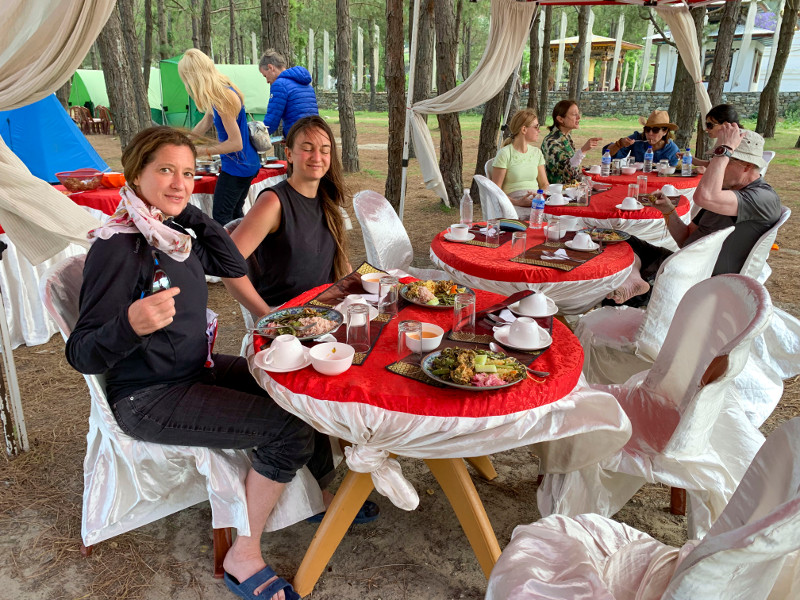 Where you'll stay
We'll travel in a luxury bus and stay in hand-picked hotels – stylish boutique resorts with luxurious spas, traditional rustic and charming Bhutanese guesthouses, and glamping under the stars. All hotels blend modern conveniences with traditional architecture and are situated in a peaceful natural environment. You will awaken to the sound of birdsong and awe-inspiring views of Himalayan peaks. We'll eat delicious local vegetarian cuisine, and dress and behave respectfully in accordance with local custom
Is this experience for you?
If you have an interest in yoga, Buddhism or Bhutan, this Yoga Adventure is for you! It's great if you're interested in spiritual practice and have a regular asana practice, but that's not a pre-requisite. The Adventure is open to everyone and all levels of yoga practice will be nurtured. You do need to be fit enough to hike a couple of hours per day. Dharma practitioners, artists, sculptors, and photographers are all welcome. This adventure is ideal for yoga teachers who
want to integrate yoga philosophy and texture into your teachings, or for academics and scholars who want to embody the theory into a living practice. A curious mind and a desire to experience the wider realms of yoga are essential.

Heather Elton and has led international yoga retreats in India and Nepal for over decade. She believes the Himalayas are the most authentic place to practice yoga. Ancient yoga traditions are still alive and practiced by yogis. There will be two yoga classes a day designed for all levels of practitioner.
Heather is the main teacher on the Yoga Adventure but you will also have encounters with monks, lamas and yogis. Heather teaches pranayama, meditation
and asana, as well as Tools of Tantra. Hatha Vinyasa Yoga is taught in a way that integrates ancient wisdom traditions with contemporary psychology into a
practice designed to diminish suffering in our lives. Tools of Tantra includes basic techniques of spiritual practice: How to receive darshan, puja and blessings, make a bhakti offering to a deity, use a mala, recite a mantra, spin prayer wheels, walk the Kora, learn how to enter a temple in a respectful way and what to do inside
For details about Heather see here.

"Only one problem! It was so good gotta go back."
"I have never before witnessed such a beautiful country. The Bhutanese people shine with the energy coming from the nature all around them. 10 days with Heather was a fantastic way to experience this nature, cultural heritage and religion, with clear perception from practicing yoga and meditation all the way."

– Pete Lausberg
"Bhutan with Heather was the ultimate life experience!"
"I felt fully immersed and it sunk deep into my heart to take back home. Heather and Sacred Himalayan Travel put on the most memorable visits and incredible picnic lunches… Bhutan is an exceptionally beautiful and unspoiled country, and Heather's knowledge and passion brings out the best it has to offer, as well as guiding you into a deeper practice of yoga, meditation and Buddhism. Thank you from the bottom of my heart Heather for organising such a magical and memorable trip."

– Varvara Dranidis-Morgan
"The perfect balance of asana and philosophy"
"Heather is an outstanding yoga teacher. She is authentic with a strong approach and style of teaching. Our group was a mixed level group and Heather excelled at teaching to all levels. I'm a yoga teacher and am very impressed with how Heather handled the group. By the end of the week, everyone's practice had evolved and deepened. She is open and friendly. Heather provided the perfect balance of asana and philosophy. Every thing she taught was relevant and interesting. Heather is an excellent instructor and she very quickly became familiar with each of us, our abilities, limitations and levels of expertise. She understands alignment principles and her adjustments were spot on. I really enjoyed the way she conducted each class and I particularly enjoyed the
sequencing. She is concise, competent, and supportive yet firm. She created an atmosphere of trust and we all bonded as a group from the first day. It was truly a memorable week."

– Connie Muradyan
"She speaks truth to what is."
My yoga teacher from Nepal has created an authentic yoga journey in Bhutan. Go if you are called to exploring the roots of Buddhism, yoga and meditation. Go if you are curious about where you are capable of reaching in this life. Go if you are seeking exploration outside of this modern, West, consumerist, white supremacist, patriarchal worldview. She is a true yogi, has dedicated her life to study and practice with gurus; she is the real deal when it comes to teachers who can facilitate spiritual growth and curiosity because she has first faced herself, she has looked inward and done the work for decades. She speaks truth to what is.
"A life-changing journey"
"I feel like this is the beginning of the rest of my life. I've taken that first, very difficult step, on a very long road. I'll be eternally grateful for the support and guidance you've shown me in making a life-changing journey."

– Sarah Osborne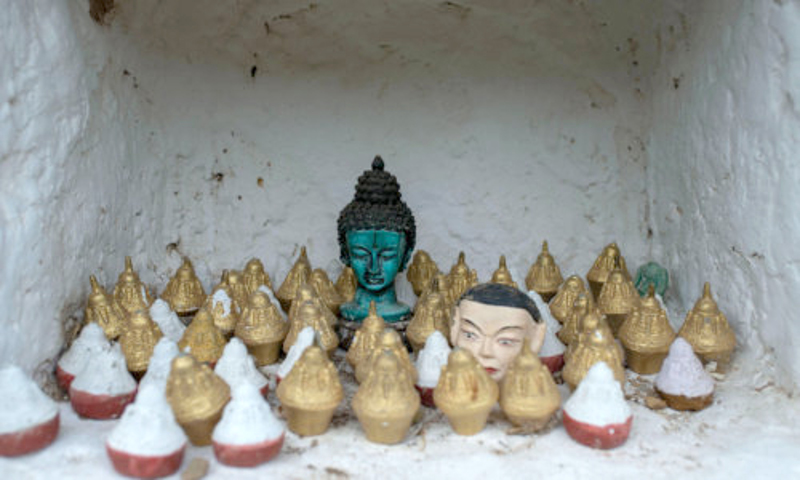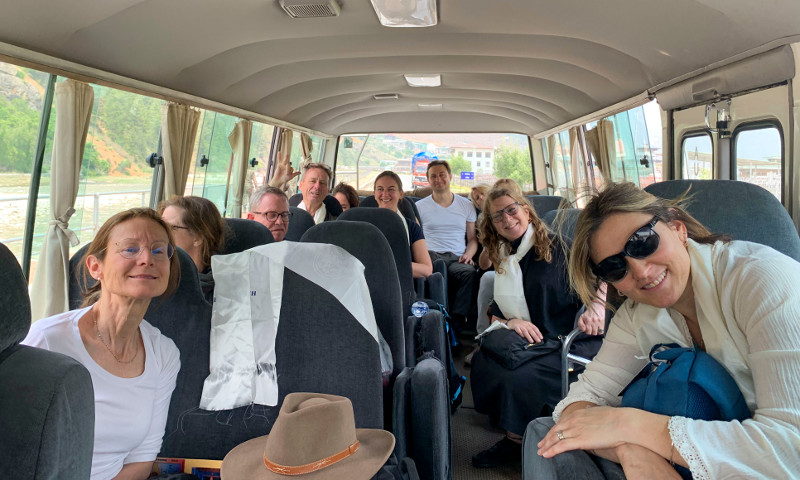 Dates: May 23 – June 3, 2024
Cost: $3,500 USD | $2,195 USD for Indians | $2,800 for Nepalis
(Note: SAARC price does not include domestic airfare.)
Single Supplement: $500 USD
Bhutan Yoga Adventure is produced in partnership with Sacred Himalaya Travel in Bhutan. Laxmi Sherpa is happy to arrange your international flights and further travels in Bhutan. Thanks to my long-term relation with Bhutan I'm able to offer you a significantly reduced price for this 10-day retreat while maintaining the quality, while still staying in beautiful accommodation.
Inclusions and exclusions
Trip includes
Return domestic flight from Paro to Bumthang
SARC price does not include domestic airfare
Bhutan Tourist Visa
10 nights accommodation in hand-picked 3* heritage and boutique hotels; twin sharing
Three vegetarian Bhutanese meals per day;
Mineral water, tea & coffee
Kuney massage and Hot Stone Bath
Transport by luxury vehicle in Bhutan
English speaking Bhutanese guide
All entrance fees at monasteries and museums in Bhutan
Bhutan visa, Bhutan government tourism royalties and local taxes
Yoga tuition
Trip excludes
International air fare
International airport taxes
Medical or Travel Insurance (we always recommend)
Expenses arising from unexpected fuel hikes, and any costs arising out of unforeseen circumstances such as bad weather, landslides, road conditions and any other circumstances beyond our control.
Any meals/services not mentioned above
Alcoholic drinks
Optional excursions or spa treatments
Personal expenses (telephone calls, laundry, shopping, massage etc.)
Tips. Tipping is part of Bhutanese culture and are appreciated by Rinpoches, scholars, guides, drivers, waiters, etc.