Boat-tripping through Myanmar's labyrinth of canals to visit cheroot factories, jumping cat monasteries, floating markets and the ancient archeological site of Indein.
Inle lake is 22km long and 12 km wide and situated in northeastern Burma. The lake is home to 17 villages on stilts that are mostly inhabited by the Intha people. There is no shoreline that you can walk around. The water gets shallower and the hyacinths and marsh paddies more dense until the obstacle course becomes unnavigable and you reach solid land.
I flew there from Bagan for $55 USD and took an hour cab ride to the village of Nuangshwe on the shore of the lake perfectly situated for leisurely boat rides and strenuous hikes in the surrounding mountains. It's one of the few places in Burma that exudes a backpacker vibe, evidenced by the number of inexpensive but comfortable guesthouses and restaurants specializing in spaghetti and pancakes.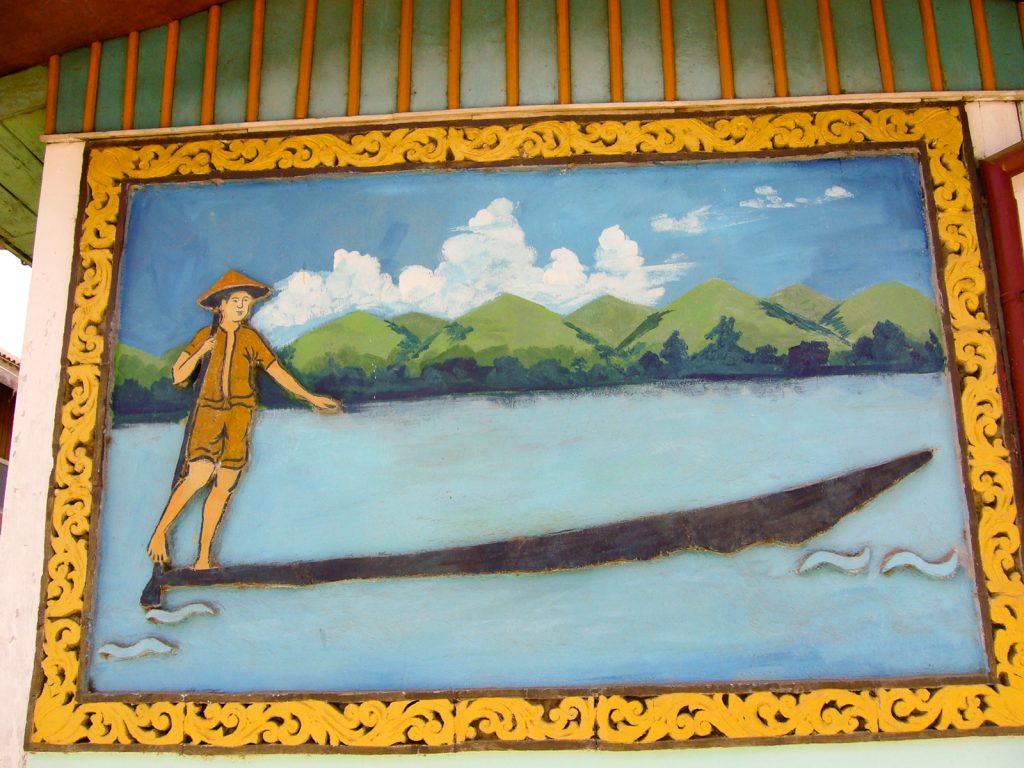 I settled in to the Inle Lake Guesthouse for $10 USD a night. It's one of the oldest and is largely built of teak. There is a lovely, shady garden area for breakfast, and cocktails where one can lounge on wicker furniture before dinner. A charming French couple, and another French man who was leaving in the morning to do some trekking in the surrounding mountains, were staying there. We had dinner in a great little restaurant where we ate fresh lake fish outdoors in candlelight before catching a shadow puppet play. One can always enjoy good food, conversation and culture with the French, even in the most remote spot.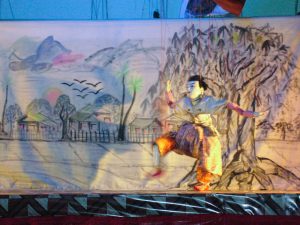 The puppet play was charming and performed by a family who had been doing this for three generations. They also studied Burmese dance, which they were more than happy to demonstrate, and so the puppets moved in that particular style. Lots of subtle arm/wrist/hand movements like Javanese and Thai dance. They also made puppets for sale. They had won awards for 'Best Puppeteer in Burma' in a national contest in Rangoon, but obviously found it very difficult to make a living as a puppeteer in Burma. The show cost 2000 byat (2 USD) a person, which was fairly expensive compared to what everything else costs in Burma.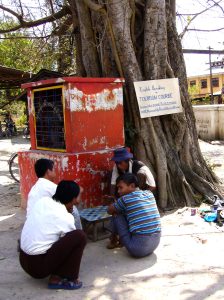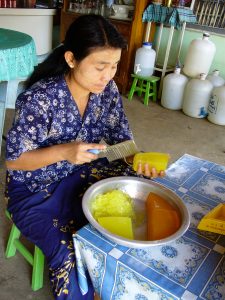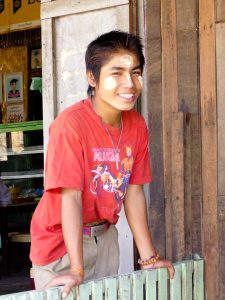 Nuangshwe is bustling, dusty 3-road town with lots of little shops selling Burmese necessities, strange medicinal products in pharmacies, clothing stores with colourful Shan handbags worn by the men, bicycle mechanic shops, and teahouses where people relax in the shade and play chess. It was much cooler than Bagan, but still in the mid-30s. People cook strange foods in giant woks outside restaurants; there were skewered chicken and prawn kebabs. I had a papaya lassi in a small teahouse and watched the passersby and listened to the monks chanting in the monasteries, the melodic sound broadcast on to the streets over loud speakers for Full Moon festival. I wandered down to the lakeshore to investigate the boat scene, as it was de rigueur to take a boat ride to villages along the lake. I found a boatman and agreed to take a trip the next day.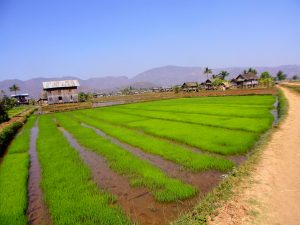 I spent the late afternoon in a wooden canoe enjoying a 3-hour sunset ride. A woman graciously paddled me down small canals and past rice paddies so I could see traditional village life. I visited a 'cheroot factory' where two women made cigars, people bathed in the water at the end of their docks, children played football, and we visited a 450-year old monastery that housed only one monk and was made entirely of teak. I was given a necklace made from a lotus flower. The bud opened the next day. I thought how much I'd like to do my ashtanga practice on the wooden floor. It was the most serene experience.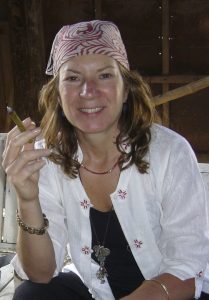 I met another French couple at the monastery and they invited me to join them on their boat in the morning. Also joining us was a somewhat debauched, pierced and tattooed Netherlander, Ingo, who built greenhouses outside Amsterdam and spent the winters touring South East Asia. At one point, when I'd forgotten his name I asked him again and this giant blond man turned around to face me, unfurled his lower lip to reveal a tattoo of the letters I-N-G-O. I swear his name has been branded into my mind for eternity.
I think he wished he were still in Thailand as he was bemoaning the lack of nightlife and sex in Burma. He was a good laugh; much needed comic relief.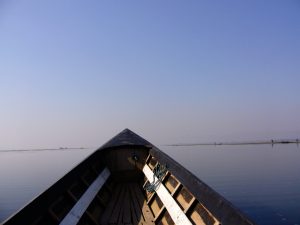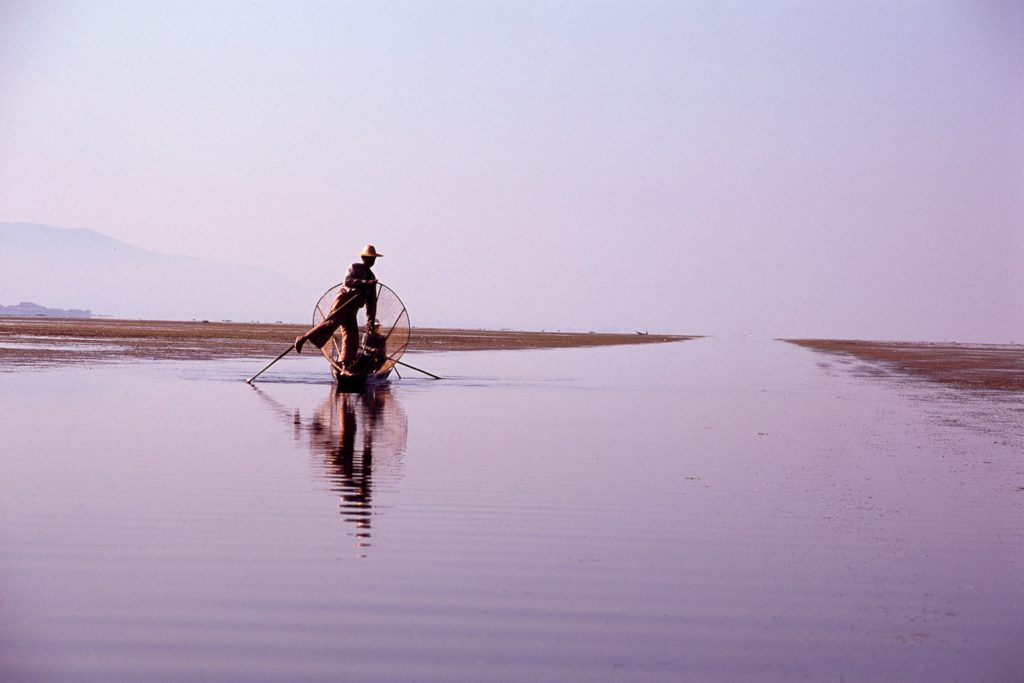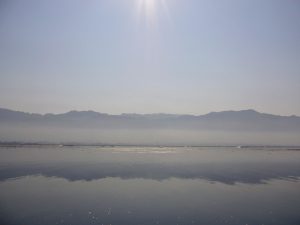 So we set out in a long motorboat at dawn to catch the traditional Inle Lake fisherman, who row their flat-bottomed wooden boats by standing at the stern on one leg and wrapping the other leg around an oar, a strange technique that offers relief to the arms, which are used for rowing for the long journey across the lake. They catch fish in cone-shaped nets. It's a tribal fishing technique specific to the people who live on the lake. Inle Lake at sunrise was one of the most sublime sights I've ever seen. The water was so still that it reflected of the mountains on the shore like a giant mirror. It was living metaphor of what the mind should be like in Buddhist meditation – calm and still- where all thoughts are suspended. The water was equally clear looking down and it was possible to see right to the bottom and the Hyacinth plants underwater that are harvested to make 'floating gardens' upon which villagers grow vegetables, fruit and flowers.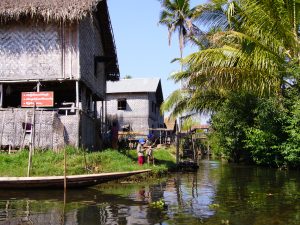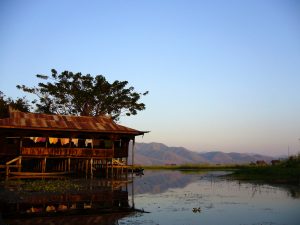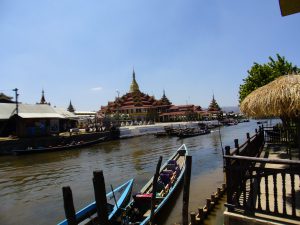 Our boatman took us along quiet canals where we saw entire villages of teak and bamboo houses built on stilts. We stopped at one obscure spot and walked beside rice paddies to a village market where tribal people were selling clothing and exotic produce, the likes of which I've never seen. I saw women dressed in their traditional black longyi, tunic and jacket with iridescent blue and pink piping, and red shawls on their heads. I bought an outfit as well as a plastic bag with a portrait of the Nobel Peace Prize winner, Aung San Suu Kyi, to put it in.
We visited a weaving factory where they made silk tapestries, shawls and clothing made from the lotus flower on wooden handlooms. We saw a silver factory where they made tiny fish with gills and segments in the body that created the movement of swimming. Lunch was had in a Chinese restaurant overlooking a canal. I had a cool and fresh coconut juice, in the husk, of course. Ingo had a beer. Then back in the boat, which at this point was very hot in the noonday sun and my French pals shaded themselves under umbrellas.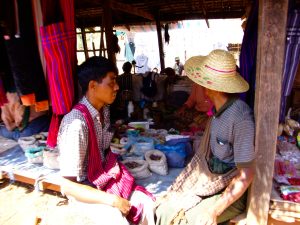 We saw water buffalos lounging in the river and a child crossing the river while standing on the back of these strange beasts! Inle Lake is a bird sanctuary so egrets, herons and warblers are a common site. There are expensive guesthouses on the lake, some for $200 USD. An hour later we were at the Jumping Cat Monastery where, sure enough, the monks had enough time to train their cats to jump through hoops. We went to visit the Padaung, Long Necked tribe, where women wore brass rings around their necks, elongating them into some ideal of beauty, but unfortunately they had gone back to their village for the Moon Festival. Eventually, we emerged from the winding maze of canals and dense jungle, and arrived at Indein, an ancient place with hundreds of weather-beaten, eroding pagodas. It was a 30-minute walk through a bamboo forest along the river to the site.
At this point, the heat was sweltering and Ingo told us he didn't like to walk much and was going to have a few beers in the shade. It sounded like a good idea to us, after all, it was our boat and we could leave when we wanted to. So we hung out under some banyan trees laughing at his stories and drinking cold cokes and beer, probably the two most refreshing beverages in the tropics. And certainly the only place I would drink coke. I asked him how old he was and, of course, he wanted me to guess, imaging him without his beer gut. I thought he was in his early fifties and was being kind by saying he was in his mid-forties. Turned out he's 36. I wanted to tell him to tell him about the benefits of yoga and how his lifestyle, and weight, would eventually take its toll on his body by the time he was 48, but decided to persuade him to join us on the walk to the pagodas telling him it would be a sight that would stay with him for life.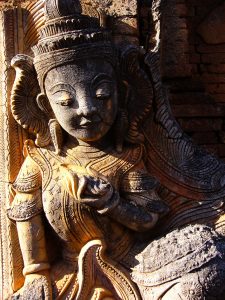 Soon we were immersed in small pagodas with Hindu sculptures on the outside and Buddhas inside. There were thousands of them, in Inle-style religious architecture with bells on top in various states of decay surrounding a monastery. I climbed a nearby hill and got a stupendous view of the sunset.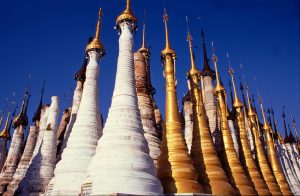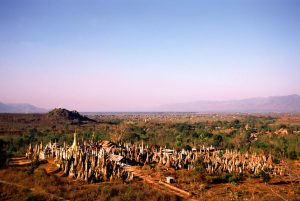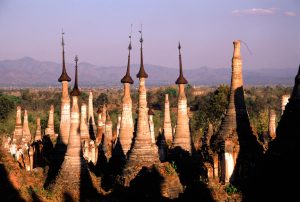 Ingo and I shared a taxi to the airport in the morning. He was flying to the Thai border where he could again reach 'civilisation' and find himself some lovely Thai girls, and I was off to Rangoon (Yangon) to book myself into a 10-day silent meditation retreat.
© Heather Elton