A spiritual journey, from the mat to the monastery and back again.
The Nepal TTC ran during monsoon July. It was warm and humid. Flowers were in full bloom. Torrential rain showers were dramatic. Clouds and mist allied for inner reflection and the contemplation necessary to absorb the content of the training to undergo a process of transformation. It's always a joy to be in residence at a monastery where we have the privilege to practice yoga in an exquisite shrine room with views to the Himalayas while the monks do puja.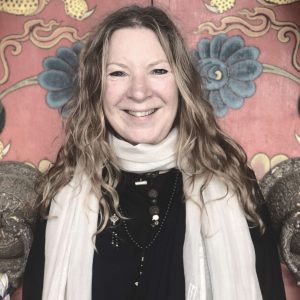 Riotous sounds of horns, cymbals and drums send dense vibrations through our bodies. Only on immersion trainings is it possible to practice Mouna and be silent each morning, to recite mantras and do Japa, counting each one on a mala, spin prayer wheels, practise Bhakti yoga and making offerings. All these things are part of the Tools of Tantra module that give people the skills to develop a spiritual practice. Of course, it helps that these precious practices are done by most Nepalis on a daily basis as part of their culture.
The 2019 Nepal TTC was the landmark 20th yoga teacher training that I've taught. The first one was in Goa 14 years ago. I added the urban, weekend London TTC 6 years ago and created the Nepal TTC after running a few Yoga Adventures in Nepal. My motivation for teaching TTCs is to improve the standard of 200-hour trainings and the quality of yoga teachers in general. I love to share my knowledge and passion for yoga. I began a practice of Modern Postural Yoga in 1986. After visiting India and Nepal annually for over a decade, my physical practice has deepened into a spiritual path. I take my students to sacred places and give them the 'Tools of Tantra' to begin their own authentic journey. Yoga is my life.

Graduate students Nuria Reed and Kat Owens joined me in Nepal to assist on the training. This is perhaps the highlight of the mentorship program. Each taught her own style of Vinyasa Flow while I focussed on breaking down individual asanas so they can be taught to beginners and less able people and giving the students vinyasa sequences to use as building blocks to create classes.
"Props help to perform the asanas with ease… The student understands and learns asana faster with props as the brain remains passive. Props allow us to unfold the space of an asana and acquaint us with certain asana that may otherwise be too difficult to practice. Props create understanding of the correct gesture (Mudras) and attitude (Brava) of asana. Props let us stay longer in an asana, thus permitting deeper penetration of unexplored bodily regions." – BKS Iyengar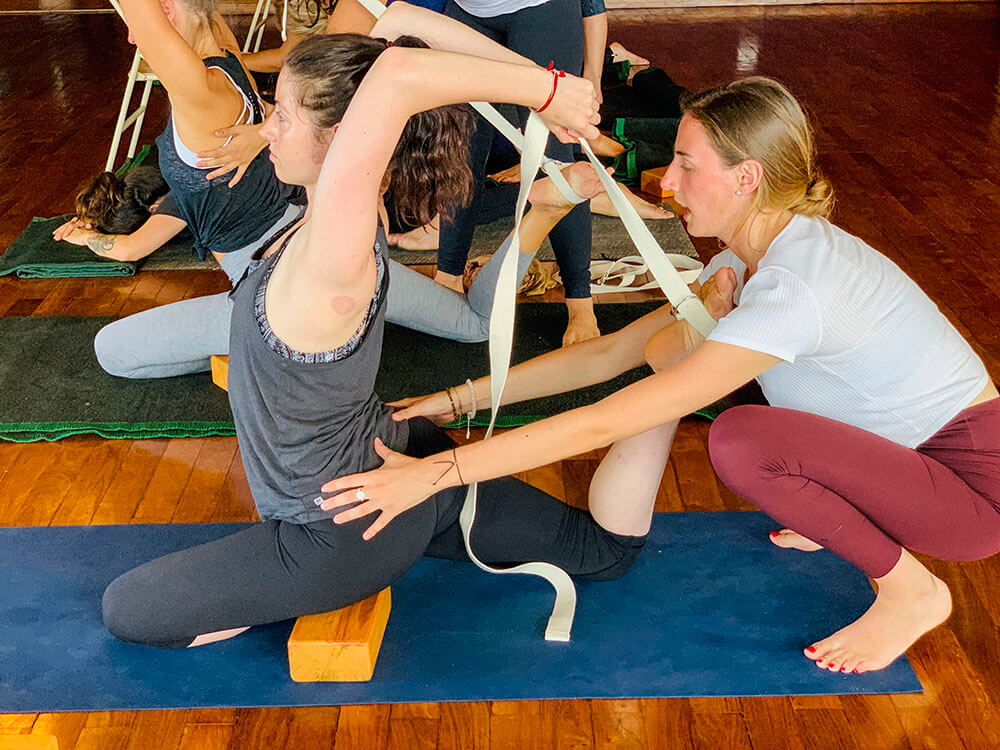 [metaslider id=6135]
Scroll through the metaslider to see more images.
I also teach how to use yoga props, including chairs and restorative yoga as a means to find emotional stability and help deal with anxiety and stress. Props also help us attain enough ease in the pose to relax and begin to use the asana as a place for meditation and a method for transformation of the mind.


Kat and Nuria their own unique voice and distinctive vinyasa style, yet there is a tendril that connects them back to me. Their classes were authentic, transformative, grounded and integrated in the same way mine are. They were also creative and fun. And thoughtful. I love how they include yoga philosophy to illustrate how the practice stabilises the mind, provides sanity and diminishes suffering. Nuria taught a Pelvis Workshop that took the students into a deeper place in their practice. Kat specialises in trauma-informed yoga. Both are super grounded individuals and solid teachers. I'm so proud of them and love where they've taken their practice.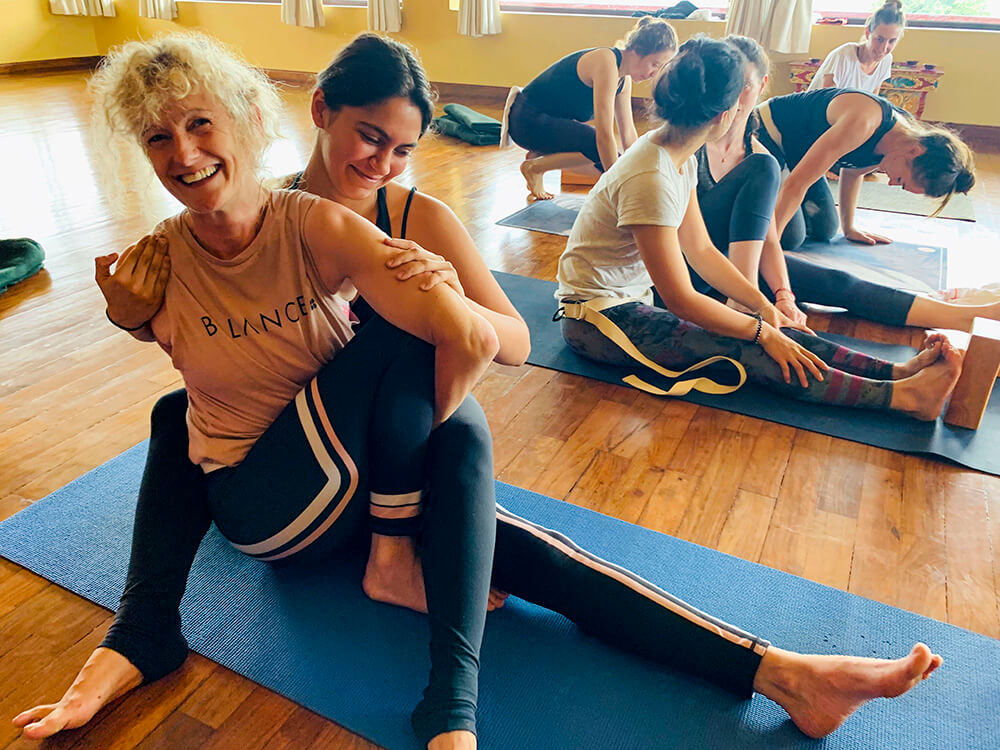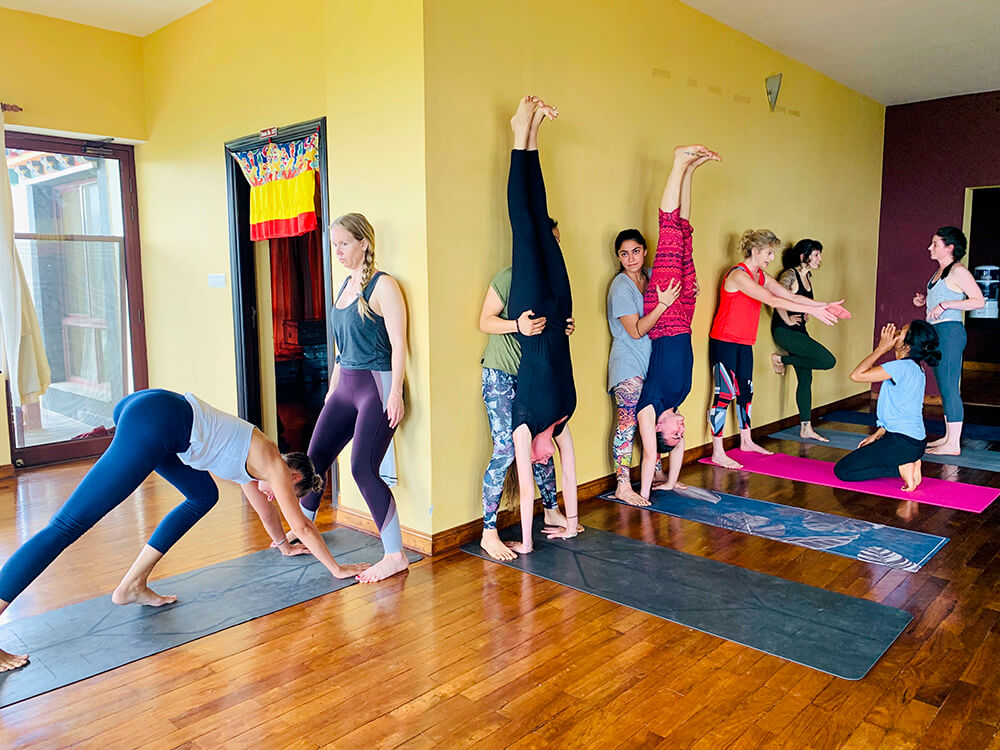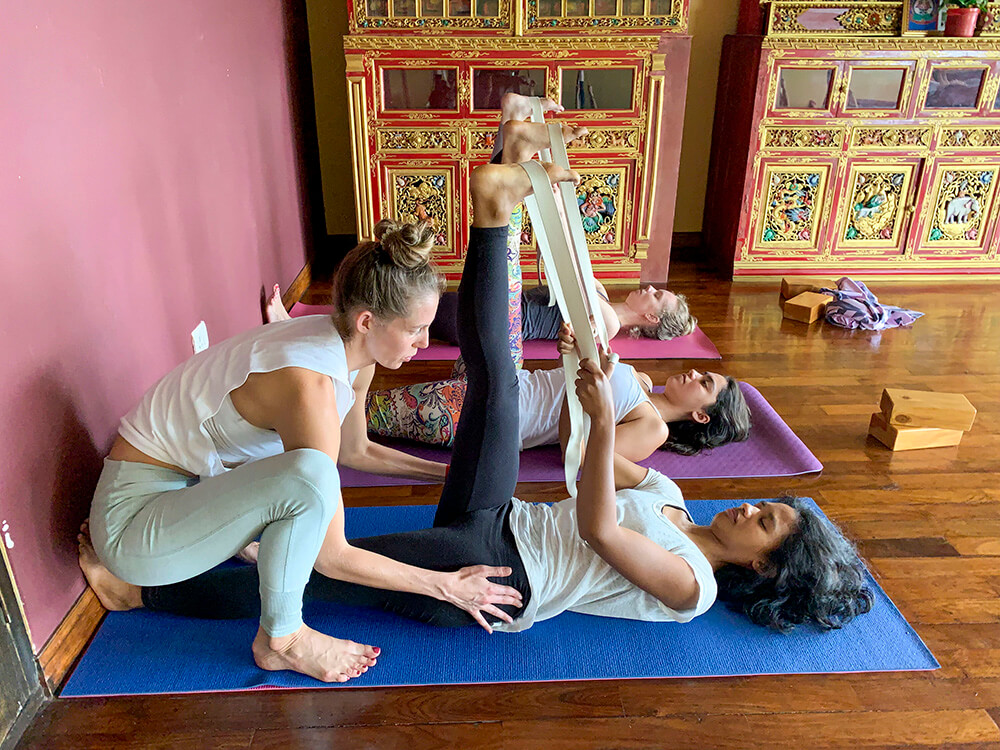 People tell me that they rarely receive adjustments in yoga classes. Perhaps the teachers haven't been taught how to adjust properly? OR perhaps 'touch' is too politically sensitive and people worry it will traumatise the students? Not sure. The abuse and sexual harassment stories surfacing in the yoga world, as a result of the #metoo movement, make it necessary for the entire subject to be reviewed. We attempt to teach adjustments from a trauma-informed perspective, asking for consent while believing that adjustments can be supportive and lead to transformation in the practice.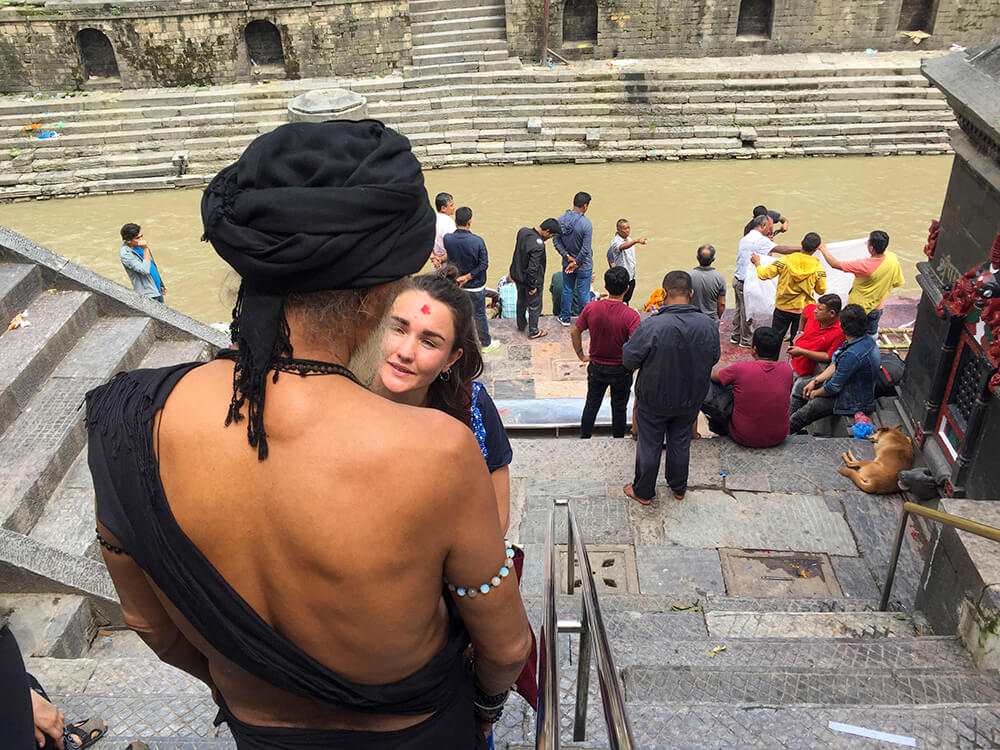 [metaslider id=6141]
Scroll through the metaslider to see more images.
The unique part of the Nepal TTC (and the one that is closest to my own heart) is the Philosophy on the Road module where students visit sacred places and learn the etiquette of entering a monastery, hang prayers flags, have darshan with a priest and visit the cremation grounds at Pashupati. Ruth Westoby joined us from London to teach Yoga Philosophy – a sweeping overview of the history of yoga from the Vedas through to the evolution of Modern Postural Yoga and the contemporary issues we face today. It's brilliant to actually study yoga in a place where some of earlier traditions of Hatha Yoga are still alive. We were blessed to have a tour of  Pashupati and a discussion of charnel ground practices with Maharaja Ishanath, an Aghori Nath yogi. Rawmess joined us for a workshop on mandalas and Nada Yoga, ending with a singing bowl sound healing treatment. Westin Harris, a PhD candidate, also joined us to discuss Buddhist Vajrayana and Hindu tantric practices. We also had an audience with a Khenpo from Shechen Monastery. I'm passionate about Yoga Philosophy and I'm delighted to be able to include such prestigious scholars and practitioners.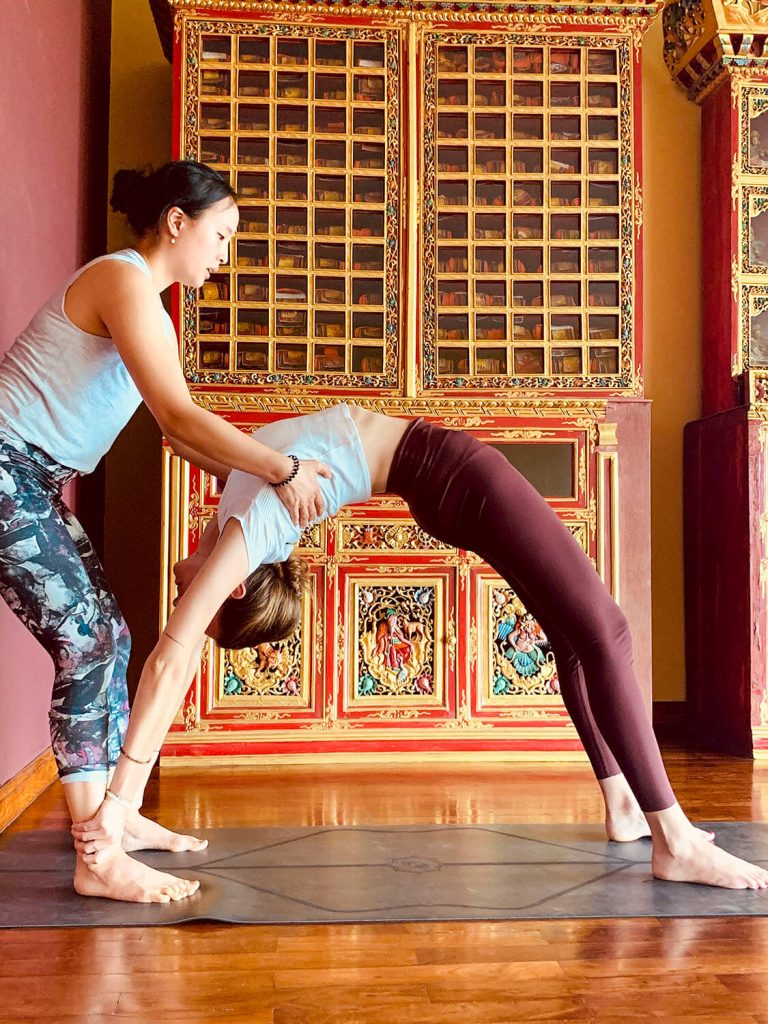 In the Practicum Module students practice teaching yoga. They practice sequencing and then teach a 10-breath vinyasa sequence, how to adjust 3 poses, and 3 asanas leading to a peak pose. I build extra time into this module because I want my students to be able to teach yoga. And to have the confidence to teach yoga upon graduation. Consequently, a high percentage of my graduates teach yoga full time and are doing really well.
After teaching twenty Level 1 (200 hour) Yoga Teacher Training programs, I've decided to make the next Nepal TTC a Level 2 (300 hours) for RYS 200 students. The training will run October 22 – November 21, 2020. Please contact me if you're interested in joining.