A visit to the ancient civilisation of Bagan with its 2000 Buddhist temples and pagodas that rise up from the dusty plains.
Myanmar is one of the most unique places in the world. It feels far away from the western world, beyond the insidious reach of globalization and Starbuck's corporate coffee culture. What I found was a place that time has forgotten, a poor rural country mired in the 18th century; a 'land of gold' that has faded into obscurity. Mind you it is 2007 and it's not on the tourist radar. There is much controversy about visiting Myanmar and Nobel Prize winner, Aung San Suu Kyi, asks tourists not to visit. Instead, I think this self-imposed exile from the western world by the draconian government can't be good for the people of the country. I decide to go as a conscious traveler and not patronize 'official government' hotels, but stay in local guesthouses, dine in local restaurants and give my money to the Burmese people. And try to show to the world what this magical place looks like.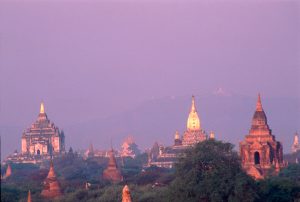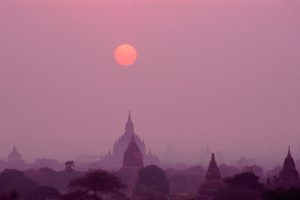 I fly from Singapore to Rangoon (Yangon) to arrive a shoddy airport with surprisingly lax security. The 'arrivals' building was anything but welcoming, while 'departures' looked like a temple with a roof of cascading carved wood painted in gold, as though we were encouraged to leave. I buy a domestic flight to Bagan and two hours later arrived in the ancient town on the banks of the Irrawaddy (Ayeyarwady) river.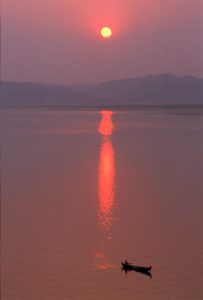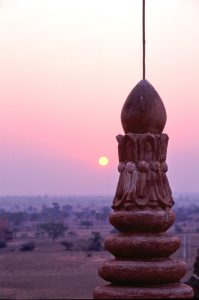 Bagan (Pagan) is considered to be the most impressive ancient civilization in Asia and has about 2000 Buddhist temples, pagodas and religious structures, some dating back to the 11th C.E. that rise up from the 42 sq km dry plain. There has been a settlement in Bagan since the 2nd C.E., but its 'Glory Days' were in 1054 when the Bamar king Anawratha rose to power, built most of the temples, and demanded the people shift from their Hindu beliefs to practice Theravada Buddhism. He reportedly had 30 elephants transport the ancient Pali Buddhist scriptures to the library in Bagan. It acquired the name, 'City of Four Million Pagodas', and became a pilgrimage site for Buddhists throughout Asia before going into decline and being ransacked and looted by Kublai Khan and his marauding Mongol gangs at the end of the 13th C.E.
I jump in a taxi with a lovely man who speaks some English and we head to a temple for sunset. The next day I hire him to take me to see the main sites. One can easily spend four days in Bagan and not see everything. U Bo Ni is a wealth of information and, by the end of the day, he seems to like me so much that he offers to be my guide for free. This is a good thing since Lonely Planet said it was possible to buy domestic flights on VISA, which turns out not to be the case, and suddenly i"m down 200 USD. Since there are no ATMs in Burma, or banks for foreigners to draw money, or anywhere to use VISA other than 5-star hotels that cost 160 USD apernight, I suddenly had to be very careful about my money. I discovered it was possible to live on 10 USD a day. I did find some money to give U Bo Ni.
Bagan is a dusty one-road town. It looks different today than it would have in its glory, filled with tens of thousands of people, and the greater parts of the buildings would have been made from wood or bamboo. These original structures have long since disappeared leaving behind a legacy of Buddhist architecture. Standing at the top of a pagoda at sunrise, or sunset, is sublime with the ghostly shapes of pyramid-shaped temples and bell-shaped stupas silhouetted in the pink glow. The plain is dotted with a plethora of structures made mostly of ornate brick masonry and decorated with stucco on the outside that mingles Hindu styles with local Buddhist imagery, with terracotta tiles and vibrant murals on the inside depicting the life story of the Buddha.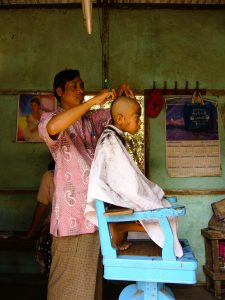 There are several great monuments, like the impressive Ananda Temple that dominates the plain with its golden Stupa illuminated by the sun. The tallest temple rises about 500 meters (1,500 ft). Pagodas are solid structures often containing 'relics' of the Buddha, or an enlightened monk, and have staircases on the outside leading up to terraces. Temples can be entered and most have four entrances, based on the four cardinal points, and open out symmetrically into entrance halls at the temples' axis that surrounds the central superstructure. In each vestibule is a Buddha, some rise up 9 meters (31 feet) and are made of teak and painted in gold leaf. There is a reclining Buddha over 18 meters (60 ft) in length. Visitors walk in a clockwise direction through the temples so one's heart is close to the Buddha. There are so many magnificent sites that it's easy to get completely saturated and exhausted. While there are some spectacular buddhas, there does seem to be an appalling lack of authenticity with some of the 'reconstruction' or 'renovation' of the temples and some of the buddhas have pretty poor paint jobs, and even worse, some of the ancient murals on the walls and ceilings have been entirely white washed.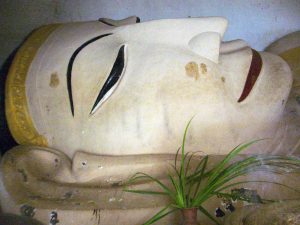 My friend in Singapore urged me to find the Burmese 'scene' and have some fun. There is no scene here other than locals hanging out in teahouses sitting on tiny plastic chairs with low tables as if they were children. There are definitely no stylish places, expect a few lush hotels on the banks of the Irrawaddy serving gin and tonics at sunset. The Burmese are not known for great cuisine, so typically the Italians have set up shop and are making excellent Italian pizzas is from a wood burning stove. I have lunch at a vegetarian restaurant, "Be Kind to Animals by Not Eating Them', which has wonderfully fresh food. I do try some lake fish and glutenous soups which were dreadful.  I stay at an old guesthouse, Thiri Marlar Hotel, with teak floors that serves breakfast – papaya and bananas with toast and coffee – on the terrace. An 'English' breakfast is also on the menu.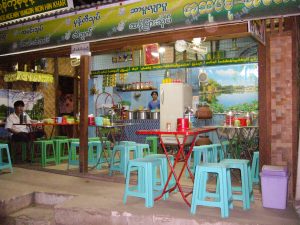 At 5:30 each morning I meet my trusty guide to visit a pagoda at sunrise. We take a horse and buggy for transportation as Bagan so vast and we spend the morning exploring a dozens of temples. By noon it is already 38 degrees, too hot to do anything in the afternoon but seek out an air-conditioned dark place away from the sun. I head I go back to my hotel. I find that if even a ray of sunlight falls on my body I feel sick. I've never been in this kind of heat and I don't plan on experiencing it again. When it cools off in the late afternoon I visit another 6 temples and climb to the top of a pagoda for sunset. March is the beginning of summer in Burma and temperature rise to 45 degrees by June. Most tourists vacate the country by early February. I understand why the British retreated to the coolness of the 'hill stations'.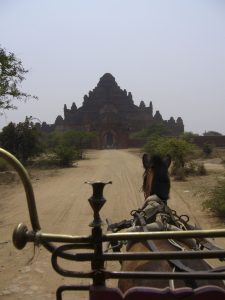 After a few days, I feel as if I'd gone to the end of the world and had been lost for months. There is no technology. Ancient computers. No roaming mobile service. In fact, mobiles are banned and the Internet rarely works. Transport is mainly on surprisingly nice bicycles from China, horse and carriage, oxen, a few dilapidated cars from the 50s, and every style of truck with antique motors on the outside and 25 people being jolted about on the roof. I meet tourists who took the train or bus from Rangoon, an described a hellishly hot 16-hour journey on road with horrendous pot-holes roads.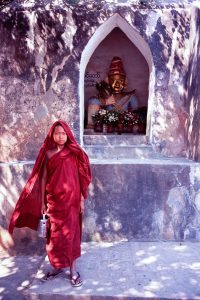 There are very few tourists. At most of the temples, and certainly the more remote ones I totally have the place to myself. At the more popular ones, suddenly busloads of mainly Germans and Americans arrive fresh off their luxury river cruise on the Irrawaddy to ascend the temple for sunset, only to be driven off again before the sky turns red and disappear into the night. They certainly were not to be seen in the teashops. I feel completely safe in this country of no prostitution or pornography (so different than neighbouring Thailand). There are no leering men and at no time was is disrespectful. I'm free to wander wherever I want, day or night. Bliss.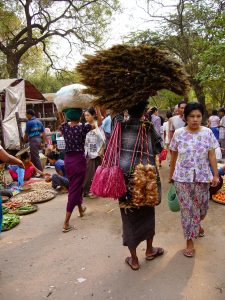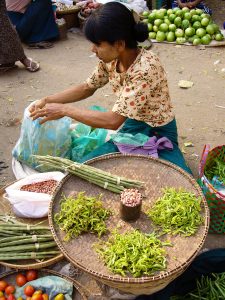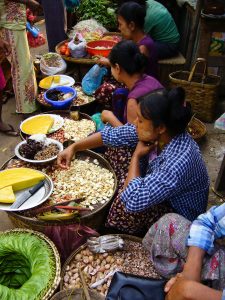 Bagan has an interesting market and indigenous people bring their wares in canoes each morning from across the river. Men and women wear long skirts, longyis, and the women wear short-sleeved tops. Women and children wear thanaka, a white paste 'make-up' to protect their face from the sun. People are desperately poor. Apparently, a hotel worker in Rangoon makes about 3 UDS a day. So, when I give someone a greenback to take a photo their face lights up with joy. Burma has about 33 different ethnic peoples and the look is very diverse. I love the clothes and the longyis and handbags are woven in beautiful  tribal textures. Food seems abundant and vegetables so strange I have no idea what most of it is.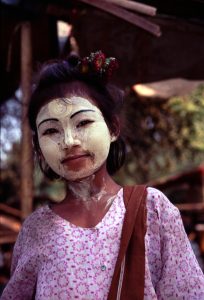 For a country under military siege I see surprising few police and no soldiers. It's totally unlike Venezuela with its seven different intimidating police forces, or even Sri Lanka with soldiers dressed in bright blue combat fatigues carrying machine guns. I gather their insidious presence is disguised in plain clothes. I don't ask about the political situation unless someone brings it up, for fear of making them uncomfortable. There are informants everywhere. I speak candidly to one woman about human rights abuse and she verifies that the government is murdering tribal people on the various borders, especially the Karen people next to Thailand. And they are dismantling the education system, something that used to be quite good. The military are educated in China and Russia and there is a deliberate plan to keep the people ignorant. Almost all the intellectuals and artists have left the country and there are no good jobs. She is an architect who builds schools in remote parts of the country. Many of those places are off limits to tourist.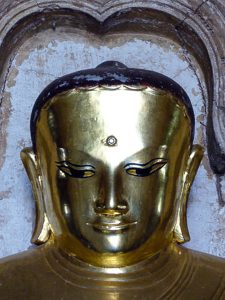 I guess what strikes me most about this desperately poor Buddhist country where people are struggling in their very difficult lives, is their willingness to smile and be helpful. I never hear anyone shout or be rude. They are gentle people. I'm so touched by the fact that almost all of them choose to smile. It is a small gift that makes them and those around them a little happier, even for a moment. And it is free! I've spent so many years wandering in an existential malaise, and even though people always told me to smile, and I thought 'no' I want to share my pain. Now, I finally 'get it' and am trying my best to smile at people even in the midst of their self-imposed road rage in London.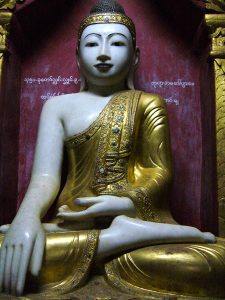 I journey a long way into the depths of my mind in Burma and come back feeling much happier and lighter. I realise how ungrateful so many people are in the Western world are, despite our privileged lives, and how we are the cause of our own misery racing after money and filled with such self-importance. I'm truly touched by the generosity and kindness of people living in really poor countries with nasty dictatorships. It's a serious wake up call for me. I guess that's why I like to travel – it takes me to a place outside of myself and out of my comfort zone, into a foreign place realm, where I can practice acceptance, patience and trust, and strive to become a better person. Burma is a magnificent place and I truly hope that Aung San Suu Kyi will be released and the brutal military regime will end.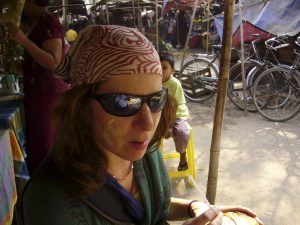 © Heather Elton