Living in a forest on a mountain in Uttarakhand, forest bathing, and spiritual practices to help to cope with lockdown in India.
Photographs and text by Heather Elton
SOME FRIENDS GRACIOUSLY OFFER ME THEIR COTTAGE IN UTTARAKHAND. I accept, wholeheartedly, as Uttarakhand was on the top of my list of places to visit when I arrived in pre-pandemic India. Late March, I fly from Goa to Delhi on Go Air. The flight is packed, few people wear masks and no PPE hazmat suits are offered, like they were Indigo Airlines. The female flight attendants are too timid to ask the men in the six rows behind me to wear their masks. Social distancing is a joke, especially when we are crammed into airport buses taking us to the main terminal. No Covid precautions are made on the part of Go Air. 
I arrive in Uttarakhand days before the Second Wave hits India. The Delhi train station is eerily empty. A pure bred Marwari horse take me up the mountain to my new home in the forest.
I arrive at 2:30 AM and take a taxi to the Ajmeri Gate entrance of the New Delhi train station. It's eerily empty. I'm the only person on the platform until my train arrives at 6:30 AM. And the Executive Chair Class coach also has very few people on the six-hour train journey to Kathgodam. Pavan, the local taxi driver meets me at the station and we drive another 1.5 hours to Matial in the Kumaon region of the Himalayan foothills. I anticipated feeling tired, not having slept all night, so organised a horse to take me the final stint of the journey up the mountain. The horse is a rare pure bred Marwari originating from Gujarat/Rajasthan, with ears that stand straight up and can, ideally, hold a piece of paper between them, so says my ex-Jockey pal in Mumbai. It's sturdy and was used by the British as a military horse when they occupied the Kumaon. Horses regularly work the path carrying supplies up and down the mountain. 
I'm living in a forest on a mountain. My house is bottom left and my Hindu family lives above. 
This remote corner of Uttarakhand is bordered by Tibet in the North, Nepal to the east, Punjab to the west and Uttar Pradesh to the south. Uttarakhand is divided into two sections – the Garhwal and Kumaon. The Garhwal is famous for The Beatles' 1968 visit, its numerous pilgrimage sites, as well as Rishikesh being a major yoga centre. The Kumaon region is more remote and was established around the 7th century. It was an independent and sovereign Himalayan Kingdom, home to various tribal people with ancestors from the pre-Rig Vedic Aryan tribes (Vedic Aryans also came to the Kumaon), until 1791 when it was conquered by the Gorkhas and merged with the kingdom of Nepal. Gorkhas ruled for 25 years, but poor administration and political infighting led to their defeat by the British in 1815, in the Anglo-Nepalese War. Kumaon was forced to cede to the British who administered the province for 70 years.
Kumaon is mentioned in the Skanda Puranas as the birthplace of the Hindu God, Vishnu. Kurm Avtar is the tortoise incarnation of Vishnu and the word Kumaon is derived from Kurmanchal. The Mahabharata sites it as the place where the Pandava brothers walked up Swargarohini mountain to ascend into the heavens. One of Shiva's residences, Adi Kailash, is here. The highest Himalayan peak, Nanda Devi, is thought to be Parvati in her icy, unmoving form, doing austerities for her divine consort, Shiva. Gautama Buddha's mother belonged to the original Koliyan tribe who can be traced back to the 5 BCE when they left their homeland on the banks of the Euphrates Valley to settle in Northern India. At the peak of the Katyuri Dynasty, the territory extended from Nepal to Afghanistan. They even invaded Tibet in the 10 CE and and captured Kailash Manasovar, the sacred mountain to Hindus and Buddhists. The people of the Kumaon are known as Kumaonis. They speak the Indo-Ayran language, Kumaoni, which is on the list of endangered tongues.  
Trishul Peak pokes its head over the clouds with Nanda Devi on the right.
In 1929, when Mahatma Gandhi visited Kumaon he wrote: "In these hills, nature's hospitality eclipses what all men can do. The enchanting beauty of the Himalayas, the bracing climate and the soothing green that envelopes you leaves nothing more to be desired. I wonder whether the scenery of these hills and the climate are surpassed, if equaled, by any of the beauty spots anywhere in the world. After having been nearly three weeks in Almora Hills, I am more than ever amazed why our people need to go to Europe in search of health." 
I look forward to visiting many places in the Kumaon, including Jim Corbett National Park which was established in 1936 to protect the Bengal Tiger and is the oldest nature reserve in India. I make do with reading Corbett's fascinating books like Man-eaters of the Kumaon and The Man-Eating Leopard of Rudraprayag until the Second Covid Wave is done ravishing India. 
Uttarakhand has gentle paths that criss-cross the mountains between small villages, through forests of Deodar Pine, Cyprus Fir, Rhododendron, Chestnut, Oak, Walnut, Plum and Apricot trees.
So here I am in the 'Switzerland of India' soaking up the romance, charm and serenity of the area. My little house is surrounded by forest and the outside terrance is the perfect spot to witness the sun disappear behind the mountains. Kumaon has a rich cultural heritage, unique handicrafts, sumptuous cuisine and magnificent wildlife. I rarely leave the mountain, except for weekly trips to local villages to stock up on food and supplies. Organic shops like SOS and Himjoli have high-quality local produce – Ayurvedic soaps and apricot oil, jungle honey, organic ghee, chutneys and pickles, alma, rhododendron and apricot juices, and Himalayan Gouda cheese. I Heart Cafe roasts great South Indian coffee. Himalayan Greens sells an impressive selection of live organic lettuces, rocket, basil, spinach, chard and cavala nero that I bring home and plant in the greenhouse. Kilmora makes beautiful shawls and clothes woven from wool and linen. I buy a kurta, a traditional Nehru vest and woollen socks, as it's damn chilly after Goa. 
As Covid cases increase and lockdown intensifies I no longer to leave my refuge. I'm well stocked up on staples – millet, amaranth, different kinds of rice, beans, dals and flours. I eat the local plums, peaches and pears, my leafy greens and forage for wild greens to embellish my meals. My Hindu family brings me delicious food. And my Green Chokrees pals have sent a care package from Goa. I've been taking immune system supplements of Vitamins B, C, D, Zinc and Himalayan Shilajit. I feel safe and prepared to wait out the pandemic for as long as it takes. 
Forest bathing has replaced my passion for swimming. I am truly blessed to be in such a magical place. John Muir,
the American conservationist, aptly said, "Between every two pine trees is a doorway to a new world."
Forest baths have replaced my passion for swimming. I walk along the beautiful trails criss-crossing the mountain between the small villages, through forests of Deodar Pine, Cyprus Fir, Rhododendron, Chestnut, Oak, Walnut, Plum and Apricot trees. Leopards, Kakar (Barking Deer), Yellow-throated Martens, Sambar deer, Kalij pheasants and Wild Boar make their home here, as do the numerous birds filling space with song. 
I encounter large, silver Hanuman Langur monkeys, some bigger than me. Twenty of them sit on a fallen tree and a dozen more play in the trees. I sit down and become very still to show them I'm not a threat. They are cautious but continue their grooming rituals and gorge themselves on fruit. It's incredible to share this environment with wild creatures. 
Brown Bandar monkeys visit me daily at the house. Locals throw rocks to drive them off as they eat the ripe fruit and destroy trees. My practice of ahimsa (non-harming) seems to be working as many sit in the trees around my patio watching me. I sometimes meet the mountain residents on my walks. A teenage girl, high up in an Oak tree, does an impressive balancing act, with two legs on separate branches, while slashing smaller branches with a machete to harvest leaves for her animals. I am truly blessed to be in such a magical place. John Muir, the American conservationist, aptly said, "Between every two pine trees is a doorway to a new world."
My plan is to stay for three months, until the Himalayan monsoon arrives and the forests become infested with leeches and thousands of beetles crawl out of the earth. I know this sounds crazy, but I have a phobia of large flying insects. Beetles, in particular, bring up primordial fear. I loathe the motion when they crack their wings, reveal the interior of their exoskeleton and take flight. I hate the droning, clacking sound as they fly and thud into my windows. My mind and body feel like they're breaking up in a spasm of inchoate movements. Adrenaline shoots up my spine, my muscles contract and my brain interprets this as 'fright.' I fear that I will lose control, go mad, flail about and injure myself, or others. Of course, this has never happened, but I have a powerful urge to escape. I simply can't relate to them and feel a tremendous sense of disconnection. My worst fear, more than Covid, is that a beetle will land on my face. I realise this is totally irrational, as beetles can't hurt me. Bottom line: I'm totally horrified at the thought of spending the monsoon with beetles. Projecting fears into the future is unyogic. In truth, I have no idea how long I'll be here. 
One of my favourite walks is up the mountain to the ridge (2100 m /7,200 feet) where people have walked for centuries.
One of my favourite walks is up the mountain to the ridge (2100 m /7,200 feet) where the paths have been rubbed smooth, bare feet treading memories into the earth through the centuries. I gaze at the endless sky, sit under very old trees, gnarled by the wind, strong roots allowing them to bend precariously on the edge of cliffs. They are silent witnesses to unfolding time and the changes to climate and humanity. 
A couple of days ago, I noticed a temple built into the side of a cliff, but couldn't find the route down. After sitting in meditation, a green leaf falls to the ground and reveals the path. The Himalayas are often filled with moments of magic, when a previously hidden place is suddenly obvious. It took many visits to Nepal before I saw all four Vajrayogini temples. And I walked past my guru's Shiva temple in Pashupati for four years before I finally met him. Each trip is a kind of passage and, if you go with humility, devotion and the right intention, sacred places will reveal a deeper aspect of themselves. I think of this as having darshan with a sacred place. In the Himalayas the landscape is often considered to be a manifestation of a deity. The mountain ridge can be seen as the graceful curve of Devi Durga's waist. Darshan means to 'see' and can refer to a place, a person, a point of view, or a deity. When you 'see' the deity (which is the goddess herself), the deity 'sees' you back, revealing your own true nature to your self. The guru lies within. 
The Himalayas are filled with moments of magic. A green leaf falls to the ground showing me the path to a small Durga temple built into the side of a cliff. 
I see a pair of shoes at the top of the path and take the steep descent to the Durga temple. A local family is gathered around the pujari who recites the Devi Mahatmyam in celebration of Chaitra Navratri. Durga is the fierce warrioress who rides into battle on a tiger, her eight arms holding celestial weapons, to defeat Raktabija, the blood demon, who has upset the order of the world. Think of him as Covid 19. (For a full account of the story, check out The Goddess Episodes on my blog.) Any practices that subdue wrathful demons are beneficial at this time. A beautiful young girl is here who is the Devi herself. She's doing a day pilgrimage to another Durga temple further along the ridge.
Baira Devi is one of the 64 yoginis and looks like many of the beautiful girls on the mountain. She embodies fearlessness and compassion. Durga,  the fierce warrioress rides her tiger into battle to defeat Raktabija, the blood demon, who has upset the order of the world. Think of him as Covid 19.
Baira Devi Mandir is set high on the mountain, surrounded by Deodar forest with views of Nanda Devi in the distance. She is one of the 64 yoginis; protector and nourisher, destroyer of evils. I circumambulate her temple that rests under an enormous rhododendron tree bestowing the Devi with luscious red petals. Baira Devi has white marble skin and is elaborately dressed in an orange and red dress adorned with sequins and golden borders. Black kohl smears below her eyes and strands of white pearls fall from her ears. She is looks like many of the beautiful girls on the mountain. 
Her left hand forms Abhaya Mudra – the gesture of fearlessness and compassion. Devi Durga sits on her tiger beside her. Outside are a collection of anthropomorphic stones symbolic of Nagas. Nandi and Shiva are close by. I kneel before the shrine to receive darshan. The pujari covers my Agna Chakra with red sindoor powder. As a throng of devotees approach, I jump on the tiger and ride back down the mountain. I feel her Shakti energy everywhere. She is in all the five elements (tattvas) embodied in nature. I feel her embrace as the wind caresses me, the spaciousness of the sky opens my mind, the sun is my tapas, her streams quench my thirst, and the soft, pine needle path opens like a mandala leading me to a pure land.
I find a large black scorpion in my kitchen sink. Wildfires are precariously close to my house. This is all part of getting out of my comfort zone and transforming my aversions to things I don't like.
It's not always blissful. I wonder if this 'back to nature' life is really for me. Last night, the red tongue of Agni (fire) licked up the mountainside devouring trees, flames leaping in the strong wind with a sinister cackling sound. A little close for comfort, but that's what the path is about. Getting out of the comfort zone. Transforming aversions. My projection that the fire might be more dangerous than it really is, is thwarted by the locals who assure me it happens every year. In fact, many of the fires have been lit by them. 
Intense thunder storms announce the arrival of monsoon, ice hailstones smash on the roof and lightning bolts illuminate my room at night. Wolf Spiders emerge from their nests in my house. Usually I leave spiders alone. I wish I could say the same about the large black scorpion in the kitchen sink. I have to see these encounters as an opportunity to dissolve fear, and change my perspective. Once, I was on a retreat with Dzongsar Khentsye Rinpoche in Mexico when a scorpion was found crawling on the ceiling. It was considered to be a blessing and removed it with utmost care, as if it were the great Tantric yogi, Padmasambhava, whose emanation is a scorpion. But these boundaries of inside/outside are getting more complicated. Even though I'm in a house, I'm sharing the environment with many jungle inhabitants.
For most of my life, whenever an insect enters my territory I've been trained to kill it. Before I can think, my habitual patterns take control and I grab the fly swatter. Now I'm trying to change my reactions believing that if I do my perspective on the world with become more inclusive and gentle. This is easier to do with creatures that we love, like dogs. So now, I'm trying catch and release technique with the insects and reptiles. And before the release to develop a bit of curiosity about this other life form. When our mind is a bit more open, our fear and insecurity diminishes and the experience isn't as disturbing. Our mind becomes less frightened. I'm hoping this strategy will dissolve my beetle phobia when they eventually manifest. 
Brown Bandar monkeys visit me daily hanging out in the trees beside my patio. 
Outside on the patio, monkeys like to sit on the adjacent trees and watch me. There is even a Blue Whistling Thrush, Chu Chu, that visits and eats rice out of my hand. When my focus moves away from myself towards another creature my innate curiosity arises and relationship begins. If I'm relaxed the bird prances on my hand. When I catch the moment of relating to the bird the tension in my mind loosens. I relax more and wonder what a bird's eye view the world looks like. These simple moments of beauty subtly change my tight perspective on the world, and the eons of fear and insecurity start to erode, and the vicious circle of the samsara of I-ness, and the disturbing emotions that create disturbing experiences fade. But then my mind shuts again.
The past month I thought I was living harmoniously with a small brown forest mouse – until it ate through two of my pashmina shawls. The worst thing is that I was lying in bed and heard a voice telling me that my shawls were in danger. I was too lazy to get up, and sure enough, the mouse had eaten through the folded fabric to make a comfortable nest for itself. Who can blame it? When I first discovered the mouse I banished it from the house only to discover it was back again. And again. It becomes a metaphor for the relentless habitual patterns in my mind; like a record player deepening the grooves of samsara on the vinyl. 
I don't want to get entangled in the life of this mouse that makes elephant-sized noises at night, gnawing through whatever obstacles comes in its way. After listening to it bash a walnut against the steel wardrobe and making such a racket I can't sleep, I crack open another nut making it easier to eat. I go into Covid central to buy stainless steel containers for my perishable food items and leave the cupboard doors open so it will stop gnawing its way out. In the mornings, I find it sleeping peacefully, under the sink, snuggled inside a plastic bag. But not any longer. Our life together is over. I catch it and return it deep into its forest home.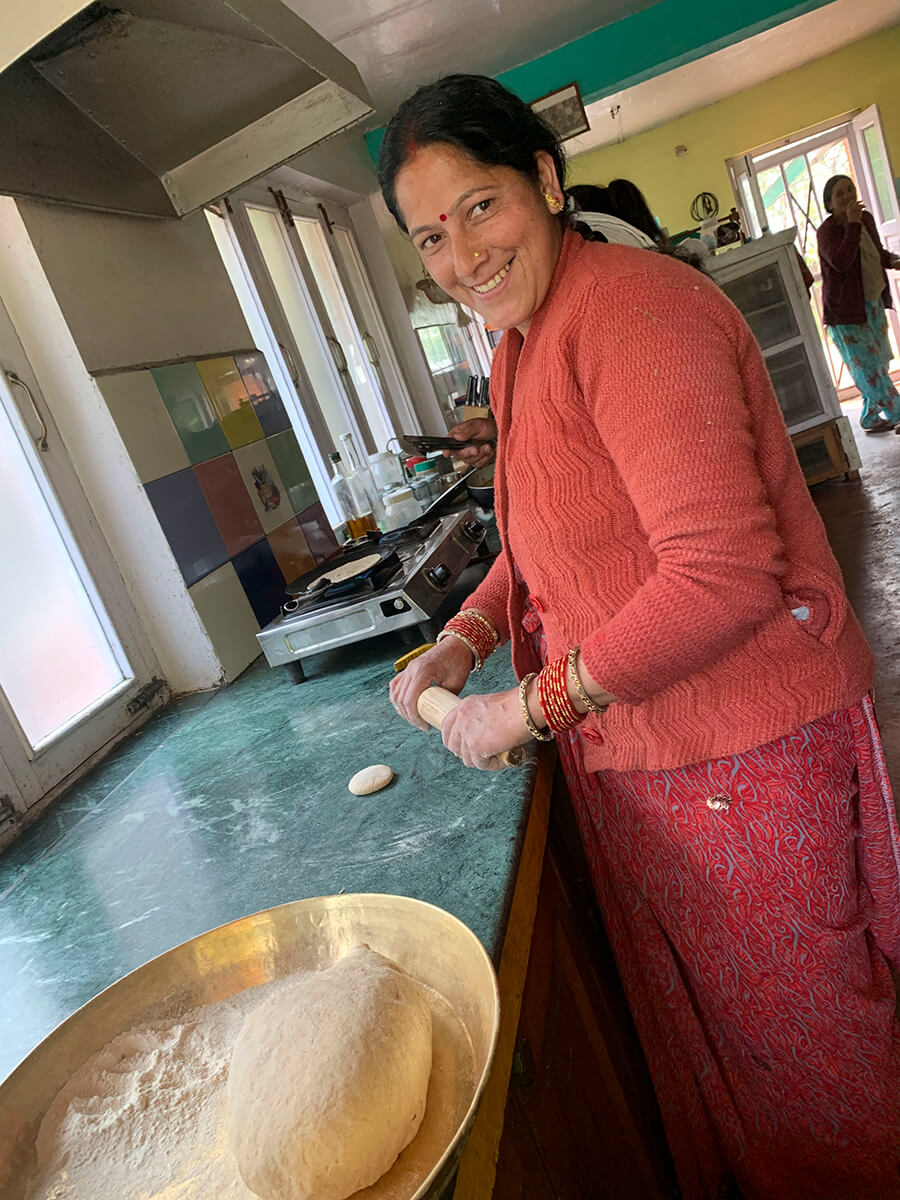 I'm not entirely alone. The folk who live on the mountain are Joshi Brahmans, old families with ancestors from Maharastra. The Hindu owners of my house are five minutes away. A warm and generous family (actually two separate, but related families) with five beautiful teenage devis, a 16-year old son and seven-year old Rudra. Diksha, a 19-year old, cleans my house and cooks wonderful chapatis and Indian meals for me. Champa brings me delicious homemade Indian food of Aloo Paratha, Pakoras, Poha, Channa Masala and sweet Kumaoni Maplua. Deepak is such a kind person that birds land in his hand. DD is a diligent farmer.  If anything were to go wrong, I'd feel safe in their care.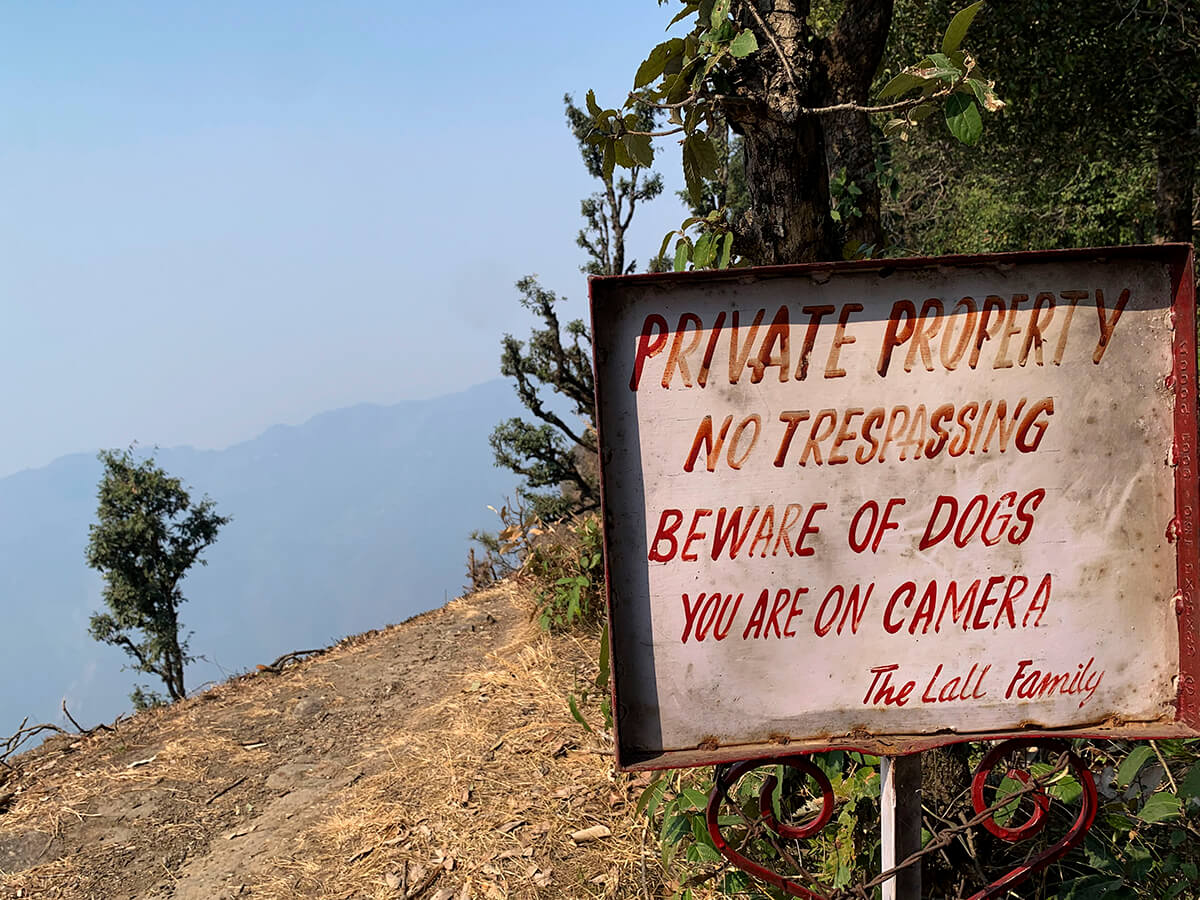 The Lall family lives on the top of the mountain, on 45 acres of densely wooded hillside, that they purchased over fifty years ago from the Stifles, a British family who lived here since the 1900s. Jilling Estates has five charming cottages that remind me both of prairie farmhouses and rustic ski lodges in the Canadian Rockies. They have a similar aesthetic filled with hand-made, vintage pinewood furniture from that era, and calming colours of sage green and yellow. A few families from Delhi have taken refuge here during the second wave of the pandemic.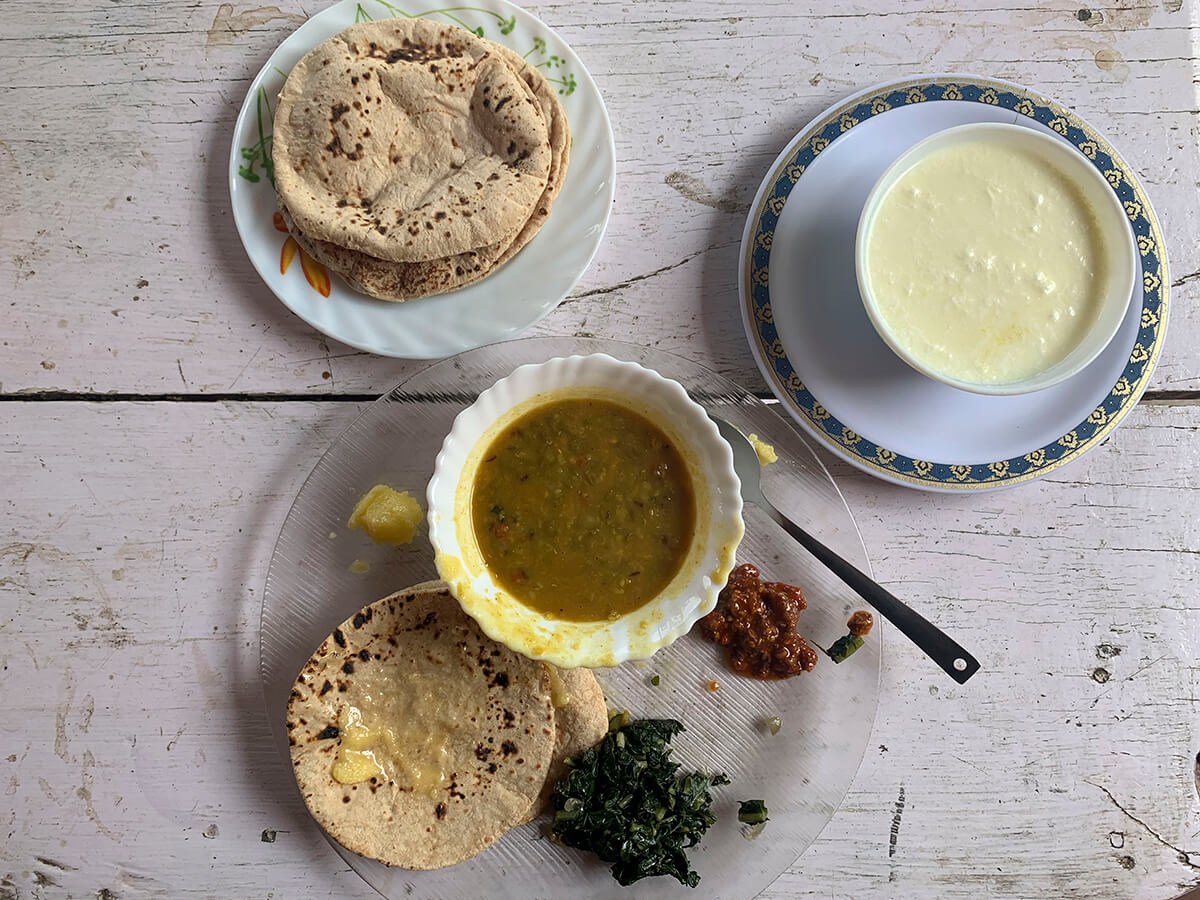 Heart-warming people and food. Fresh chapatis and Kumaoni cuisine at Jilling Estates.
Steve Lall, a self-professed rogue, now in his late 70s, is a local celebrity. I visit him and his family on Saturdays to drink bottomless cups of masala chai and filter coffee, and have super tasty simple hill food for lunch. Steve is an engaging raconteur and tells me about his childhood in Sikkim where his father was High Commissioner, growing up in a political family, education in Catholic schools, his time serving as a fighter pilot for the India Airforce, and riding his Enfield motorbike across India and the Himalayas. He remembers every song lyric and is a great singer and dancer. Today, we're listening to jazz and gazing out to the high Himalayan peaks, beyond the terraced property where his remarkable wife, Parvati, a true woman of the soil, works relentlessly in the fields, tends to her cows and goats, and looks after the guests. Daughter, Nandini, and granddaughter, have moved home from Delhi during the pandemic. 
Guests stay in charming, rustic cottages and enjoy fresh seasonal cuisine. 
Each cottage has a library of interesting books. I read Jim Corbett's Man-Eaters of Kumaon, John Keys The Great Arc about the mapping of India, and Charles Allen's The Buddha and the Sahibs, where I learn that not all people in the employ of the East India Trading Company were racist, greedy capitalists. I'm surprised to discover that if it weren't for the few luminaries in it's employ, who actually loved and dedicated their lives to India, that the country would not have a pre-Muslim history. It took centuries (largely due to the patriarchal attitude and lack of interest by their superiors in London and Calcutta), but it was mainly the Brits who excavated Buddhist sites like Sanchi, Bodhgaya, Ellora and Ajanta, etc. (sure there was looting with objects ending up in the British Museum, but had these not been taken they would likely have been destroyed by Muslims and Brahmins like so many others were). They also did restoration work, interpreted the letters on the Ashok pillars, connected the dots and put the legacy of Gautama Buddha on the map. And Lal is a historian of the Kumaon. There is never a dull moment in conversation. 
A harvest of ripe plums at Jilling Estate. 
Over the years, as more people came to Jilling Estates, and a tourism flourished in Kumaon, with it came opportunistic property developers, construction and environmental degradation. Recently, a billionaire from Delhi bought a large swath of the mountain and is constructing 40 houses on the water parched soil, with a golf course and helicopter landing pad. He hired 100 migrants from out of state to begin construction during the pandemic, and guess what, they brought Covid to the mountain. The Lalls are fierce defenders of their land, and daughter Nandini and her husband Kartik, who is a lawyer in the Delhi Supreme Court, fight legal battles to protect the environment. They oppose anyone cutting down trees and have planted more to ensure sustainable wilding of their property. While other nearby hills show the scars of development, the mighty trees of Jilling stand tall, as a testament to the Lall family's determination to protect the surrounding forests.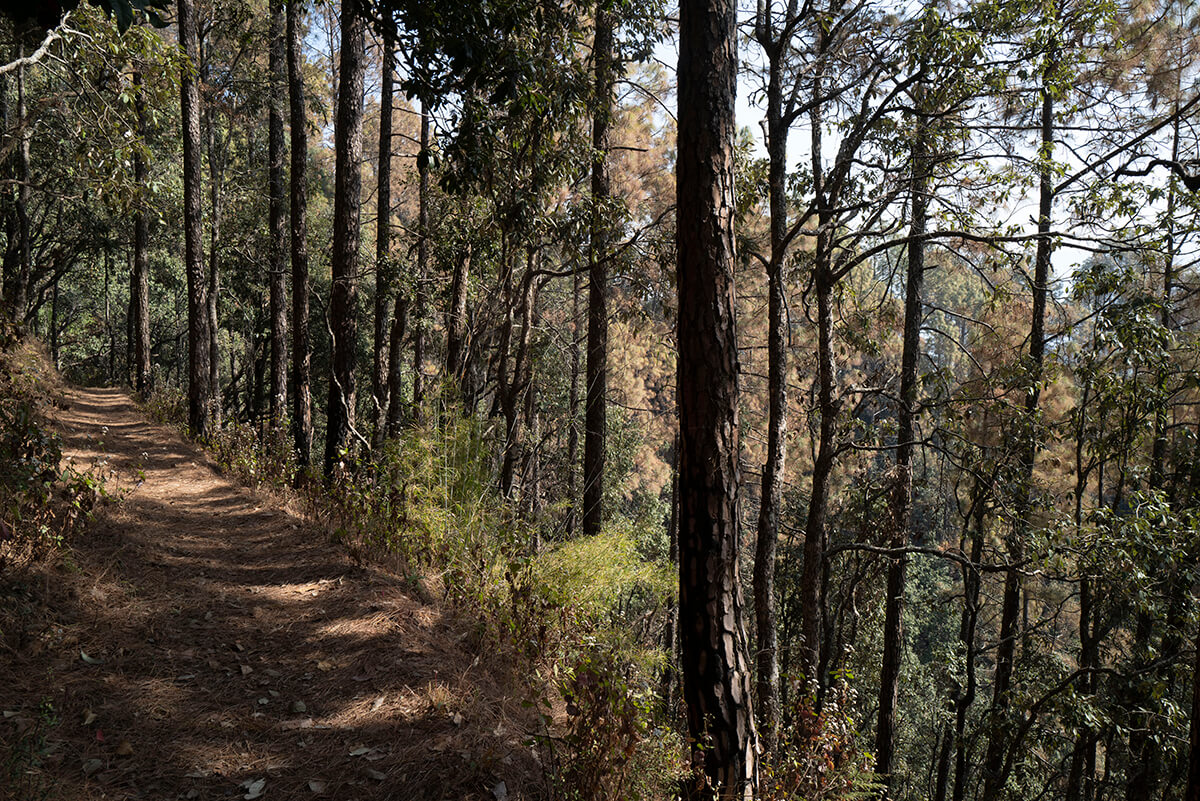 While other nearby hills show the scars of development, the forests of Jilling stand tall, as a testament to the
Lall family's passion and determination to protect the surrounding forests.
Sometimes I marvel at how I got here. Over the past several years, while living in London and teaching internationally, I was spending more time in India and Nepal and it became impossible to really commit to either place. And that wasn't working. I was inspired by Western dharma practitioners who had made a life in Asia. And, I met my Gurus. 
In preparation of leaving London, it all seemed a bit scary. It was overwhelming to get rid of my cherished possessions but I needed to let go of my attachment to them. My biggest anxiety was the thought of not having a home. Throughout my travels, I always felt a need for a base to return to. I kept hearing an inner voice, gently nudging me to leave, and giving me confidence that it would all be fine. It was similar to a previous voice that had urged me to leave Canada for the UK in 1999. 
When I didn't listen to my heart, or recognise the obvious signs, my life was swept out of control. My relationship of 13 years ended, I lost the magazine I published/edited, and my home. Three lighting bolts from god. This isn't working. Change your life. A similar thing happened in London when I had to get out of a difficult seven-year relationship. If we ignore our intuition, life becomes unbearable. So, now I listen. I trust that if I'm called to do something that my needs will be met. I still don't know how it will turn out. I have no idea where I'll be three months from now, or post-pandemic. It's a leap of faith. The timeliness of my London departure still surprises me, as does arriving in the mountains days before the Second Wave hit India. But I attribute this to listening to my intuition and the grace of my gurus.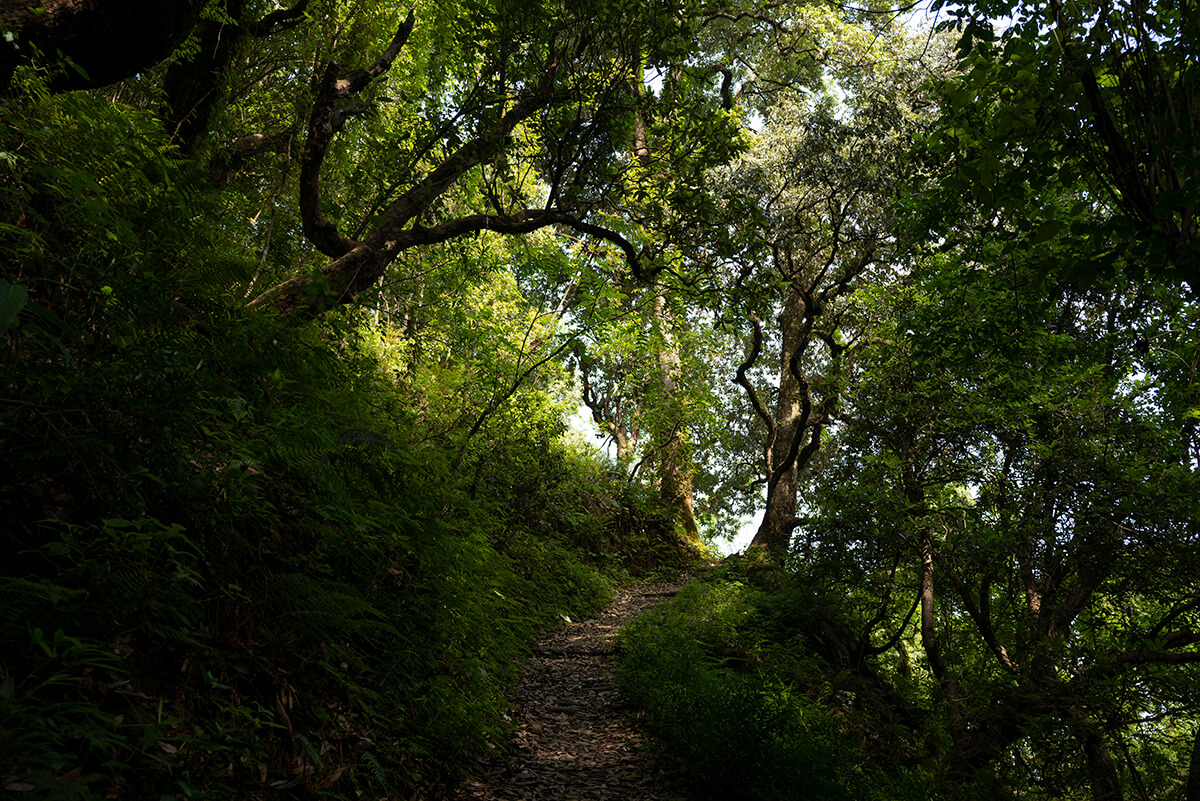 When I didn't listen to my heart, or recognise the obvious signs, my life was swept out of control.
If we ignore our intuition, life becomes unbearable. So, now I listen.
In my twenties, I had a dream I was on top of a Himalayan pass and a sage asked me which way I wanted to go – towards a village or on the unknown, overgrown path. I chose the town. Now I'm ready to explore the less trodden path. Perhaps it's encoded in my DNA, or a karmic imprint of a life previously lived or yet to be. Right now, I just want to be present. Minimise what's unnecessary in life and maximise what's important. 
One of the Lall's dog walks me back home through the forest.
I haven't missed my London life since being in India. I loved my time there but it came to an end. I have to trust that everything is working out the way it should. It's important to live your own life, not the life someone else wants you to live. The challenge is that there are no manuals for the construction of the individual you'd like to become. Only you can decide and do the lifetime of work it requires. But it's a wonderful privilege and such an exciting journey to become that person. We might not be able to do much about the challenges we face in the world, or even change the situation you're in, but you can awaken your precious being, live in harmony with that essence and bring light into the world. Look deep inside and listen to your heart. Trust yourself. Find your own moral compass. 
I've been in Uttarakhand for three months and despite trying to do as little as possible time flies by at an alarming speed. I study Hindi with Landour Language School four days a week. I've now had over 75 private online lessons and can almost read Devanagari script and form basic sentences to communicate with the locals. It's very difficult but good discipline for my ageing brain. Yoga continues to be the central thread of my life and I attribute my openness, fearlessness and ease to the practice. I've decided not to actively promote my yoga projects, not to engage in aparigraha (grasping/covetousness) to get work, but to sit back and be satisfied, or content (santosha), knowing that whatever comes is meant for me and is enough.
Teaching members of my Hindu family yoga as an act of seva and love. I take delight when young India women feel empowered, embodied, strong and doing things they never imagined were possible.
I teach yoga to my Hindu family, in Hindi, as an act of charity and seva. Seven-year old, Rudra, seems to be an incarnate of Shiva, the patron saint of yoga, with his ability to get into advanced postures. His 43-year old aunt has never done sports, dance or any movement methodology and it a challenge for her to follow my simple instructions and demonstrations. She holds extraordinary tension in her body that I see as emblematic of what it takes to survive as an Indian matriarch. The teenage girl is strong, but soft and relaxed, and is inspired by the practice. I take delight when young India women feel empowered, embodied, strong and doing things they never imagined were possible. It's challenging to meet everyones needs – nourishing restorative asanas for the aunt, structural technique for the daughters, and fun and challenging balances and Padmasana variations for Rudra with his short attention span, monkey mind.
It's challenging to meet everyones needs – nourishing restorative asanas for the aunt, structural technique for the daughters, and fun and challenging balances and Padmasana variations for Rudra with his short attention span, monkey mind.
I still teach my friend at Shambala Resort in Goa on Zoom and it brings me joy to see her beside the pool with my dog pals. The birds in Uttarakhand and Goa sing to each other. I also teach international Yoga Mentorship students and private clients from London. I always have just enough work. I take Zoom classes with my favourite teachers in London, like Patsy Sparksman and dear friend, Claudia Dossena. I love how technology has maintained my friendships with people around the world. If only it didn't have a sinister, dark side. 
Over the years, I've spent a fortune on 'proper' Iyengar yoga props – cotton blankets, bricks, blocks, benches, stools, chairs and ropes – and have even hired carpenters to make wooden bricks, ordered hand-stuffed organic cotton bolsters with linen covers in the colours of Padmasambhava's robes to blend into the monastery shrine room for my Yoga Teacher Training program in Nepal, to having a few Liforme travel yoga mats in different locations (James the owner of Liforme was a student of mine and I consulted on the first version of the now world famous brand), and now I have no props, having left them behind in Goa. Colourful woven mats and cotton rugs are now stacked on top of each other as a bolsters and local clay bricks are used instead of wood. It's important to learn how to use props to embody the 'imprint' of the actions in the pose and to feel the spaciousness of the 'effortless effort' in the practice, but not become attached to the point of dogma where they become psychological crutches.
Virtuosity in asana is not what's important, as it comes and goes with injury and age. Yoga is the process itself, something that invites us be real and to accept who we are. It's a path of compassion towards ourself, and by extension all sentient beings. Yoga is too vast a subject to go into much depth here, so in a nutshell I want to share a few thoughts about practice.
Beauty is in the eye of the beholder. Many urban dwellers would find this too mundane to even notice. Life is enhanced by finding the sacred in the mundane.
Now is a good time to let go. I'm cutting loose from the many ideas of who I think I am and the way I want my life to be, in favour of simply accepting and observing reality as it unfolds around me. It changes moment to moment, breath by breath, a symphony of impermanence leading to untimely death. And this is not meant to be depressing. This temporariness is not necessarily sad. It can be really good. It means things are changeable. That's why there is hope. 
Whatever is happening in life is temporary.  My thoughts, sensations or emotions, even the events in the world are transient and impermanent.  I try to bring this awareness into every moment – cooking, washing, lying down, brushing my teeth – not only while sitting on the yoga mat. Bringing this awareness into mundane, day-to-day life, is the practice.
My practice has led me to a place of disentanglement. I try to keep the view that things are not really as they appear. The world is impermanent and not solid. Everything is compounded and under the influence of uncertainty and change.
My practice has led me to a place of disentanglement. Embracing renunciation. I try to keep the view that things are not really as they appear. I'm not saying they don't exist. But it helps to see the world as impermanent and not solid. Everything is in a state of change, not just my life, but everything – the elements, the seasons, sunsets, ideas, likes and dislikes, our breath. Everything is changing all the time. Age forces me to change. I want to truly see that everything is compounded and under the influence of uncertainty and change.

I used to think that yoga practice required certain things: proper form, like sitting up straight on a meditation cushion, or that it had to be done for a certain length of time. But it's wrong to think like that. For sure, for a beginner, structure, technique and discipline is necessary but, eventually, practice is infused into life. And that can happen walking up a mountain as effectively as sitting on a cushion.
Meditating on top of a hill, under a tree, or beside a flowing river might feel more powerful due to elemental energy, but my Bhutanese Rinpoche guru, Dzongsar Khentsye Rinpoche, cautions us not to rely on external things. He inspires me to seize more opportunities throughout the day to get accustomed to this truth about impermanence, then I don't need to set aside time to practice. And I don't feel as guilty if I don't practice as I'd hoped. Informal practice is precious. Life as the path. 
What I love about asana, especially after decades of rigorous technique, is how the simple act of observing the body, without judgement, leads to an uncontrived, awakened Buddhist mind. A bit similar to Patanjali's inner limbs of yoga. Dharana. Dhyana. Samadhi. As yogis, we essentially have three things to work with – body/sensations, mind/thoughts and prana/breath. When I simply feel the stream of sensations, without trying to change them, categorise them, or get entangled in them, they naturally lead to a deep meditative state without thought. 
Shiva says in the Bhairava Tantra that yoga exists in the space between the inhale and the exhale. I try to see everything as Shakti energy. As an infinite and ever-changing dance of atomic particles. Asana is my baseline from which to observe reality. It gives me confidence to know myself and trust myself.
Mist cascades down the mountain covering the forest in a blanket of cloud.
 

Binsar Wildlife Sanctuary.

 

I want to know if my yoga skills are working, or not. I test them, not when everything is going my way, but in challenging times, like now during the pandemic. When we have aversion to a situation our mind becomes unsettled. This makes our experience disturbing and we feel frightened or insecure. For sure, if you spend all your time obsessing about yourself and feelings of anxiety, sadness and despair, if you feel imprisoned by them, these problems will increase. Often the emotions and feelings that seem unsurmountable are actually information that can lead to real and meaningful change.

I see anxiety in my own students after they read Covid news first thing in the morning. As an antidote, I teach them to observe their breath, while lying in restorative yoga postures, to calm down their heart and simply be present. Fear dissipates. It's important to allow moments of vulnerability and uncertainty to simply be. Let the mind be open to them. Let them wash over you like a waterfall and move through them to dissolve their potency, rather than solidify them, and get entangled in the story. 

If we can keep distance between a situation and our reaction to it, and change our reaction by having curiosity and openness towards the thing, if we can feel a sense of ease rather than create drama, then we are accomplished yogis. Not necessarily enlightened. My job as yogini and spiritual practitioner is to get disentangled from these obscurations that interfere with my ability to see things as they really are. We have the power to change how we experience the world.

This idea of taming the mind is so important. As Shantideva, an 8 CE Mahasiddha yogi and father of Bodhicitta, says: "If you wear soft leather shoes, then no matter where you walk, you will only experience softness. Likewise, if you control your mind, then everything is controlled." But most of us have no plan to control ourselves. Everything evolves around 'me.' We only want to control others. Not just other human beings. Everything. Weather, space, nature, internet, stock market, our laptop, laundry. Elon Musk going into space. We all control freaks. 
I try to capture the most fragile things I can find. We are just as fragile.
Our circumstances are temporary, ephemeral, and can change at any time. Life is so precious.
I spend hours in the forest with my camera observing the play of light and trying to catch the elusive moment. As cinematographer, Vilmos Zsigmond, said, "Photography is writing with light." Light reveals the spirit of 'place' and the essence of the subject in front of me. Light illuminates, reveals, casts into shadow. There is no edge to the mandala. Things arise and disappear at the edges of the light. Sunlight moves. Day becomes night. Clouds come and go. The elements change. Everything is truly an apparition, a projection, a display, that only appears as it does because of the light. Yet, I always end up thinking that it's real.
One day, after the rain, I was surprised to see so many dew drops in the forest.
In the words of Buddha: "Like a tiny drop of dew or a bubble floating in a stream;
like a flash of lightning in a summer cloud;
or a flickering lamp, an illusion, a phantom, or a dream;
so, all is conditioned experience to be seen."
In the words of Buddha: "Like a tiny drop of dew or a bubble floating in a stream; like a flash of lightning in a summer cloud; or a flickering lamp, an illusion, a phantom, or a dream; so, all is conditioned experience to be seen." The more ephemeral something is the closer it is to the truth. Then we might be able to see the invisible world that underlies ordinary experience and transform the mundane into the sacred. 
My desire with photography is to communicate the sense of wonderment, AWE, that I feel in nature, in sacred places, in the decisive moment when I lose all sense of Self and merge with the object of my view, into a blissful samadhic state immersed in pure awareness. Pure consciousness. Purusha and Dharmakaya. 
We must embrace the shadow as well as the light. Pandemic time is not the place to make things perfect. Now is the time to embrace the brokenness of things.
I like to use yoga techniques into my photographic process. I practice Santosha (contentment) and try to be happy with what I encounter in the present moment, rather than wishing the angle of the sun was different or I'd chosen a better location. The big challenge is not to be greedy or insatiable when taking the images, but to practice aparigraha (non-grasping), the last of Patanjali's five yamas (ethical limbs of yoga). Photography, like yoga, can pull you out of the present moment and entangle you in an obsessive desire for perfection. In these dark times, now is not the place to make things perfect – neither in marriage or relationships, work, your love of god, or country. The thing itself is imperfect. It's impermanent and destined to decay and death. Those are the facts. Maybe we could embrace the brokenness of things?
Photography can be so seductive, sometimes it feels like I haven't really experienced the moment unless I've captured on my camera. Then, like Purusha turns away from Prakriti in Samkhya yoga philosophy, I turn off my Leica Q2 and turn my gaze inwards, to quiet the grasping ego, and empty my mind, so I can look at the world with fresh eyes.
I got out from under the Black Dog of depression when I find one thing that I could feel gratitude towards.
That thing was the ephemeral beauty of light. Light illuminates the darkness. My life was transformed.
In the dark decades when I was under the influence of the Black Dog, the way I got out of my depression was to find one thing that I could feel gratitude towards. Something that pulled me out of the gloom of Self. That thing was the ephemeral beauty of light. As the light illuminated the darkness, and I could see my way through the endless tunnel my life was transformed. If santosha (contentment) is to arise on the yogic path, and without which one can't move further, gratitude and acceptance provides the ground for it to flourish. 
Sometimes my desire to see the world as impermanent and ephemeral can create a kind of groundlessness that feels scary. The 'view,' or perception, that things might not be as they solid as they appear, that their form is actually empty, can lead to experiencing the world as an illusion. The possibility of falling through the thin membrane of duality, that separates me from all that is around me, makes me feel vulnerable, naked and exposed. It can feel too raw. It's the guidance and grace of the gurus that prevents me from descent into madness. Whenever I've fallen into doubt, Dzongsar Khentsye Rinpoche has been there, again and again, through the pandemic saying the right thing at the right time. 
I can still feel depressed, or oppressed, whenever I fall into a dualist view despairing about our future, or after days of torrential rain and living inside a cloud. Days spent inside bathing in screen light, obsessively writing or entangled in social media. A constant diet of fear spread by mainstream media creates anxiety. If I don't go outside, into the sunlight, I can feel agoraphobic. Lockdown makes us forget how to be comfortable around people. I try hard. The shift from self-isolation to going back out in the world can bring up feelings of awkwardness, paranoia, or fear of others. I understand the trauma experienced by people who have been locked up, inside too small spaces with people they don't want to be with, for long stretches of time, without the freedom to go outside for a walk. My situation is totally different but, still, the other day I had to drag myself up the mountain, through a minor anxiety attack, to the Lall's, where, after an afternoon of food, conversation and human contact, I feel grounded again.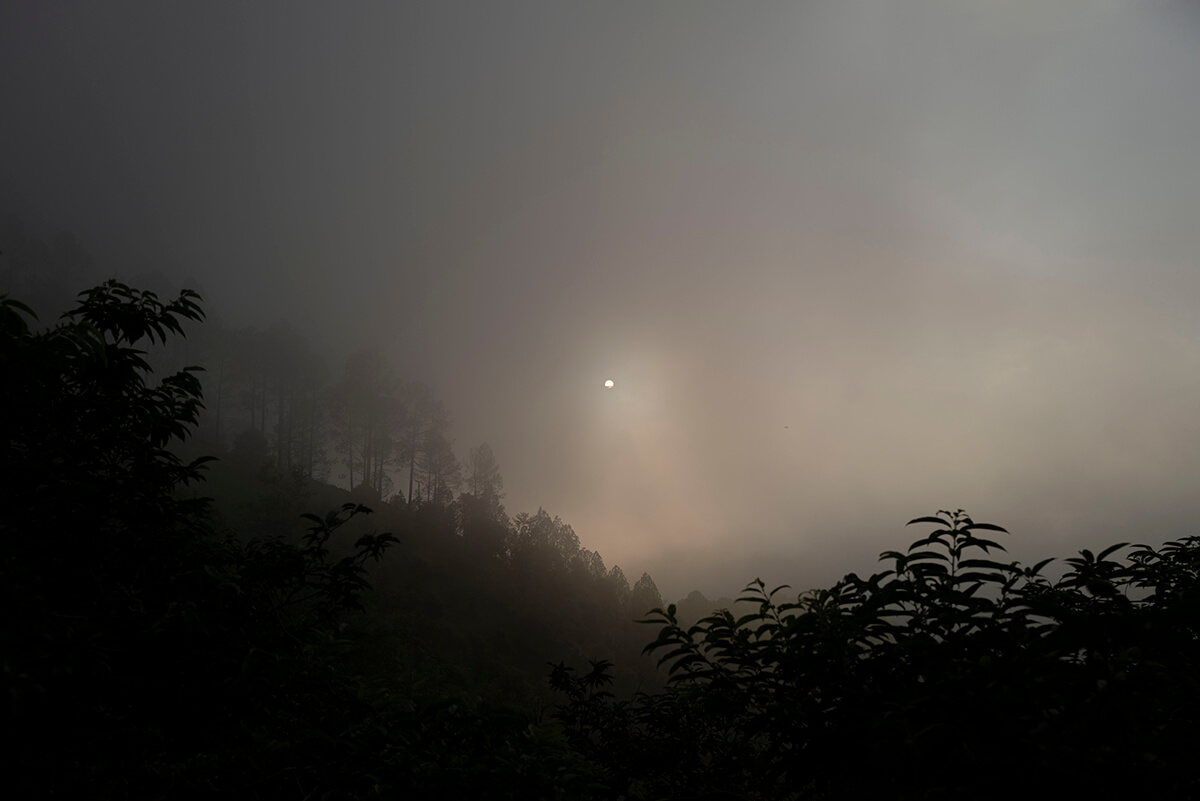 All this talk about the world going back to normal. It's scientifically, and technically, impossible to go back to a pre-pandemic existence. And why would we want to? I've always felt a sense of dissatisfaction with 'normal;' samsara compelled me to make radical changes. I know from Buddhist practice that nothing is ever going to satisfy me, ultimately and completely. I've mistaken something that is not really 100% satisfying as happiness. Sooner or later it brings us disappointment. I don't want life to go back to 'normal' ever again. 
If my grandchildren ever ask me, 'What were you doing in 2021 during the climate crisis and pandemic?', I want to tell them that I did things that mattered, that made a difference. The pandemic is such a turning point, we could consider living in a different way to create a more equitable, sustainable and kinder world. One with less injustice. One that directs our attention towards things that are beneficial for us. A world predicated on well being rather than materialist culture. A world where there is respect for the earth. Where money isn't the almighty god. 
I was hoping that the pandemic would wake us up, not only on a spiritual level, but in every detail of our life – how we live, how we travel, how we shop, what we eat, and how we plan the rest of our life. Instead people just want to do exactly the same thing. A virus of complacency. 
Many people have died of Covid-19. A lot of people are displaced. Many have lost their jobs, businesses, and lost their homes. Mental health issues and domestic violence are on the increase, as a result of Tier 5-style lockdown restrictions. Covid has turned many lives completely upside down. Their suffering should not be wasted. We should really try to learn something from this. It might be difficult to change your government, but let us try to change ourselves, individually. The pandemic has given us an opportunity to reflect on our life. But very few people want to do this. 
Despite being in one of the most hard hit countries by Covid, I'm still not that worried about getting the virus. I believe the virus exists. But, despite the millions of people who have died as a result of Covid worldwide, I've not personally known one. I've felt safe throughout my pandemic life in India. 2020/21 has been one of the happiest in my life. I love the deep solitude, silence and precious time for reflection and change. I know this is a result of my privilege, and it's not the case for millions of people, but it is my experience. My priority right now is dealing with my non-Covid fears. I've decided to stay for monsoon and try to get over my beetle phobia.
Another day dissolves into night. Time is an unworldly force that cannot be controlled. The best we can do is live life to its fullest and be grateful for every precious moment given to us. My tenuous existence strung together by sunsets. You will never get it back. Don't waste time. Another day ends as the sun slips behind the mountains. Time is eaten before my eyes. Time is an unworldly force beyond our control. A year ago, in Goa, the ritual of watching day dissolve into night connected me to the rhythm of the earth. I see it as the absolute backdrop underlying the temporary pandemic and it helps me to maintain structure in my life and equanimity in these confusing times. It's a metaphor and embodiment of impermanence and change. Nature brings me into the present moment where I can forget the politics and narratives that whip up my mind and simply be. When I am still and absorb the beauty that unfolds, I forget myself and am overtaken by awe. Nature is a salve to restore balance in life and I'm so grateful to have found myself in her embrace. Again. The best we can do is live life to its fullest and be grateful for every precious moment given to us. You will never get it back. Don't waste time. Or your life. ♦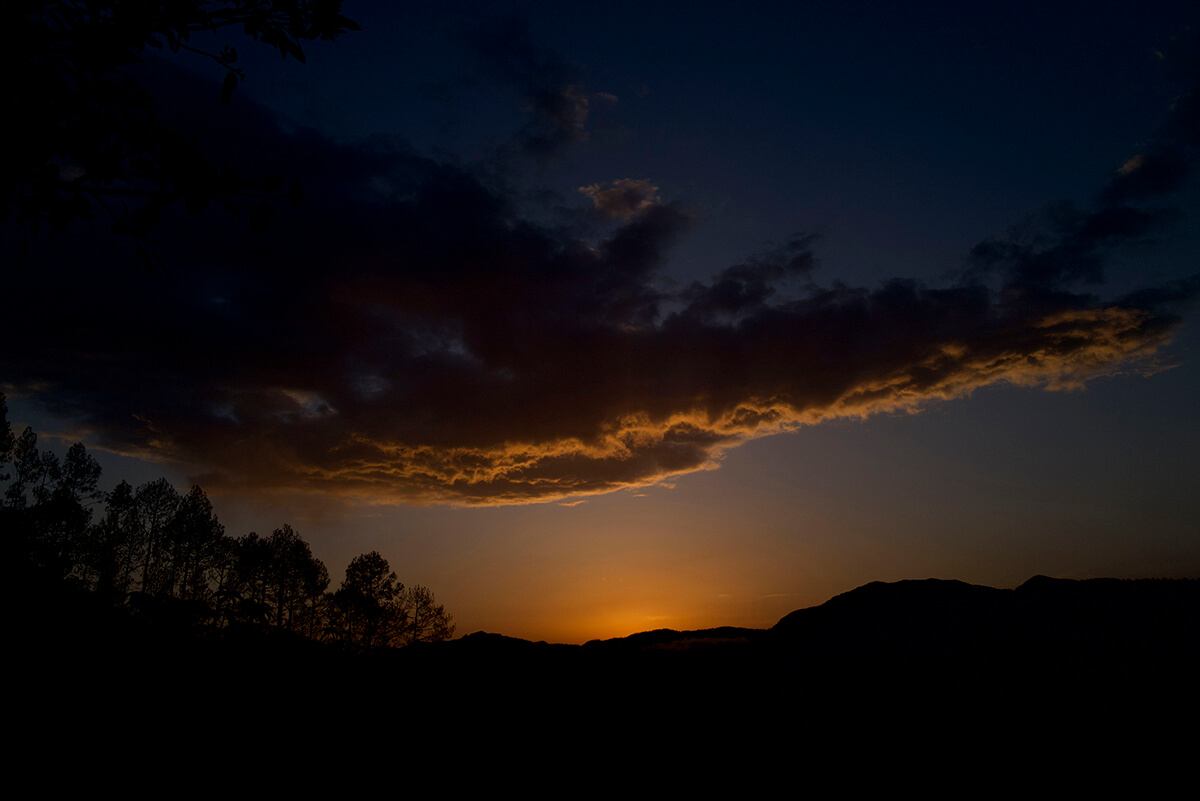 Missing the beginning? Start with My Pandemic Life in India: Part One – Morjim, Goa
---
In January 2020, I pulled the rug out from under my comfort zone and left London to live in India. A month later the Covid pandemic ravaged the planet. I decided to stay in India. Photography, travelogue and memoir is used to share my experience as a travelling yogini and how spiritual practice helped me to stay grounded in challenging times. As always, deep gratitude to my guru, Dzongsar Jamyang Khentsye Rinpoche, for his presence and teachings.  🙏🏽  Any misrepresentations of facts or dharma are totally of my own doing for which I'm sorry.