Finding my Buddha Nature with the likes of the Karmapa, Tenzin Palmo, Chamtrul Rinpoche and Orgyen Tobgyal Rinpoche
I fell in love with Himachal Pradesh while travelling from Manali to Leh, through the Sangla, Kinnaur, Lahaul and Spiti valleys. This land of high Himalayan passes and remote valleys bordering on Tibet are a sanctuary for some of the purest and most ancient forms of Tibetan Buddhism, and I felt utter awe by the beauty of the landscape and the Buddhist culture. I couldn't wait to return and last April, I visited Dharamsala, or more precisely McLeod Ganj, the picturesque small town that is seat to the Tibetan government in exile.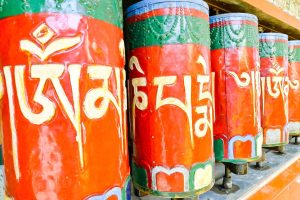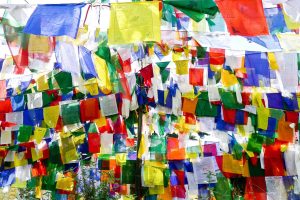 I book into Pema Thang, a spacious and clean Tibetan guesthouse with wooden floors, perfect for yoga, and a balcony looking over the snowy peaks of the Dhaula Dhar range in the Indian Himalayas, the Kangra Valley and the small mountain that is residence to his Holiness the Dalai Lama. My day begins with a hearty bowl of tsampa (barley) porridge with banana and honey, and a South Indian coffee on the terrace of Chonor House, a traditional Tibetan hotel filled with antiques, painted murals, floral rugs and embroidered paintings. I can see the Tsuglagkhang Complex that houses the Namgyal Monastery, important shrines, a bookshop and library, the Tibet Museum, and is the official residence of the Dalai Lama. It is very shanti. I then take a leisurely walk on the kora, a ritual circuit that circumambulates the small mountain, on a path that meanders through a deodar pine and rhododendron forest, is illuminated by the morning sun and offers glimpses of the surrounding peaks. I hear a lone monk chanting high up on Windhorse Hill that is strewn with prayer flags sending prayers throughout the valley. They seem to carry the melodious vibrations of his voice. Tibetan pilgrims from all over India walk the kora, most in traditional Tibetan dress, spin the prayer wheels and recite the mantra Om Mani Padme Hum (Hail to the Jewel in the Lotus), while counting beads on their malas.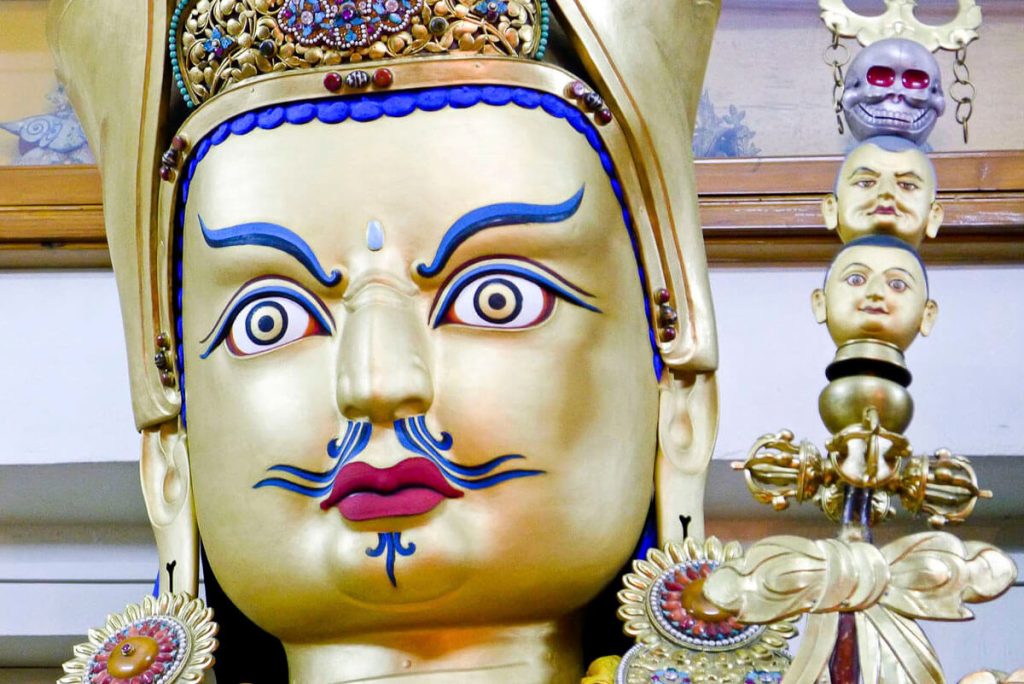 I follow the path up to the Namgyal Monastery to sit in meditation before the 3 m high gilded statue of the Shakyamuni Buddha, Guru Rinpoche (also known as Padmasambhava the Indian monk who brought Buddhism to Tibet in the 8th CE.), and Avalokiteshwara, the Bodhisattva of Compassion and who the Dalai Lama currently represents on earth. Avalokiteshwara has a thousand arms, with eyes in each hand, to look for suffering beings. He is the great warrior alchemist who postpones his own enlightenment to help all suffering beings attain liberation. The Namgyal monks chant and do an elaborate puja that lasts for days and culminates with the symbolic act of erasing the coloured sand mandala they have meticulously built that represent the impermanence of life. Despite the continuous throng of tourists, there is an incredible calmness here and I observe the lama tending to the altar. His mouth covered with a mask, so he won't breathe on these very sacred and precious Buddhas (including the skull of Avalokiteswara, as he continually fills offering bowls with liquids and lights the butter lamps. Buddhists arrive and prostrate three times to Guru Rinpoche, some fall to their knees, others on to their bellies, and walk clockwise to make offerings to all the Buddhas, katas and small change in hand. Groups of Hindu tourists arrive busily, talking on their mobiles and snapping pics. Elder Tibetans and Western buddhists sit on the floor in meditation, chanting with crystal malas in hand. Despite all the chaos, mediation comes so easily it is difficult to stop. It feels as if I'm supported by energy of the room and drop deep into my heart.
Another temple, next door, has a painted Kalachakra (Wheel of Time) mandala on the walls and exquisite gold statues of Tara, Avalokiteshwara and the Kalachakra deity. I walk around these temples in a clockwise direction and spin the prayer wheels. An old Tibetan woman does her prostrations. It's the first time I've seen the planks of wood with soft cushions and pads for the hands. She offers to teach me. I place my hands in prayer on my head, throat and heart, and drop on to my belly, before placing my knees on the floor, then slide forward, forehead to floor and arms stretched with lifted hands in Namaste. Then I slide back to my knees and stand up. The woman is in her seventies and is doing them twice as fast as me. "Slowly, slowly…" she says. I think, 'I'm a yogi. These are easy.' When you take refuge in the Buddha and do the Preliminary Ngondro practices, 100,000 prostrations are required before the serious Tantric teachings begin. I decide to do 108, the sacred number of beads on a mala. The next day my abdominals are so sore I can barely roll over, let alone do Chaturanga. Perhaps my motivation was wrong.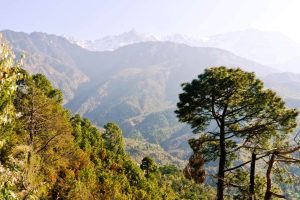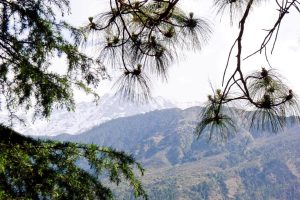 This is the first time I've been to Dharamsala and, travelling alone, I'm reassured at how safe it feels here. I discover that there is plenty to do around McLeod Ganj and I could easily spend months here. I spend a day at the impressive Bagshu waterfall, 2 km from McLeod Ganj, popular with the monastics as a place to wash their clothes. I slowly walking upstream, past hundreds of burgundy robes drying on rocks, people sunbathing and dipping in refreshing pools of water fed by in small cascading waterfalls, having picnics on giant boulders, to the big waterfall at the top which cascades 30 feet in the monsoon. Further up is Shiva Shack and I head there hoping for an Indian thali lunch. Inside the stone house, built of stacked horizontal slate that looks like an alpine hut in the Canadian Rockies, are 20 Israelis, fully dreadlocked and pierced in grunge fashion, drinking beers, smoking the local cannabis that Himachel is famous for, some drawing in journals, others talking loudly, all experiencing a very different world far away from the war in Israel. Fortunately outside, sparkling clean water flows from the well and the magnificent views of the valley make this perch one of the most spectacular restaurant locations in the world. I share some parathas with a group of Punjabis who've come here every Sunday for 12 years.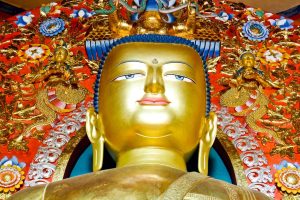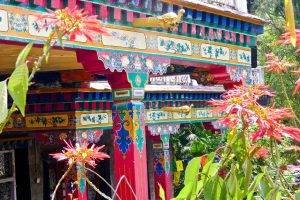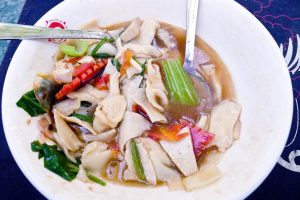 Sixteen km from McLeod Ganj is the Norbulingka Institute (named after the Dalai Lama's original summer palace outside Lhasa that was destroyed during the Cultural Revolution), an exquisite center dedicated to Tibet's sacred and traditional arts inspired by the Buddhas's teachings – thangkas (Tibetan scroll paintings), applique thangka, sculpture and woodwork. It provides training, education and employment for Tibetans. The institute is beautifully designed with traditional Tibetan architecture and landscaped water gardens. I have a Thukpa noodle soup in the outdoor café, before heading to the shop to purchase a small golden Buddha and a yak wool jacket.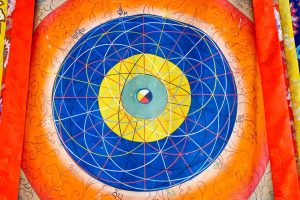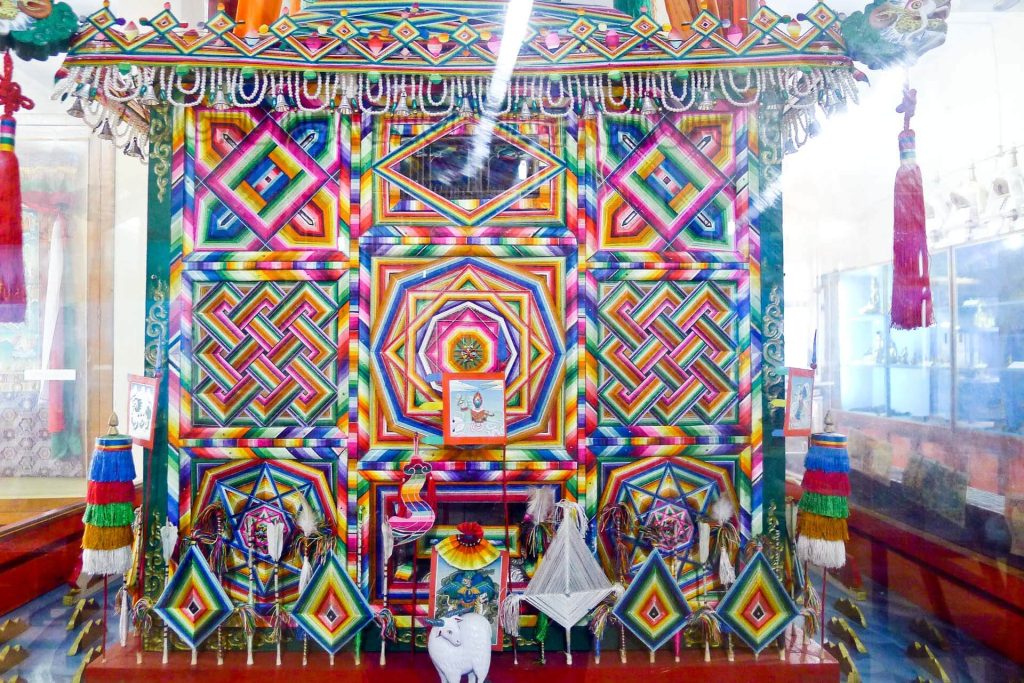 I order my birth chart from the Tibetan Medical and Astrological Institute and it will take 7 months to finish. The Library of Tibetan Works and Archives has more than 100,000 titles in the form of manuscripts (printed by hand from carved wooden typographic blocks), hundreds of thangkas, statues and other artifacts; and over 6,000 photographs. It also runs a publishing house. In the museum, I'm astonished by a 3-D mandala of a crystal palace made from rainbow hues of silk threads, and suddenly I understand what a Tantric visualization might look like.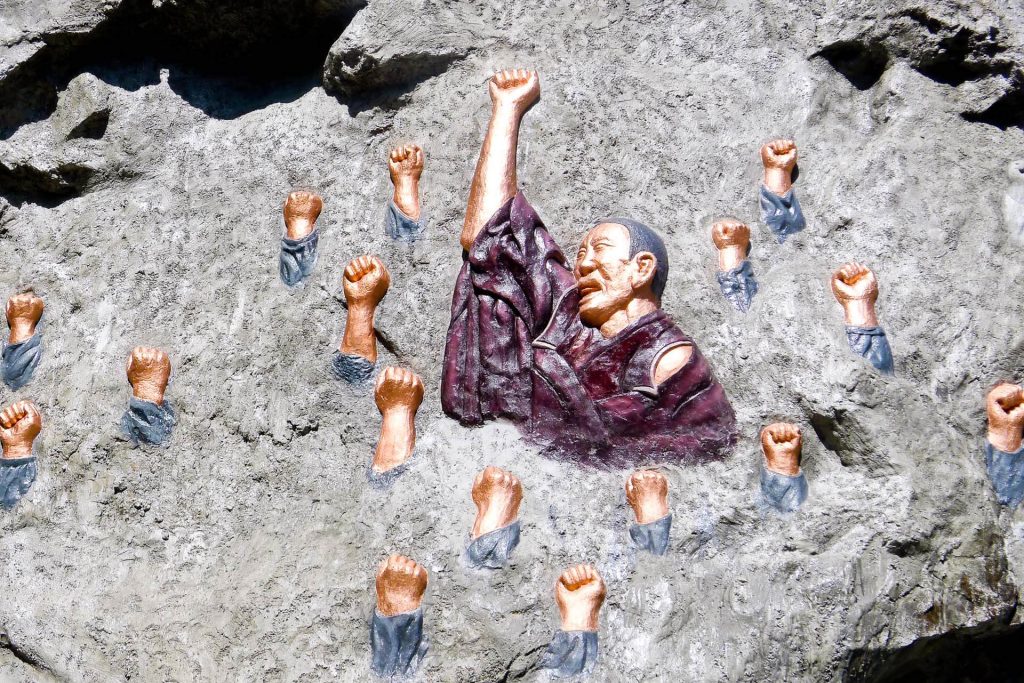 The Tibet Museum, in the Tsuglagkhang Complex, tells the tragic story of the Chinese occupation and the subsequent Tibetan exodus through photographs, interviews and video clips. The film, "Under Cover in Tibet" depicts the hidden reality of life for Tibetans under current Chinese occupation. To make this film, Tibetan exile Tash Despa returned to the homeland he risked his life to escape 11 years ago, to carry out secret filming with award-winning, Bafta-nominated director, Jezza Neumann (Dispatches Special: China's Stolen Children). Risking imprisonment and deportation, he uncovers evidence of the cultural genocide described by the Dalai Lama. He finds the traditional nomadic way of life being forcefully wiped out as indigenous Tibetans are stripped of their land and livestock and are resettled in concrete camps, a shocking story happening today, yet reminiscent of the genocidal way Sitting Bull and the Plains Indian Sioux tribes culture were wiped out when they were corralled onto reservations at the end of the 19th CE. The film reveals the regime of terror that dominates daily life in Tibet with no regard for human rights or freedom of speech. Tash meets victims of arbitrary arrests, detention, torture and 'disappearances.' A woman tells her story about how Chinese police came to her house in the night and dragged her off for 'enforced sterilization' – practice they like to use on ethnic Tibetan women – where her fallopian tubes ripped out without anesthetic. The film documents ethnic genocide, hunger and hardship being endured by many Tibetans and impact of the enormous military and police presence in the region. Tibetans are forced to learn Chinese without which they cannot get a job. They have become the ethnic minority in their own country and live in dire poverty. There are shots of Tibetans doing prostrations, while soldiers try to intimidate them, high-stepping in military style as if to prove their superiority. Despite the fact that China obviously has taken total control of Tibet for decades, it seems unlikely they will crush the Tibetans unwavering belief in Buddhism and the Dalai Lama.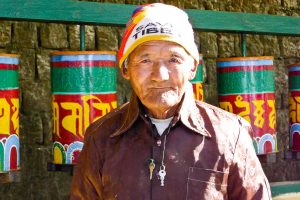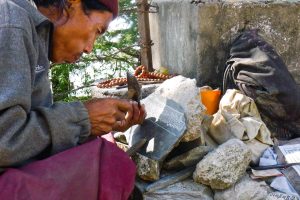 When I walk back out on the streets, I realise that most of Tibetans here have risked life and limb, spending 20 days crossing Himalayan passes in the freezing cold, with minimal food, travelling only at night to avoid being shot by the Chinese – all this to be near his Holiness the Dalai Lama. I see crippled frostbitten feet and the suffering these people have endured. A few thousand Tibetans continue to escape each year and India generously accepts them as refugees and provides land for them to live. Of course passports are a problem, as well as wages, and they're still refugees 60 years on.
On 17 March 2011, Phuntsok Jamyang, a young monk from Kirti Monastery in Tibet set himself on fire and died in an act of self-immolation. Kirti monastery has been a center of protest against Chinese policies and was especially active in the 2008 Tibetan uprising. Self-immolation, or the offering of oneself as a sacrifice, has been tolerated by some Mahayana Buddhists for centuries. It's an urgent cry for help. Indian newspapers document the increased Chinese military presence at the Kirti monastery, which is currently under lockdown by armed security personnel and police attack dogs. Four people have been killed and 400 Buddhist monks have been 'detained' which really means they are subjected to barbaric torture. In McLeod Ganj, and elsewhere, lay Tibetans fast in support of the Kirti monastery and a candlelight vigil winds through the streets of McLeod Ganj at dusk. I see no monks on the scene. All the protestors are Tibetan civilians and friends. The Dalai Lama advocates peaceful negotiations, nonviolence, supported by Buddhist beliefs that our enemy is our best teacher and we need to maintain equanimity in difficult situations. Of course, that might change when the Dalai Lama dies. At the moment he has retired from political office and Lobsang Sangay, a Harvard graduate has taken over the leadership of Tibetan government in exile.
I always attend a few yoga classes with North Indian teachers to see what they're up to. I've met some interesting ones over the years, but too often it amounts to sanctimonious preaching and dry teachings, heavy on the pranayama, delivered in a patronizing tone by a pot-bellied, bearded, swathed-in-white swami type. Quite a few Astanga yoga studios have opened offering 200-hour Yoga Alliance certification, and I'm skeptical about this South Indian yoga style being taught up here. I request a private lesson with a Tibetan yoga teacher hoping to learn Tibetan Yantra yoga. He says he's not authorized to teach it, but we could do India yoga. I don't bother but we have an interesting yoga chat. Up in Dharamkot, there's an afternoon Tantric class, led by a Japanese-trained Israeli, who guides us to focus on sensing prana in the subtle energy body and moving it to the chakras, while doing asana. After a few of these forays, I decide to spend my time studying the Buddhist Dharma and do my own practice.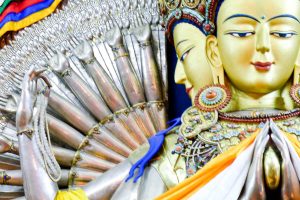 © Heather Elton