S I K K I M : Part 2 – Darjeeling
Darjeeling
I'm sipping a cup of Darjeeling Tea and enjoying the rather chilly air after melting in 40-degree temperatures down south. The sounds of Varanasi temple bells and chanting priests, the fragrance of puja flowers, the decorated doorways and glittering golden temple spires, are slowly fading after an overnight train to NJP and long jeep ride through the dry West Bengal plains nto the mountains. The landscape is spectacular and I've spent the morning driving through forests of teak and bamboo, delightful clusters with ferns and vines, and exotic flowering trees. The road is dramatic and winds around precarious edges of bottomless chasms and up endless steep hairpin turns to higher alpine forests of pine, fir, oak and Japanese pine (that the British planted to make wooden containers for their tea exports and which has subsequently taken over the forests), flowering rhododendrons and magnolias, past tea plantations and pretty hillside towns with wooden buildings painted turquoise and blue, built on stilts, perched on the side of mountains. I'm sitting in one now, having a rest in a roadside restaurant, perched at the edge of a mountain road. I eat vegetable momos (dumplings) for lunch. They're delicious.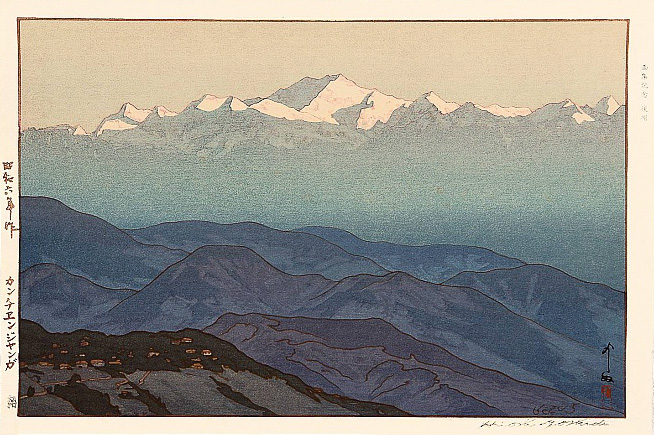 Kanchendzonga by Hiroshi Yoshida
Darjeeling (2134m) is unsurpassed for its beauty and the stupendous views of Khanchendzonga, the third highest mountain in the world (8,586 m / 28,169 ft) on the border of Nepal and Sikkim. It has enthralled the sahibs and memsahibs of the British Raj who turned this charming town into it a fashionable hill station teeming with Europeans, and ever since its been popular with mountaineers, writers, artists and adventurers. Viviene Leigh was born here, as was Tenzing Norgay. Mark Twain visited Darjeeling in 1896. Nicholas Roerich masterfully painted the etheral mountains, and Kanchendzonga has been the muse to writers for decades. Countless people have flocked to Tiger Hill before dawn to see the ephemeral shape of Khanchendzonga towering at an incredible height, shimmering above the clouds, changing from light blue, to faint pink, to gold. I, too, want to bask in her glory and quench my thirst for adventure, knowledge, wisdom, beauty, tranquility and spirituality. This is what a few writers have to say:

Kanchendzonga by Nicholas Roerich (1936)
"The most eloquent description that I've read fails to convey to the mind's eye the forms and colours of snowy mountains, or to my imagination the sensations and impressions that river my attention to these sublime phenomena when they are present in reality … such dissolving views elude all attempts at description, they are far too aerial to be chained to the memory, and fade from it so fast as to gazed upon day after day, with undiminished admiration and pleasure." – Sir Joseph Hooker
[metaslider id=3105]
"From all countries travellers come to see the famous view of Kanchendzonga, 28,150 ft, and only 40 miles distant… so pure and ethereal we can scarcely believe it is part of solid earth on which we stand and so high it seems part of the very sky itself." – Sir Francis Younghusand
"Is it a mirage? A phantom of hope created by hope from the chaos of nightmare?" – Alastair Crowley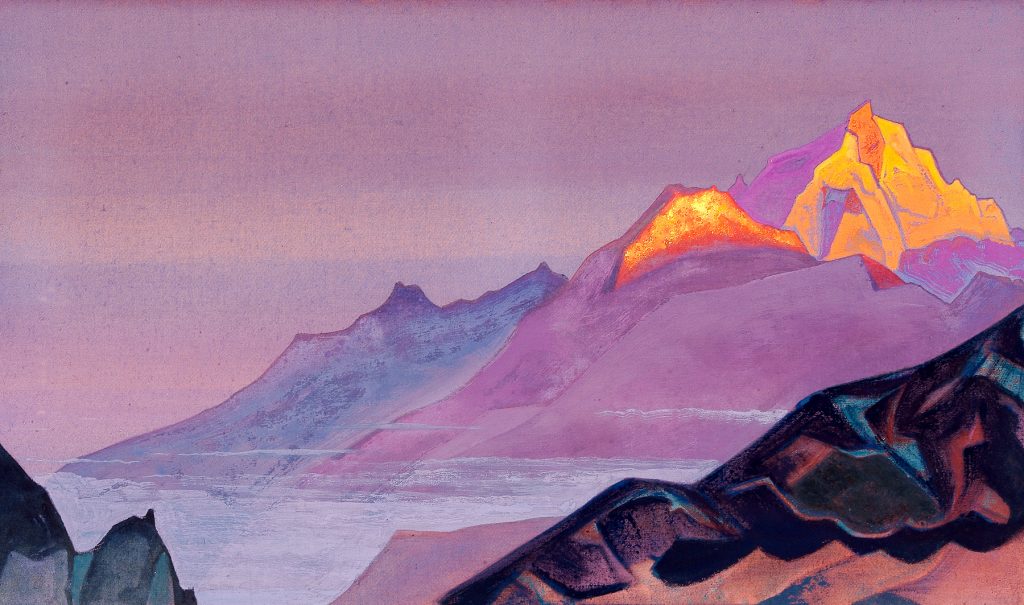 "Way to Shamballa" by Nicholas Roerich (1933).
"Let him, if the skies are clear, and endeavor to be awake at the earliest dawn. For with luck he may see a vision. As he looks out of the carriage window, he will at first observe only the dark plain and the dim shadowy rounded outlines of the foothills. But when he lifts his eyes he will be aware, if he lifts them high enough far up, at an incredible height in the pale sky, as row of roseate flames. They are not clouds. They are the snow peaks of Sikkim. The giants of the Himalayas, the greatest mountains in the world, kindling with remote dawn and flinging back its flames to mortals." – Douglous Freshfield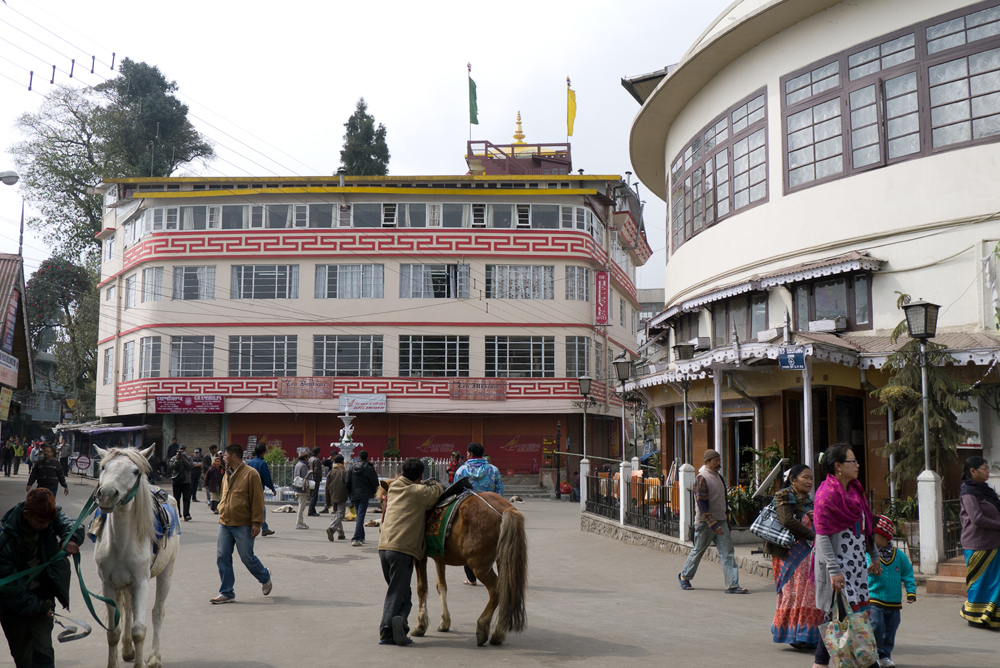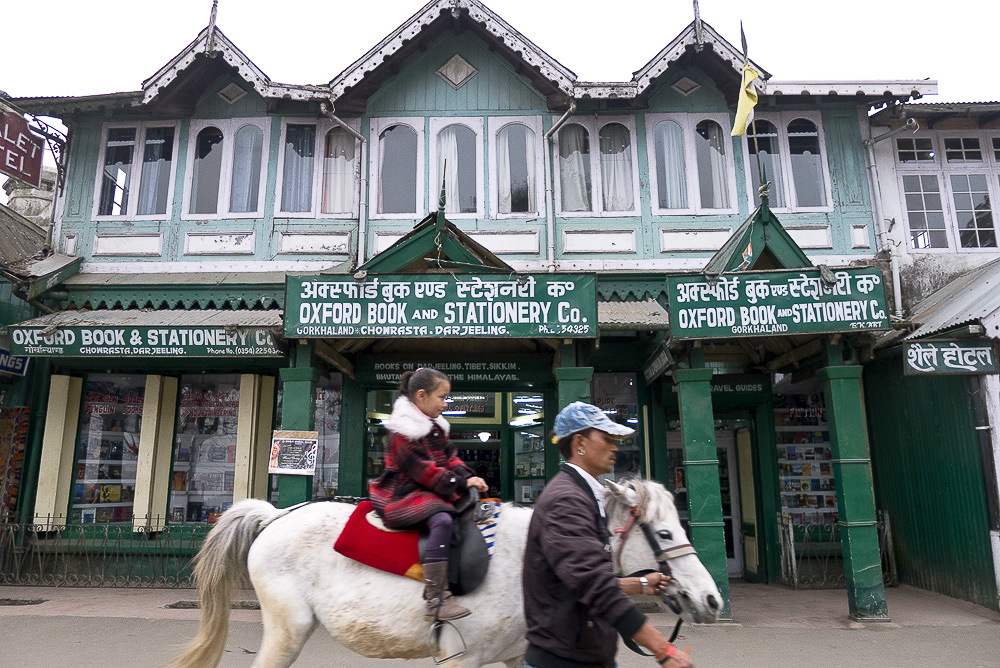 I'm staying at The Bellevue, an old wooden hotel built by the British that resembles a lodge in Canadian Rockies. Wooden floors, stone walls and central wood-burning stove that adds a veneer of faded glamour. The languorous heat of the south has left my body and I'm seriously cold. Hot water bottles are waiting in the bed. I'm eyeing the wood-burning stove and thinking early morning yoga practice won't feel the same. The Bellevue sits on the ridge at the top of Darjeeling facing Chowrasta Mall, a square flanked with British stores that used to be a fashionable promenade during the days of the Raj, with Kanchendzonga playing hide and seek above. The mall is still popular and the charming, yet decaying, British architecture evokes another grander time. The Oxford Book and Stationery shop is painted bright green and turquoise, and has with an excellent collection of maps and travel books. There are good antique shops here. The post office is a relic from the past, as is the exquisite Elgin Hotel where I stop for an overpriced pot chai and sit very properly on the red velvet sofa.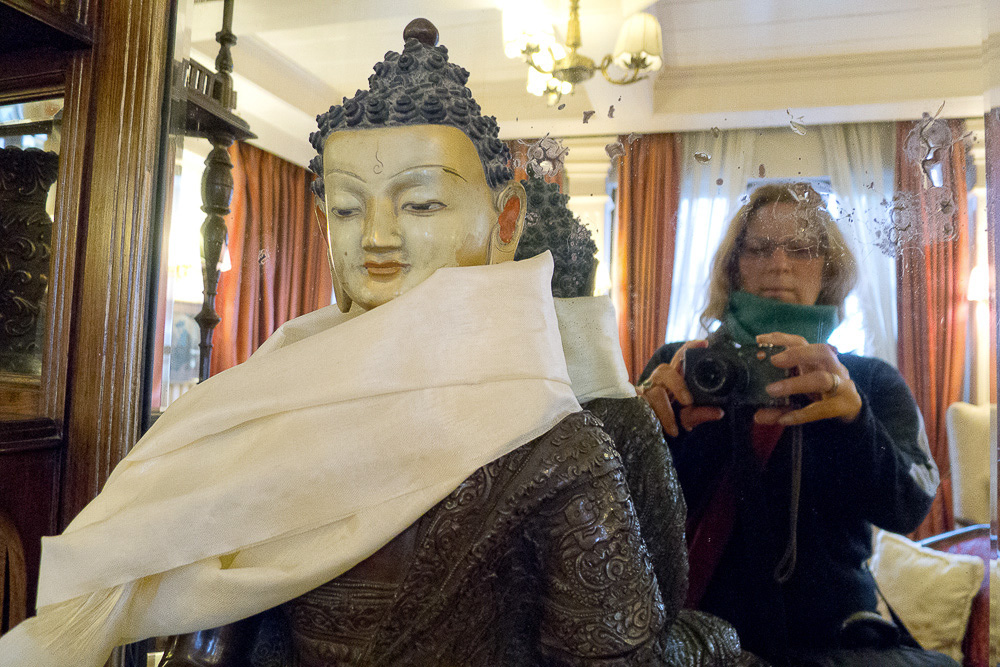 Above the ridge, is Observatory Hill, a place reported to have a powerful spiritual energy that summons Buddhists and Hindu pilgrims. Hindus believe it to be an abode of Shiva. Originally, there was a Buddhist monastery up here, Dorje-ling (the place of the thunderbolt), as it was known in Tibetan and from which Darjeeling took its name. There are early morning joggers in this 'open air health club', and a line of mutilated child beggars alongside the path. Once inside the gates, there are several Hindu shrines, festooned with Buddhist prayer flags, including an impressive one of the fierce, blue-faced Kali, and, to my amazement, a puja is being performed by both a Hindu and Buddhist priest. My spirit is lifted even though Kachendzonga is still obscured behind clouds.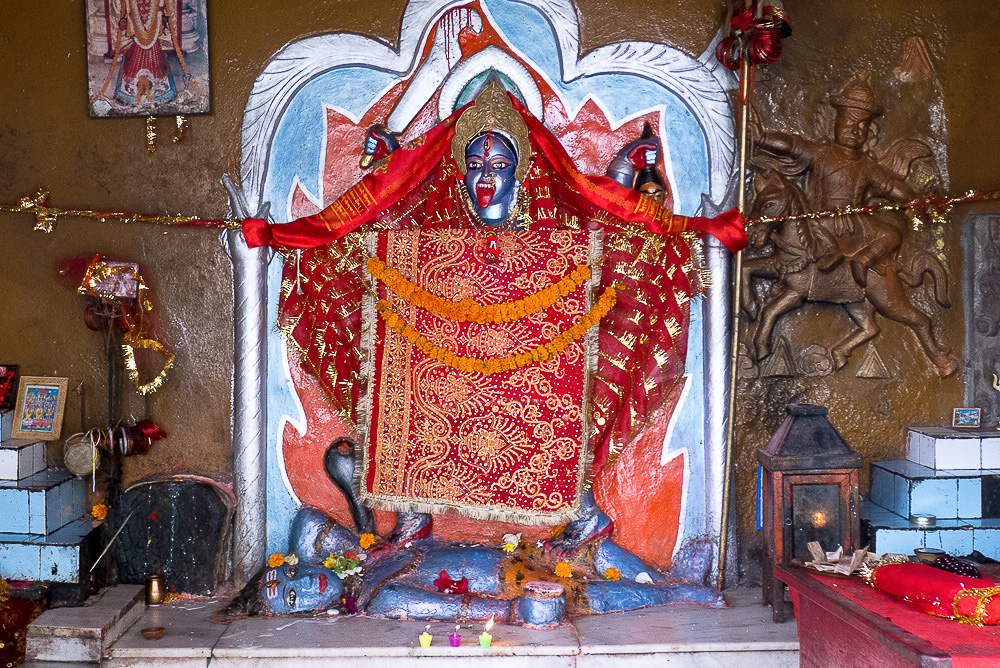 A row of market stalls leads down to the narrow streets of the lower Darjeeling. The people look different here from other of India and many come from Nepal, Tibet and Sikkim. The dogs are bigger and have more hair. Without the views of the mountains, Darjeeling just seems tawdry and filthy to me. Everyone sells the same cheap clothing from China and Nepal. The traffic situation is seriously bad, and the few streets that exist are choked with exhaust spewing and horn-honking tourist vehicles, crammed with rich Punjabis. Yet, people love Darjeeling. It's a liberal mecca for hip college students who like to hang out in bars and enjoy Darjeeling's cool music scene. Honestly, I just want to get out of here.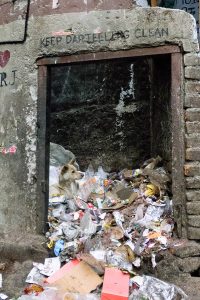 Sonam, my driver, says it's pointless to go up Tiger Hill. The fog has not lifted in days and there will be no views of Khanchendzonga. And the place will be overrun with Indian tourists. As much as I wish that the mists will roll up to reveal the blue dome of the mystical mountain, floating above the clouds, I realise that is not going to happen. I'll be obliged to leave without experiencing the most dramatic view of Himalayas in India.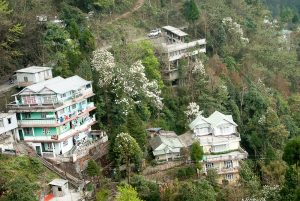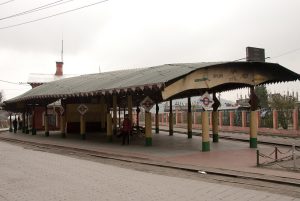 The consolation prize is a visit to Ghoom with its charming railway station and ridiculous single-gauge, 'toy train,' that huffs and puffs to nowhere, really. Fortunately tickets have been sold out days in advance! Nearby are three interesting Buddhist monasteries – Yiga Choeling Monastery, Samten Choling Monastery and the Drukpa Kagyu Monastery where I spend the afternoon observing a three-hour puja to Amitabha Buddha and drink yak butter tea.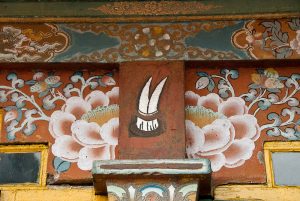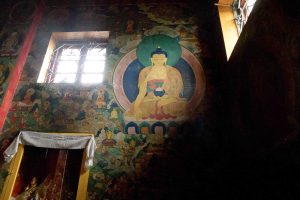 Yiga Choeling Monastery (above)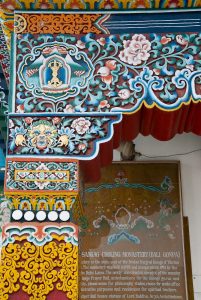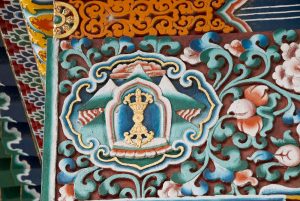 Samten Choling Monastery (above)

As we drive back through the verdant tea plantations, Darjeeling is still engulfed in a thick cloud and my view of Khanchendzonga will have to wait until I get to Sikkim.
                                Edward Lear, 'Kangchenjunga from Darjeeling' (1879)
© Heather Elton