Pemayangtse and Sanga Choeling
Pelling is only a half days' drive from Darjeeling and other than getting stuck in a traffic jam for over an hour, the journey keeps getting more sublime. The lower mountain slopes are abundant with lush green bamboo and ferns, wild cherry, oaks, chestnut, pines, and higher up are dense forest of Sal and Teak. Even though I'm here at the peak of magnolia and rhododendron season, they're yet to bloom due to cold weather. I can only imagine the 46 species of rhododendrons and 600 varieties of orchids that are native to Sikkim. Small towns are perched on the mountainsides with wooden houses painted bright green, blue, aqua and turquoise. Even the roadside lookouts are built like gompas with ornately carved and hand-painted pillars.
Pelling (2,058 m) is fast becoming a popular tourist destination, but is still a quiet town perched on the edge of a mountain, with some of the best views of the Kanchendzonga range in Sikkim. I'm staying in Upper Pelling at the Garuda Hotel, a shabby Tibetan-style place run by Buddhists with great decor and atmosphere. I love it! It's well run and the owners are helpful and pleasant. I have a balcony room withan excellent view of the mountains, should they ever decide to present themselves. The restaurant is excellent, filled with interesting guests, and I love the tsampa porridge with coffee in the mornings, warm vegetable momos for lunch, high chai on my balcony late afternoon, and a thick handmade noodle and vegetable thupka soup for dinner. Seriously good! This scenic alpine town is my base to explore sacred sites on the Buddhist pilgrimage route in West Sikkim – Pemayangtse and Sanga Choeling monasteries, Khecheopalri Lake, the Norbugang Chorten in Yuksom, the Dubdi Monastery and the Tashiding Monastery. There are numerous monasteries, or gompas, that dot the landscape of Sikkim, belonging to the Nyingma and Kagyu order.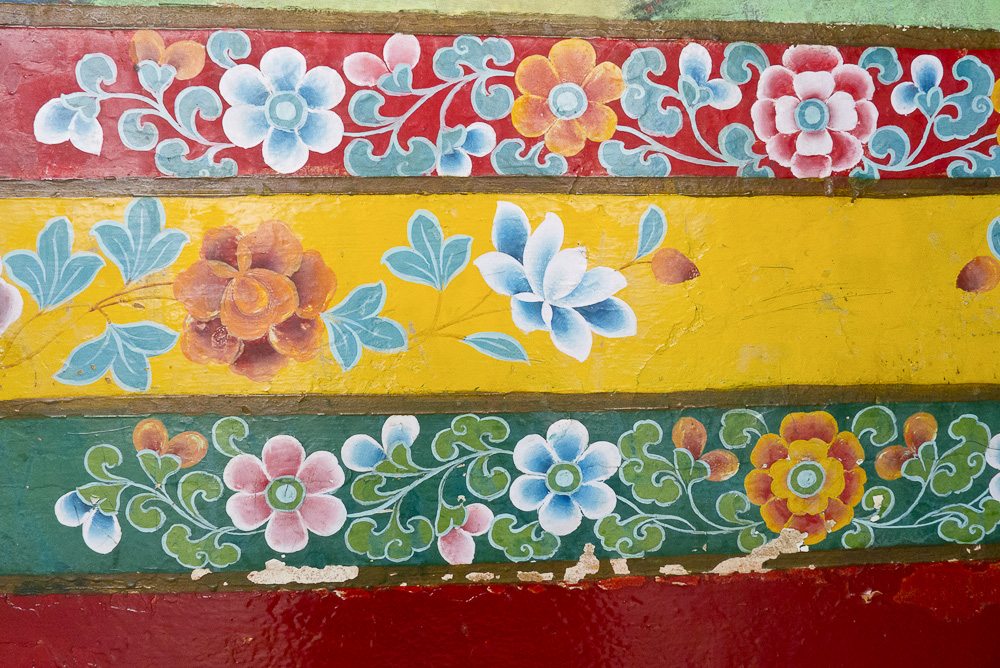 Pemayangtse Monastery is one of the most beautiful monasteries I've seen. The traditional Tibetan gompa is about 2 km from Pelling on top of a small mountain at 2084 m /6,840 ft. with gorgeous views. It's the seat of the Nyingmapa Buddhists and is the second most revered gompa in Sikkim. Pemayangtse literally means 'Perfect Sublime Lotus'. The monastery was built in 1705 CE by the famous terton, Lhatsün Namkha Jikmé, for the ta-sang lamas – meaning 'the monks of pure Tibetan lineage', celibate and without physical abnormality. I know that sounds a bit elitist and these days they're not so strict. Originally, they were reserved for the royal family for whom they performed pujas and the head lama still has the unique privilege of anointing the Chogyals of the Sikkim with holy water.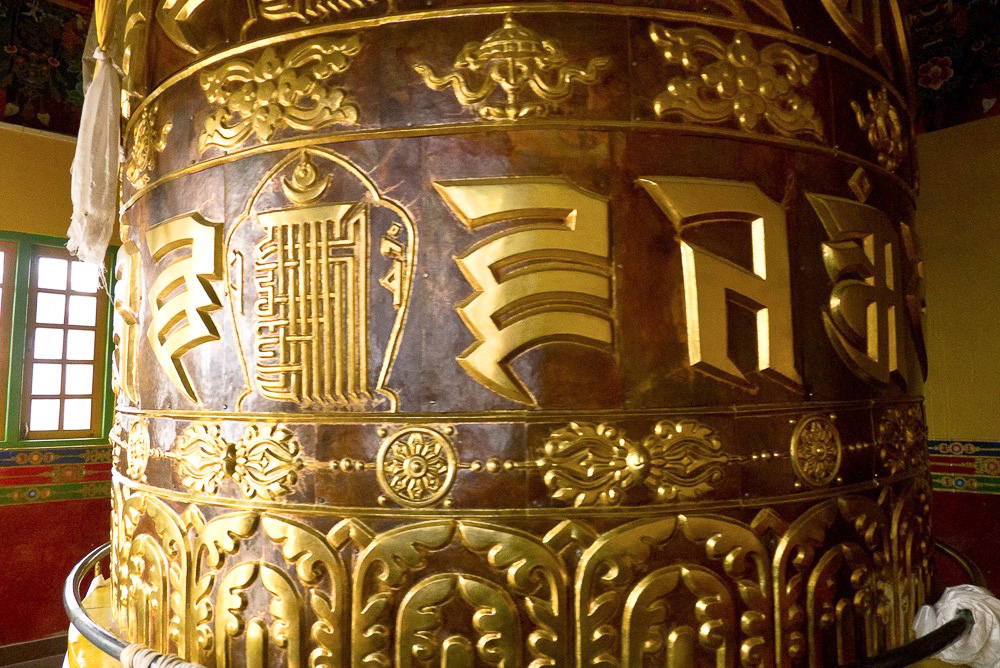 I spin the giant prayer wheel with gold Tibetan lettering of the mantra to Avalokiteswara, 'Om Mane Padme Hum.' Along the monastery walls are smaller prayer wheels with carvings of Buddhas carved in stone. I'm in awe of the three-storied monastery that is covered in gracefully-carved ornate woodwork, exquisite old thangkas framed with rare silk and brocades, brightly-painted graphic Tantric murals, antique golden buddhas and priceless icons and deities, ancient manuscripts and sacred Buddhist texts.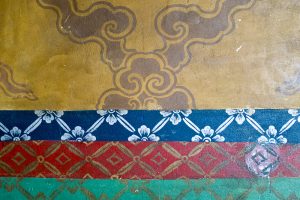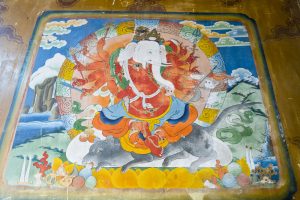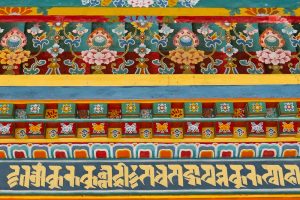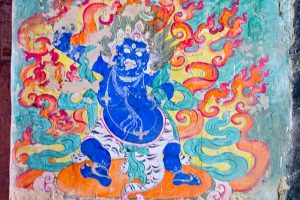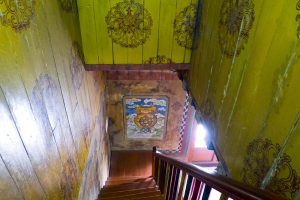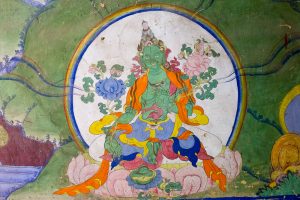 There is a museum upstairs with some original Cham masks and other important pieces. On the top floor is a seven-tiered, painted and elaborately carved wooden model, or mandala, of Guru Rinpoche's heavenly abode – Sanghthokpalri – his pure land, the Copper-coloured Mountain of Glory, or Mount Meru, complete with rainbows, angels and the whole panoply of Buddhas and bodhisattvas.  The masterpiece was completed by the late Dungzin Rinpoche, who took five years to craft it single handed. It's an elaborate visualization of the Buddha fields for tantric practitioners, and some believe it to be the spiritual geography of Sikkim.  Extraordinary
Pemayangtse is a friendly place and I play Frisbee with the young monks. I chat with the charming Cham master who is revered for his skill and oversees the religious 'Cham' dance festival that is performed here each January/ February. I observe a ceremony where the somewhat drunken director distributes prayer books to young students in his orphanage and I try to act slightly amused by his not-so-charming lasciviousness. There is a 50-bed tourist guesthouse on the premises. Mostly, I spend hours sitting inside the gompa in meditation, attending puja, observing and photographing the tantric murals.
I've been very respectful to obey the signs that say 'no photography allowed inside the temple.' In the end, I receive permission. Not that this guarantees excellent photographs as the light is very low inside the gompa and I don't have a tripod. I sit for hours and stare and the numerous versions of Guru Rinpoche that adorn the walls and marvel at the iconography. While each painting of Guru Rinpoche is unique, they all have the essential symbolism that is utilized in various Tantric cycles by yogis as symbols to hidden meanings in the transmitted practices. As per the request of my Rinpoche, I've agreed not to post more explicit Tantric images as they are often misinterpreted by those not knowing their true meaning.
Unlike many of the Tibetan deities, Guru Rinpoche has only one face and two hands. He is seated with his two feet in the royal posture. His two eyes are wide open in a piercing gaze. His complexion is white with a tinge of red and he has the youthful appearance of an eight-year old child. He is wearing the dark blue gown of a mantra practitioner, the red and yellow shawl of a monk, the maroon brocade silk cloak of a king, and the red robe and secret white vajra undergarments of a bodhisattva. In his right hand, he holds a five-pronged golden vajra at his heart; and in his left, which rests in the gesture of equanimity, he holds a skull-cup brimming with nectar, containing the vase of immortality that is also filled with the nectar of deathless wisdom and ornamented on top by a wish-fulfilling tree.
Cradled in his left arm is a three-pointed khatvanga (trident) representing the holds the 'supreme consort', Mandarava, who arouses the wisdom of bliss and emptiness, concealed as the three-pointed khatvanga. The three prongs of the trident symbolize the essence, nature and compassionate energy. Three severed heads, dry, fresh and rotten, symbolize the three kayas (bodies) dharmakaya, sambhogakaya and nirmanakaya. Nine iron rings represent the nine yanas and five-coloured strips of silk symbolize the five wisdoms. The khatvanga is also adorned with locks of hair from dead and living mamos and dakinis, as a sign that the Master subjugated them all when he practiced austerities in the Eight Great Charnel Grounds. On his head, he wears a five-petalled lotus hat, which has three points symbolizing the three kayas, five colours symbolizing the five kayas, a sun and moon symbolizing skillful means and wisdom, a vajra top to symbolize unshakable Samadhi, and a vulture's feather to represent the realization of the highest view. Wrathful and smiling, he blazes magnificently with the splendour of the major and minor marks.  All around him, within a lattice of five-coloured light, appear the eight vidyadharas of India, the twenty-five disciples of Tibet, the deities of the three roots, and an ocean of oath-bound protectors.
After observing these murals for a long time, I become so blurry-eyed that all I can see is Guru Rinpoche. It's like ordinary reality has receded to the background. I feel his essence inside me. He becomes so vivid that his image is etched in my memory and I know I will now be able to recognise him in paintings and deities, as well as visualise him in meditation.
Om Ah Hum Vajra Guru Padma Siddi Hum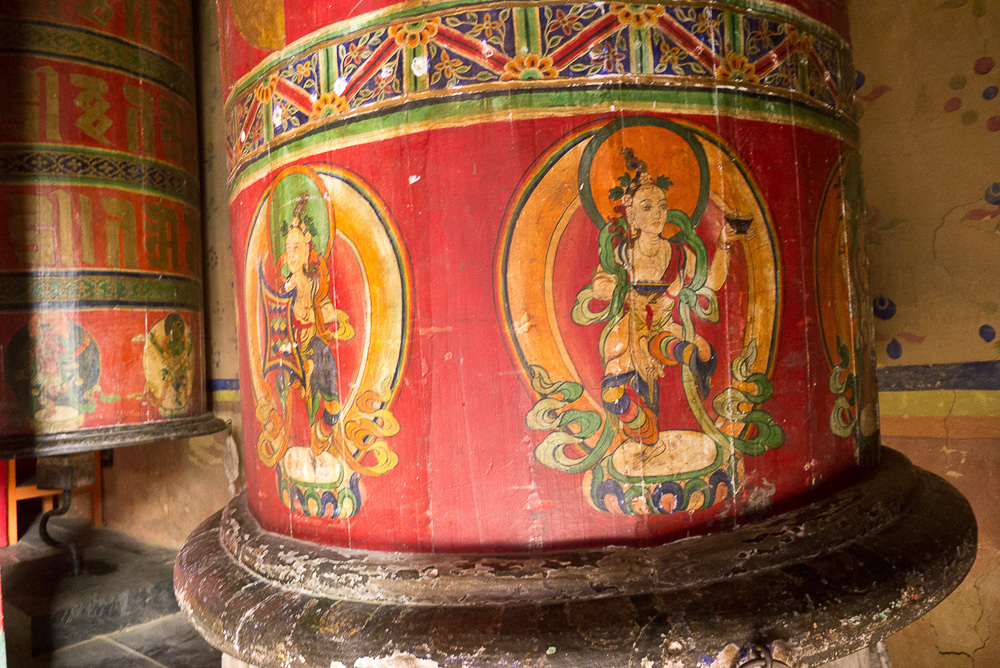 Out back, is the original gompa with rare prayer wheels hand-painted with dancing dakinis, and a very precious statue of Jamyang Khyentse Chokyi Lodro. Chokyi Lodro (1893-1959) was an incarnation of Jamyang Khyentse Wangpo and is considered to be the most outstanding Tibetan master of the twentieth century. He was an authority on all traditions and holder of all lineages in Tibetan Buddhism. He is also the incarnation of my teacher, Dzongsar Jamyang Khyentse Rinpoche.
On the ridge below Pemayangtse are the ruins of the old royal palace, Rabdentse. It was established in the late 17 CE and the Chogyal ruled from here until it was reduced to ruins by the invading Nepalese army in 19 CE. One has to trek about 2 km on a lovely path through the forest to get here. Standing of the ruins, I look back up the mountain and see Pemayangtse perfectly framed in the center of two giant trees. The view spans across the deep valley to infinite small mountains leading to the mystic heights of Khangchendzonga. I'm so absorbed with the energy of Pemayangtse that I don't really 'see' the mountain to be cherished and etched in memory.
Sanga Choeling Monastery is opposite Pemayangtse, on top of a small mountain on the other side of Pelling. I walk for 45 minutes (7 km), up a steep path through dense forest to reach the gompa. White stupas rest at the edge of a precipice and there are spectacular views of the pretty town of Pelling below and the mountainous landscape leading to Kanchendzonga. Sanga Choeling Monastery was built by Lhatsün Namkha Jikmé (1697 CE) and is the 2nd oldest monastery in Sikkim. It was ravished by fire and rebuilt meticulously to replace the original structure, including he elaborate tantric murals. The monastery also suffered damage by 2011 earthquake, but still bears its originality and most sacred atmosphere.
Sanga Choeling means 'the island of esoteric teaching'. Another meaning is 'the place of the secret spells' and this place seems steeped in tantric mysticism. There used to be a tradition of sending a learned monk from Pemayangtse monastery to each of its subordinate monasteries to hold the throne of Vajra master (Tib; Dorjee Lobon) and Sanga Choeling is one of them. Though many monasteries discontinued this tradition Sanga Choeling still retains it. The present Vajra Master, Yap Pon Lop Lama Kunga Tshering, is one of the revered senior monks at Pemayangtse. There are about 300 monks here and they study the old and traditional methods of the Vajrayana path. There are a lot of child monks living at the monastery an attending the monastic school where they do primary level learning.
Originally, Sanga Choeling was established for the monks who chose the Buddhist Tantric Wrath Practice (Tib; Ngagchen) within Nyingma's Dzogchen lineage. Later, female Buddhist practitioners from the villages lived in this monastery and practiced nunnery that might have begun in the reign of Chogyal Namgyal Phuntsog (1733-1780 CE). Subsequently, the nunnery disappeared and monks practice the traditions, rituals and philosophy and prayers in the tradition of Pemayangtse. Lhatsün Namkha Jikmé's relics, ceremonial costumes and sacred objects were preserved at Sanga Choeling, until they were secretly transferred to Tumlong Monastery due to frequent Gorkha attacks.
While Pemayangtse has a certain 'refinement' about it, Sanga Choeling has a motely gang of monks from the Lechpa and Bhutia tribes. I ask a lama if I can help him make wicks for butter lamps. Offer accepted. He is very nice and speaks some English. I tell him about my practice and we chat a bit and then, to my surprise, he takes me on a tour through the gompa and into some secret locked rooms with tantric murals, numerous hand-painted clay statues of deities, including a large Yabyum (Samantrabadhra) sculpture. There is a curious sculpture of a god emerging from a mountain. Perhaps it's Guru Rinpoche or Lhatsün Namkha Jikmé opening the passes to Sikkim. It's extraordinary to see these beautiful, original, very sacred, and sadly decaying, sculptures that date back to, at least, the 17 CE.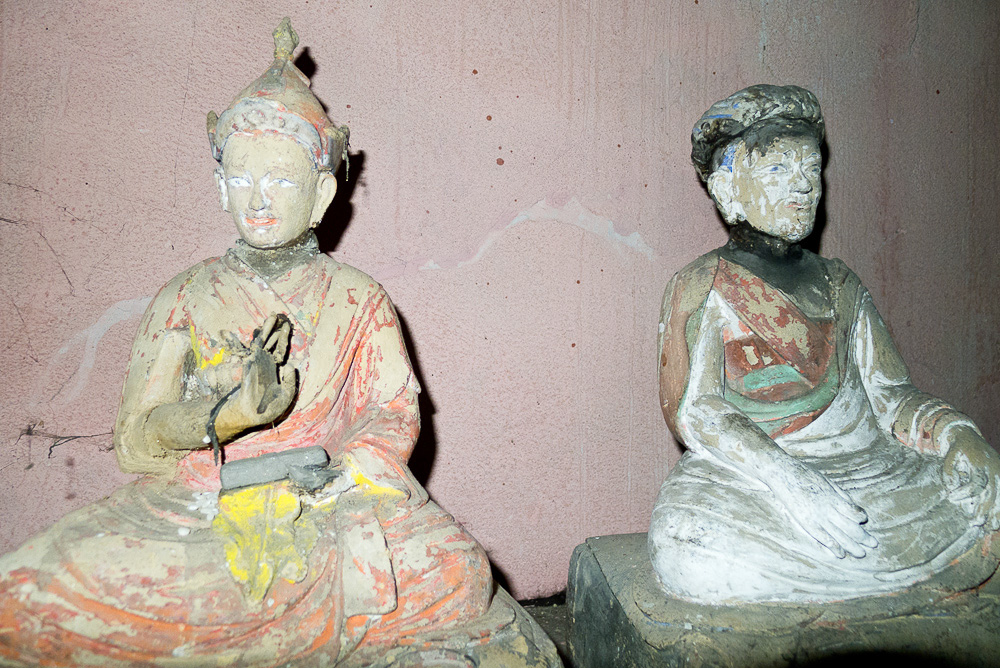 There is a large statue of the transcendent Vajrasattva (Buddha of Purification) holding a vajra and a bell, as a symbolic act of the sublime union of wisdom and compassion. Vajrasattva is my current sadhana so I feel right at home here and supported in the practice. Earlier, I had sent out a request to Guru Rinpoche and his dakinis, asking them to reveal themselves to me. Inside the butter lamp room is a larger-than-life red Vajrayogini (the Essence of all Buddhas). They can appear as beautiful dancing maidens in a variety of peaceful or wrathful forms to help overcome obstacles on the spiritual path. This one is young, naked, and standing in a desirous or dancing posture. She holds a blood-filled skull cup in one hand and a curved knife in the other. A garland of human skulls or severed heads falls from her neck; a khatvanga staff leans against her shoulder; her usually wild hair flows down her neck and back; her face in a semi-wrathful expression. Her radiant red body is ablaze with the heat of yogic fire and surrounded by the flames of wisdom. Vajrayogini embodies the highest tantric practices, to transform ordinary experience and swiftly attain the ultimate happiness of full enlightenment. I recognize this is as an auspicious start on my hunt for dakinis and feel the power of this mysterious and magic place.
The dakini symbolizes levels of personal realization: the sacredness of the body, both female and male; the profound meeting point of body and mind in meditation; the visionary realm of ritual practice; and the empty, spacious qualities of mind itself."
Back at the hotel I hear that tomorrow will be a clear day. I get up before dawn and wait on the roof for Kanchendzonga to reveal itself. Other guests are also wrapped in down coats and woolen shawls, some with binoculars, who let me have a closer look of the majestic white summits that seem to float above the clouds in a continuous shifting light of the dawn sky. It's true what all the writers say about the ethereal quality of Kanchendzonga that doesn't seem part of the earth. Here are two of my favourite descriptions written by two writers who sublimely write about Kanchendzonga far better than me.
"All other mountains are of the earth, one see the ramparts of them, the bastions, and buttresses that support them, but Khanchendzonga so high that its feet are lost in the mists of space and the unbelievable white vision rests on thin air." – Gertrude Bell (1886-1926)

"In the early morning the transparency of the atmosphere renders this view one of astonishing grandeur. Khanchendzonga (28,150 ft.) bore nearly due north, a dazzling mass of snowy peaks, intersected by blue glaciers, which gleamed in the slanting rays of the rising sun, like aquamarine set in frosted silver." – Sir Joseph Hooker
It turns out that the owner of the Garuda Hotel knows my guru, Dzongsar Khentsye Rinpoche, and tells me that DJKR has a retreat center in Geysing. I go the next day and the place is splendid, perched on the side of a mountain with sublime views. Tenzin looks after the property and graciously invites me in for tea. She was a student of the old lama who was here, but recently passed. He was also from Bhutan and left the entire property to DJKR. It turns out that this is where Rinpoche spent much of his childhood on holiday from Bhutan. Inside the tiny gompa is a clay statue of his predecessor Chokyi Lodro, and some wrathful being. In his childhood bedroom, on a high shelf is a relic from his childhood – a box of English lessons from the 60s, 'Advanced English Course'. I smile when I see these as Rinpoche really does speak brilliant English. I'm a bit overwhelmed to be standing in his current bedroom. It's a bit intimate and I wondered what am I doing here? Why me? Tenzin comments that I must have a strong karmic connection with him to be here. She also corrected my hand position when doing prostrations. "Tuck the thumbs inside like a lotus while in Anjali mudra, she says, "and recite 'Om Ah Hum.'  Keep the fingers together and flat when on floor if you don't want to come back as some strange webbed creature."
I really like Sikkim. The people are lovely and the forest landscape stunning. I feel safe here and love being in pure nature. I really like Sonam my driver. He is courteous and takes good care of me. He is also a Buddhist and is very interested in the gompas. So all is good.
Heather Elton is a yogini, writer and photographer living in London. 
© Heather Elton 2013