Yuksom and Dubdi
Yuksom (5500 ft.) is about 35 km from Pelling. I offer a ride to two handsome men. Fergus is from Scotland, is in his mid-twenties, and is about to become a Theravaden monk in the forest tradition of Thailand. Massimo is an Italian architect living in Paris who is here to do some fly-fishing. We make a short stop to visit Phamrong Falls, which are so popular with Indian tourists that it's difficult to see them. Yuksom is a bit more remote, a charming little village with a rich ethnic culture and is the base for treks and climbing expeditions to Mount Kanchendzonga, Dzongri and Goecha la.
I get sorted in my very basic hotel that seems to be under construction and is very dusty and cold. Glad I'm only here for one night. Not long after I arrive the electricity goes out so I grab my Petzel headlamp and explore the high street. Yuksom is a dusty one-road town that looks like something out of the Wild West, except that there are hairy yaks wondering about and people wearing heavy woolen ponchos.
I meet up with the boys for the local cocktail. We settle into the plastic chairs alongside the main road and order a 'tsonga,' made from fermented millet. It's served in a fat bamboo glass with roasted millet filled up to the brim. It comes with a kettle of hot water that you pour into the drink to keep it topped up. After 5 minutes, I drink the surprisingly tasty liquid through a thin bamboo straw that separates the seeds from the liquid. The idea is to keep adding water as desired and the good thing is that the more you drink, the weaker the cocktail gets. Very sensible. I feel warmed and toasty. We also eat delicious fried yak cheese momos and Sikkimese noodle soup.
Yuksom is the original capital of Sikkim and it's of special importance because this is where the first king of Sikkim was crowned, an act that led to the country becoming Buddhist. In 1642, the great terton, Lhatsün Namkha Jikmé , and two other Lamas, Kathok Rigzin Chenpo and Ngadak Sampa Chenpo, met at Norbugang to perform the coronation. Phuntsog Namgyal, a young Bhutia, became the first choygal (dharma king) of the Royal Phuntsok Namgyal Dynasty that ruled Sikkim for 332 years. Apparently, Guru Rinpoche predicted the event some 800 years before. This historical gathering of the three virtuous lamas is called 'Yuksom', which in the Lepcha dialect means 'The Place where the Three monks met'. A stone throne commemorates the consecration and stands to this day under the shade of a giant Cypress tree believed to more than 300 years old. A footprint in front of the throne is revered by the Sikkimese as Lhatsün Namkha Jikmé's. Since this is the spot where Guru Rinpoche's prophesies came true, the entire area of Yuksom is considered to be an open-air altar to offer prayers to Khanchendzonga. The three monks oversaw the construction of Sikkim's first chorten and inside is a shoe belonging to Guru Rinpoche and a lock of hair of his consort, Yeshe Tsogyal, as well as soil and stones from all parts of Sikkim.
The next day Sonam and I head up to Dubdi Monastery along a tranquil path, past old wooden prayer wheels along the river, through verdant forests filled with wild orchids to the top of a small mountain above Yuksom.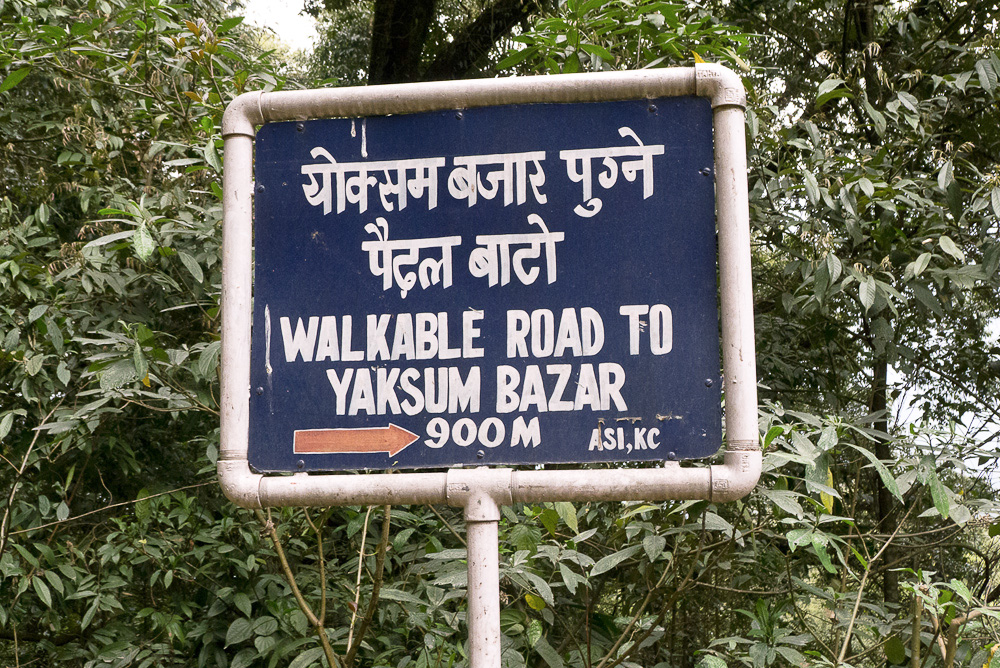 Dubdi Monastery is the oldest in Sikkim and was built by Lhatsün Namkha Jikmé in 1670. Today, H.H. Yangthang Rinpoche oversees the monastery, one of the great Buddhist reincarnated masters of Nyingma school of Tibetan Buddhism. He is the incarnation of one of the treasure revealers, terton Dorjee Dechen Lingpa, and is the ceremonially admitted monk of Pemayangtse Monastery. At present he is the master for many monks and living Buddhist practitioners within and outside Sikkim. The 2011 earthquake damaged Dubdi and while many of the murals have crumbled off the walls, it still retains a wealth of sublime thangkas, statues and icons.
The rest of the day is spent wandering the mountain paths that connect village to village, each carved into the mountainside, homes painted green and blue, vegetable gardens and iridescent stands of bamboo and flowers everywhere. The mountainsides are all terraced for farming. The Nepalese developed this technique and now 75% of people in Sikkim are Nepalese. Chickens, goats, sheep and cows live in wooden pens on stilts.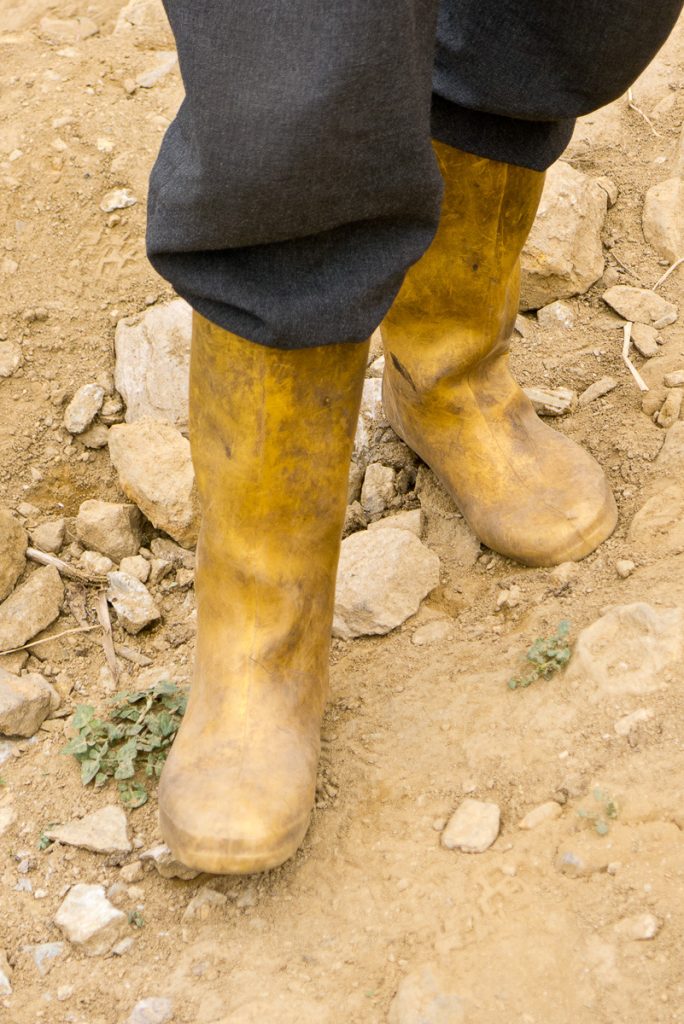 We meet a beautiful Nepalese woman in gold boots and cool trousers carrying the big straw basket to gather food for the cows. Local tribal people carry a massive pile of leaves on their head and from the back they look like a walking tree. Every day they forage food for their animals. A man jumps out of the forest with a basket of ferns covering his entire body and he invites us back to his home to see his 'golden cow.' I'm not sure we ever saw the cow, but we enter inside his dirt floor shack where his Nepali wife is cooking up some chang, another local brew made from barley. There is a huge pile of freshly cooked manioc on the ground. We have an animated conversation when the youngest of his 12 daughters arrives home in her school uniform. It's all a bit surreal, as she's so proper and neat and tidy, in pigtails and ironed clothes, yet lives in a mud hut. But they all seem so happy and physically active walking along mountain paths all day long.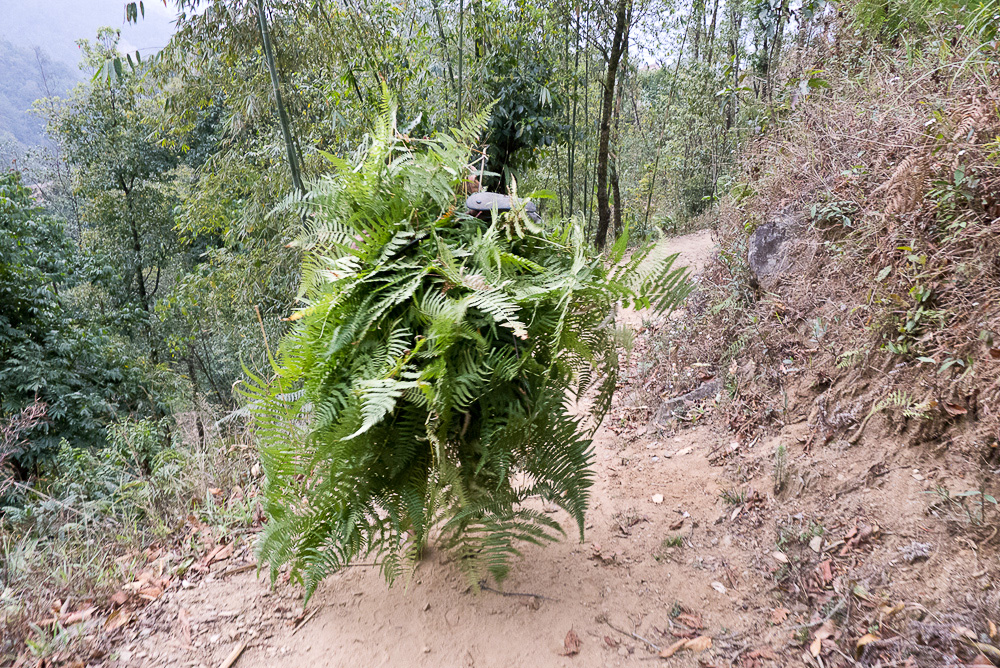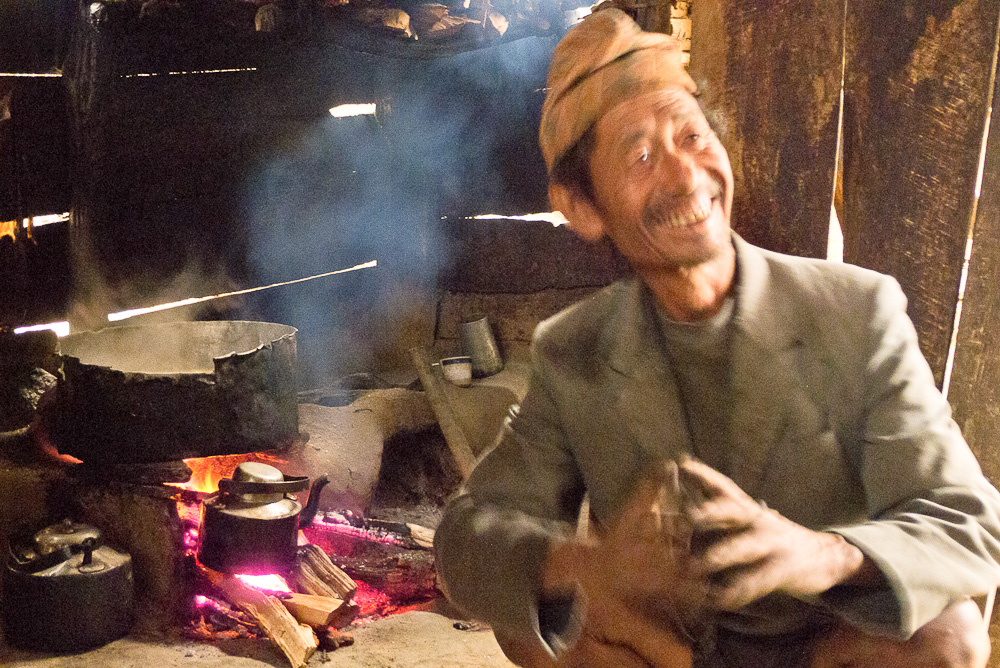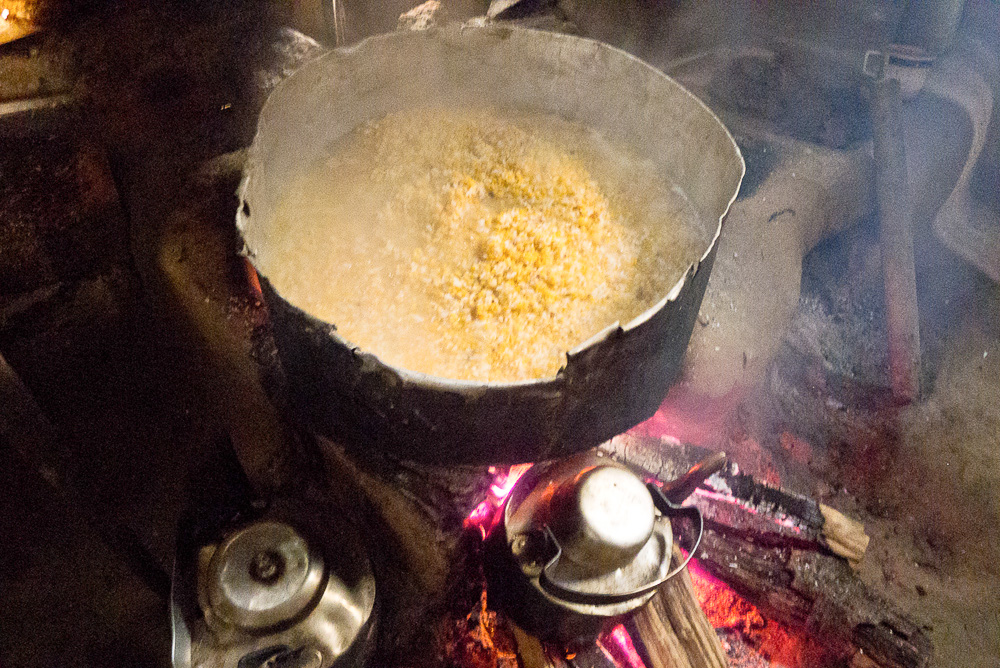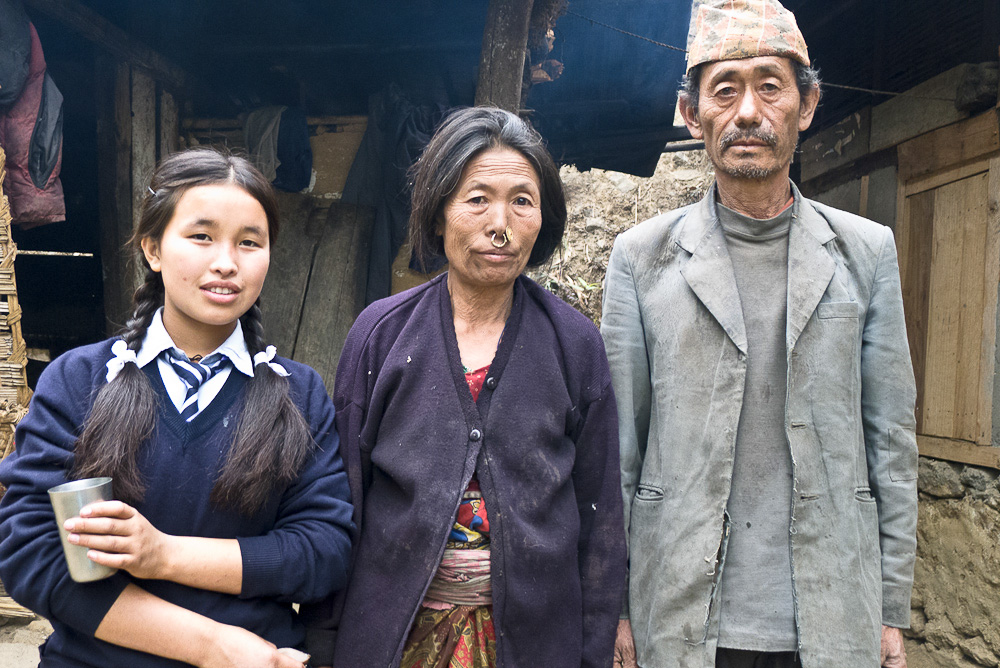 I have breakfast with Massimo who is heading to the Kanchendzonga base camp. I drive from Yuksom to Tashiding Monastery through winding passes and remote hamlets. It takes an hour to drive 19 km. The entire landscape is mountainous and covered in tropical rainforests and I never get tired of seeing it.
Heather Elton is a yogini, writer and photographer living in London. 
© Heather Elton