Living in a 400-year old Portuguese house during monsoon in Assagao,
feeding stray dogs as yoga seva, falling in love with Rajita, and strategies to cope with Covid lockdown in Goa.
Photographs and text by Heather Elton
THE SECOND PHASE OF MY PANDEMIC LIFE TAKES ME THROUGH AN INTROSPECTIVE TIME DURING THE GOAN MONSOON. I've always wanted to experience a monsoon in India. I'm living in traditional Goan house and because it's so old and rustic, my relationship with it is a physical one. Each night before bed I close the large wooden shutters and seal the door with a heavy sliding wooden beam that feels like I'm inside a medieval castle. The walls are thick to keep the temperature cool. Large oyster shell skylights diffuse the sunlight. I enjoy doing mundane things like the dishes. I much prefer this rustic life to living in a AI 'smart home' that does everything for you. Life is relationship. There is also a gardener, handyman, who has worked for my friend for 20 years. I'm very grateful to get to know a local Goan. I'm delighted to cook my own food again, experiment with dals, red and black rice, unknown Indian vegetables, and learn how to make chapatis. The torrential monsoon rain is intense and relentless. Like Covid, monsoon is a time for introspection. The process brings new growth. A vibrant lushness descends on Goa turning it into an emerald jungle with wild, exotic flowers. The greenness calms my heart.
During monsoon moss covers the old stone walls. A mural painted on to stone wall in Parra.
Goa slowly opens up from lockdown. It's in the 'green zone' with very few Covid cases. I remain cautious and wear a mask if I go out. I do my best to social distance, but it's almost impossible in India due to the population. Social distancing is a concept for the more privileged countries or those who have space. It's not possible if you live in a small house with several intergenerational family members. Grocery shopping at Orchard Stores is challenging as the aisles are narrow and people crowd around the cashier. Few people wear masks. Many Indians don't think Covid is as dangerous as Malaria, Cholera, Tuberculosis, Dengue Fever, Meningitis, or the usual life-threatening viruses that exist here. Most foreigners are in Goa for the alternative lifestyle and plant medicine and rave gatherings still draw crowds in Arambol. Young, maskless, Goan men on motorbikes relish the speed and believe they are immortal. I stay in self-isolation and only go out for essential things like food and sunlight. 
Mojigao is one of my favourite cafes. It's a stunning place with exquisite plants and shanti vibe, tucked into the lush hills of Assagao, and serves delicious mediterranean food.
Once a week, I have breakfast in one of the beautiful cafes in Assagao. Mojigao is a stunning place, tucked into the lush hills of Assaga, with exquisite plants and shanti vibe, that serves delicious Middle Eastern food. I feel safe in the outdoor, ventilated structure with tables set apart for social distancing. G-shot is another favourite, an impressive coffee roasterie selling Indian coffee beans from Karnataka and Tamil Nadu, run by German Osho sannyasins, who make excellent homemade food. Goa also has sophisticated 'takeaway' food. I discover Green Chokrees, a no-waste, organic and vegetarian purveyor of gourmet food. I order their food weekly and I have little reason to leave the house. I also buy homemade sourdough bread from Flour Power, even if it costs £4 a loaf, and is more expensive than in London. 
When I do go out it's for long scooter rides. I like to get 'lost' and discover remote parts of Goa, all in the company of my new best friend, Rajita the dog. We cruise the back roads, alongside paddy fields and into wild jungle places. Old stone walls, covered in moss, hide stately Portuguese houses with windows made from shiny, translucent oyster shells, harkening back to a time when when glass was not yet used. And to the Portuguese colonialist past and its Catholic legacy. Hindus have been the underclass while Catholics enjoyed their privilege, but that is changing now. Churches are closed during the pandemic, while some Hindu temples are open thanks to the new majority BJP government in Goa. Always there is a sacred well on which temples and churches are built. 
Ganesh Chaturthi is an annual 10-day celebration of the birth of Lord Ganesh. I buy a kilo of flowers and decorate my altar and the house in honour of the elephant god, Ganesh. He is the son of Shiva and Parvati and is relevant to yoga practice. In tantra, by invoking the image of classical representations of Indian deities, we invite our subtle bodies to resonate with what we're experiencing in our imaginations so that proper alignment spontaneously arises. Ganesh offers us insight into Mulabandha—tone and awareness in the pelvic floor gives room to become ignited in a soft, full abdomen. As the remover of obstacles, Ganesh teaches us to keep an open mind, a sense of humour, and to listen deeply so as not to become fundamentalists stuck in our opinions and points of view. This seems very relevant as the world descends further into polarisation and intolerance. OM Gum Ganapataye Namaha! Wishing you a ton of laddoos.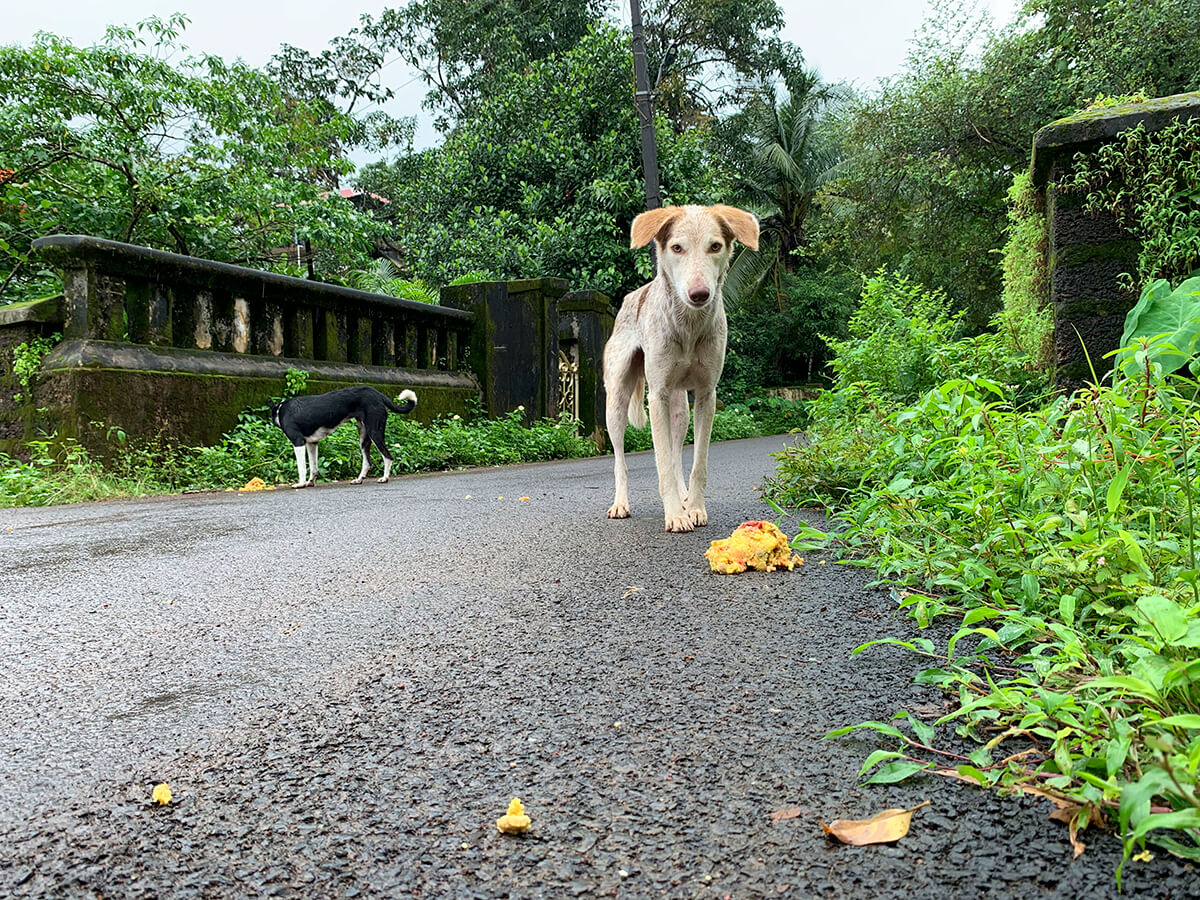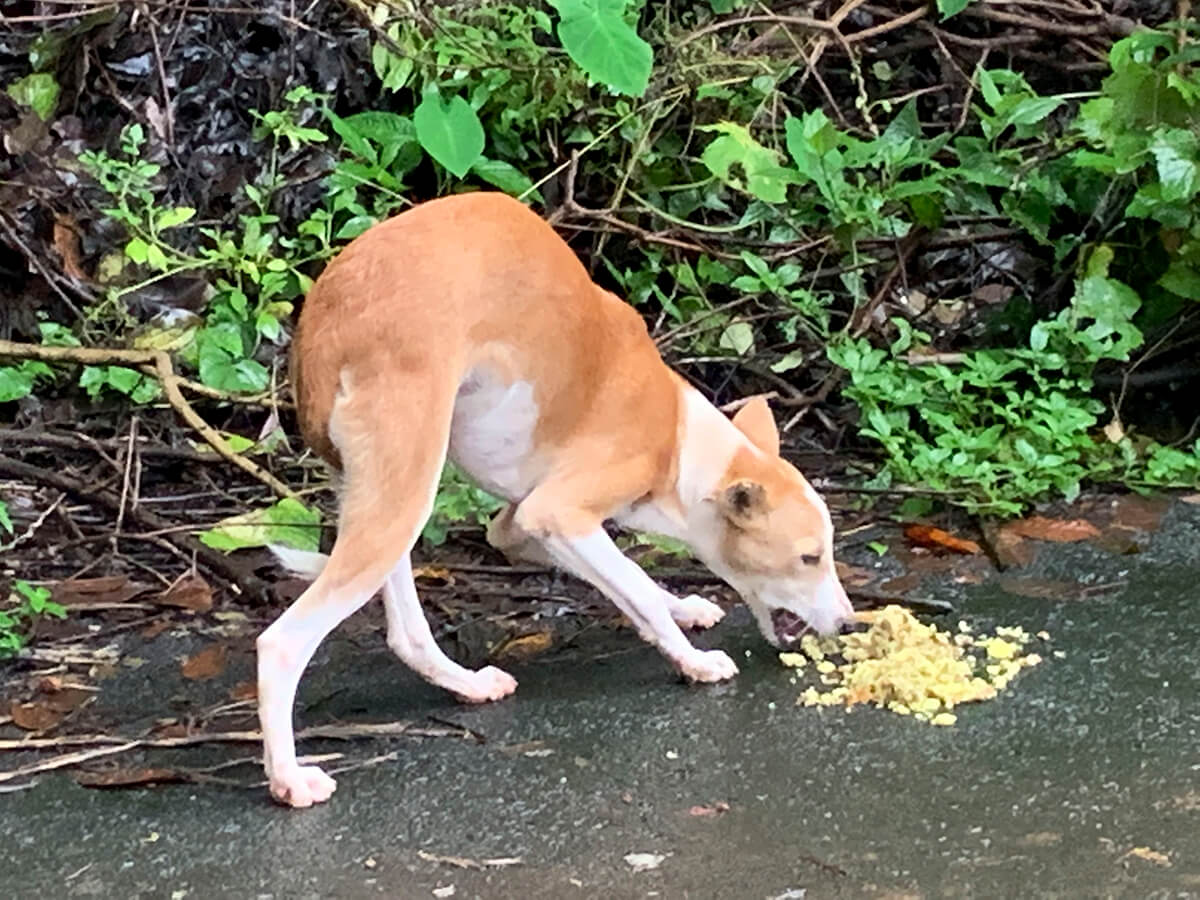 Goa has an epidemic of homeless dogs. I make it my sadhana to cook vast quantities of rice, dal, kidney beans, dog biscuits, egg, carrots and pumpkin, turmeric and curry leaves to feed them.
Most dogs are wild, thin and scared with various skin diseases. I leave their food on the opposite side of the street. Trauma runs deep from experiences with violent humans.
My Hindu tantric guru, Ishanath, tells me that the best form of yoga in the age of Kali Yuga is seva. There is an epidemic of homeless dogs in Goa. Prior to foreigners arriving Goans used to shoot them during monsoon. These days, Animal Rescue sanctuaries, like WAG, spay them, inoculate them with rabies shots and take care of them. I make it my sadhana to feed the street dogs. I cook vast quantities of rice, dal, kidney beans, dog biscuits, egg, carrots and pumpkin, turmeric and curry leaves. Rajita scrutinises it looking for fish. Scent is the determining factor of whether it's edible. Like most Goan dogs, she prefers meat, but I'm vegetarian, so what to do? Most homeless dogs are wild, thin and scared. I leave their food on the opposite side of the street. Trauma runs deep from experiences with violent humans. My favourite dog resembles the ancient Persian breed of Saluki, the first dogs of India. Yellow eyes. Cunning intelligence. Feral. Today she comes a little closer to me. I'm radiating peace and love and non-harming. Ahimsa. Happiness arises from being compassion and kind.
In October, thousands of domestic tourists flood into Goa. There are no border restrictions and it seems like every wealthy person in Mumbai or Delhi wants to live here. More swanky espresso bars open and expensive designer shops. Old trees are ripped out of the earth and the rural ambience of Assagao is under siege, replaced by luxury flats. The irony is that the very people who move to Goa to escape their hectic lives in the concrete jungles, are turning Goa into exactly that. I no longer go to my favourite cafes. Every seat is taken by unmasked people sitting in front of their Apple computers, talking to people on Zoom, without headphones. The beaches are crowded, narrow roads jammed with oversized SUVS, long queues wrap around burger joints, and hundreds gather at the popular Thalasa for serious drinking. Animals are killed on the roads. The peaceful atmosphere is shattered. I rarely leave the house. 
My Bhairavi sadhana of caring for an ageing dog is showing results. Rajita has now become the self-appointed guardian of protector of the yoga shala.
I have a yoga room of my own. I'm using pandemic time to look within and be accountable for my actions and responsible for my life. Time to slay my demons. In October, perhaps the most important Hindu celebration is Navaratri, where the nine manifestations of Devi Durga (and all aspects of the 'feminine') are honoured. When the world has gone terribly wrong, Durga comes to the rescue. She is depicted as a warrioress riding her tiger with eight arms, each hand holding a celestial weapon bestowed upon her by the male gods. She defeats the demon Raktabija (or Blood Seed) who threatens to destroy the world. Seems an appropriate metaphor for the Covid-19 virus. (If you want the full story and significance of the Devi, read my enactment of the battle on my blog – The Goddess Episodes – as there isn't the space here.) Durga teaches us to be fearless. Stay grounded in unshakable equanimity. No matter what.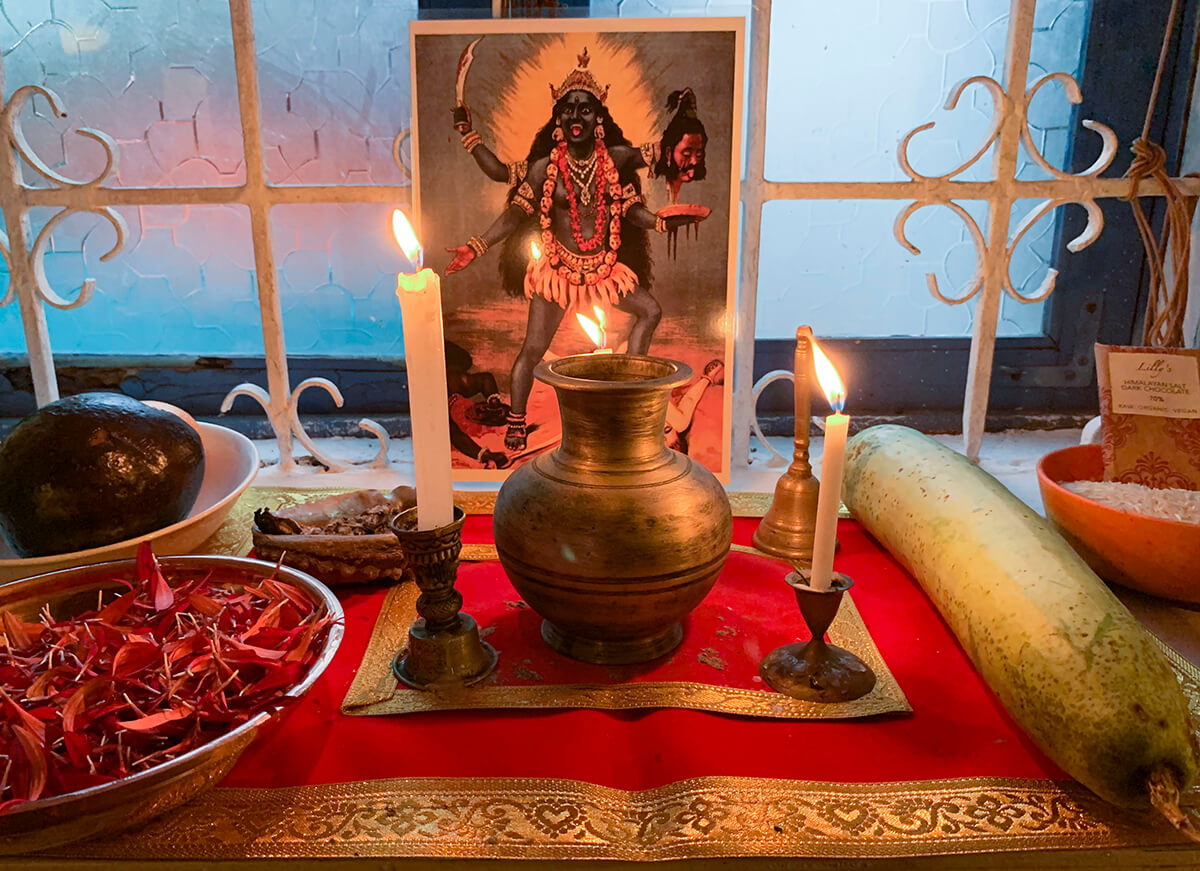 My Navaratri altar. In the Devi Mahatmyam, Kali Maa, the most wrathful manifestation of Durga, spreads her vast tongue and sucks up the blood from the battlefield, preven8ng the demon Raktabij (Blood Seed) from cloning himself, and restores order to the world. It seems an appropriate metaphor for the Covid-19 virus. In this Bengali pain8ng, Kali is so crazed and wild from the blood that she doesn't recognise her husband, Shiva, and steps on him. She wakes him up. Without Shaki, Shiva is a corpse.
I'm sure wondering why I'm making offerings to this dark lady, who looks so hideous and scary with her skull garland and all this paraphernalia? The feminine comes in all forms. And sometimes the most wrathful is the most compassionate. Dzongsar Khentsye Rinpoche reminds us that when we don't embrace the shadow, when there is no union of wisdom and compassion, or clarity and emptiness, then we end up having extreme views. And this duality leads to suffering, plagues, viruses, war, famine. So, all these tantric practices involving deities, regardless of the multiplicity of forms, is just another skilful way to relate to and get acquainted with non duality. Sadhana wages war with habitual patterns. Fewer habitual patterns means less dualistic phenomena. More harmony, peace, and blessing. Fundamentally, the purpose of these kinds of practices is for us to not get distracted, sidelined or sidetracked from realising the truth.
My ten-day sadhana delves into the darkness and light within me. I sit with feelings of unworthiness, shame and pride to shift the energy from a place of lack to one of abundance. Often we think of strong emotions like desire, anger, jealousy as defilements – things we need to get rid of. But if we dig into these strong emotions, we arrive at a kind of wisdom. The best solution to transform them is often the defilements themselves. 
Each manifestation of Durga represents a different aspect of ourselves. I feel deep devotion for Chamunda, the most wrathful manifestation of Kali, a crone-like Devi of the cremation grounds, who is appropriately named 'She Who Tears Thoughts Apart'. She helps me slay my demons, especially my dualistic view that obscures my true essence. When the battle is over and the demon killed, the last days of Navaratri are about rebirth and embodying what we've experienced. 
On the final night, in a symbolic act, I smash the pumpkin on my altar that has absorbed the negative and toxic energies to pieces with a machete. This is challenging for me because my birth father was murdered in the similar way. I've tried to do this with psychotherapy techniques in the past, but was too scared. This time I can. Light illuminates the darkness, dissolving the last residue of pain. I feel liberated and transformed and emerge lighter and fearless. 
Monsoon sea. Mandrem Beach, Goa. 
The Goa TTC yoga students are concerned they won't graduate. I teach 100 hours online to get them through. I've was skeptical about online yoga having never done a class, but find a way to made it work. What students find most valuable (especially in lieu of not being able to give adjustments during Covid), are skilful demonstrations and verbal cues. They shoot a video of themselves teaching a specific asana sequence on their smartphone (and learn basic online skills in the process). I give them a detailed, breath-by-breath, assessment of their work, as a voice recording that they then use for Self-Practice during the week to further embody the asana technique. The result are really good. 
With decent wifi and a better understanding of Zoom yoga, I re-connect with my London students and teach a few private classes a week. Yoga teachers in Goa are starting in-person classes, but I don't feel ready. Instead, I set up a Yoga Mentorship program – private, online sessions to assist in any aspect of yoga practice. There is a gulag of information out there, but no one tells you what to do. A few people sign up wanting to develop the confidence to teach yoga after graduating from a 200-hour TTC that has failed in this regard. We embark on improving their asana technique and teaching skills.
Over the next few months, I write three more essays in the series A History of Yoga Philosophy and Practice in a Mustard Seed on my blog – The Vedic Age, Upanishads (and Renunciate Movements) and Samkhya Philosophy. My time during the pandemic is very productive. I finally have time to do attend to a myriad of projects on the back burner. I'm doing exactly what I wanted to do when I moved to India. 

The wrath of nature is relentless during monsoon. Months of thunderous downpour and overcast skies feels oppressive and tedious. Palolem Beach. South Goa.
I deliberately created a life where I could teach yoga in places I wanted to visit and be paid for it. But now that my demanding international-yoga-teacher-flying-around-the planet-life is on 'pause,' I realise how stressful it's been to produce 21 Yoga Teacher Trainings. I'm grateful to take a break from the endless hours of yoga administration and not be responsible for a group of strangers in a foreign country. I may never teach one again.
Living in India has allowed me to reduce my living expenses by a quarter, so I don't need to work as hard. But then I'm no longer someone in my 40s with ambition. I'm at that stage of life where householders in ancient times used to renunciate from worldly life to devote time to their spiritual path. It's fun to see how little I can do without. As someone who adores clothes, it's a relief to have a small, compact wardrobe of favourites worn in regular rotation, rather than forgotten at the bottom of a wardrobe. I'm happier with less – fewer material possessions, less plastic, and a more conscious life. Ultimately, this means fewer distractions. I'm still believe in engagement, just not entanglement. 
The wrath of nature is relentless and the months of thunderous downpour and overcast skies feels oppressive and tedious. My mind is at times dark and turbulent. I take a road trip to South Goa to clear my head. I miss the sunsets and need to get back outside into the elements. The Arabian Sea during monsoon is ominous and stormy. Rough waters. Dangerous currents have sucked sand from the beach leaving lava rock exposed. Perpetual high tide. The sky cracks open to the heavens.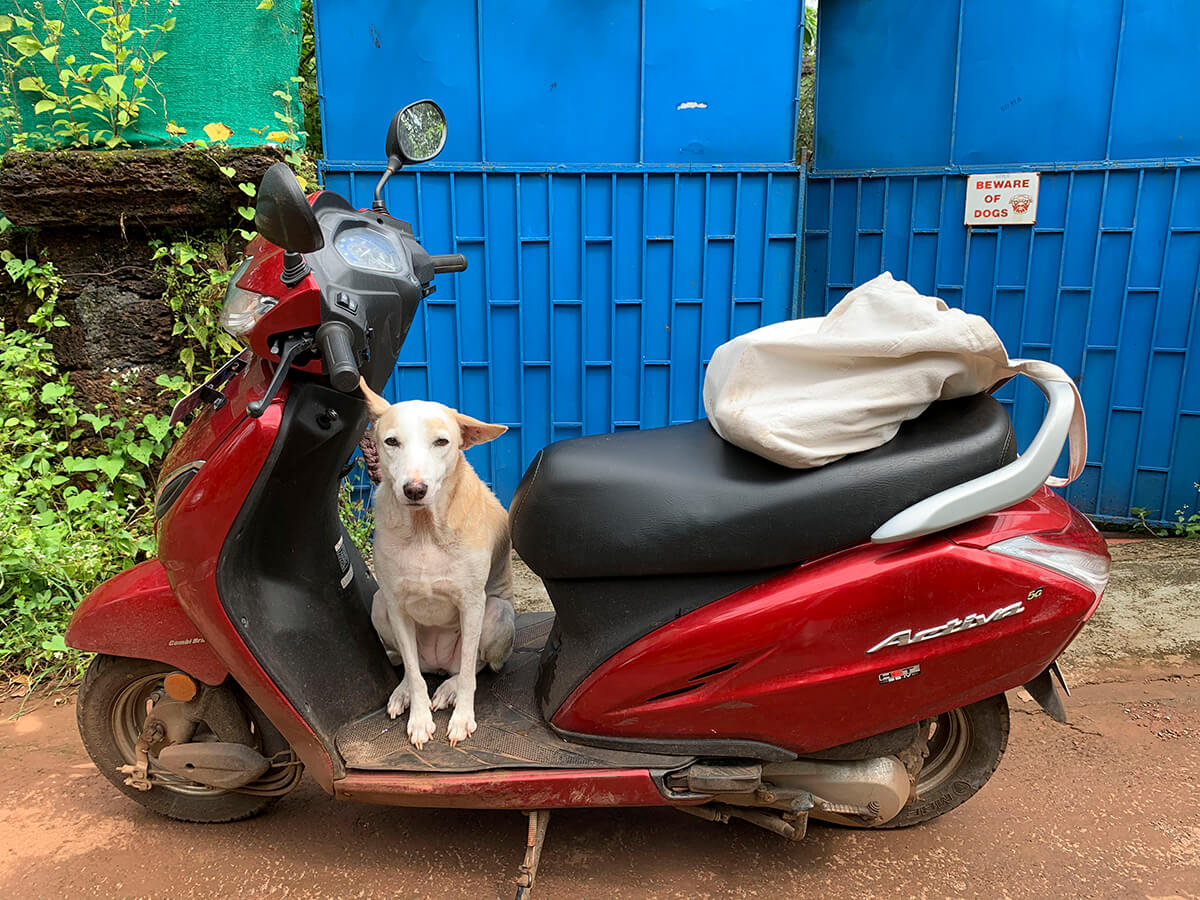 Rajita refusing to get off the scooter. She wants another ride. But it's precarious. Territorial dogs in particular – the very ones I feed chase us at top speed ready to inflict harm on my charge.
The experience I cherish most from the Assagao phase of the pandemic is sharing the house with Rajita. She is my lifeline. When I arrive she looks like a 'skin dog,' her fur ravaged by mange. Rajita is a rescue dog and hates Indian men. She is 12 years old, incontinent and lies on urine-soaked blankets. She hides from me behind furniture. She smells so bad I don't want her in the house. I buy her an elevated, mesh dog bed, so air can pass underneath. She has daily anti-mange baths and I rub coconut oil and neem products into her skin. She hates the smell of neem and I put a neem mask on my face to show her it's harmless. I change her diet. She improves dramatically. Her hair grows back and she becomes sleek and beautiful. I love it when she comes inside, just to check in and say hi. We have a nice routine together. She sleeps late, spends the day in the garden, and we take an afternoon walk. We dine together, hang out afterwards, and now she even sleeps on her new cot in my bedroom. We gaze into each others eyes and fall in love. 
Rajita's favourite spot is the nearby Assagao stream where she cools her belly in the water.
Rajita loves to go on a scooter ride to places with new smells. She likes the sensation of wind in her face. Her head pressed against my knee absorbed in the spectacle unfolding around us. At a certain point in the day, when feels bored or restless, she walks towards the front gate, turns her head and gives me that look as if to say 'get off the mat', 'get off the computer', 'it's time to go play outdoors'. And this is good for me. When I grab her leash, she gets super excited, running in circles, and jumps onto the scooter. I take her to the beach, to paddy fields, to roll in mud and swim in streams, and do things that dogs like to do. Her favourite spot is the nearby Assagao stream where she cools her belly in the water. It can be quite challenging to take a dog for a walk in Goa because each beach or neighbourhood has its own feral, territorial dogs. We are chased mercilessly on a scooter by savage dogs, the very ones I've been feeding. Often we go to the empty churches and cemeteries. Locals tell me that feral dogs will usually leave another alone if it's on a leash and with a human. This builds my confidence.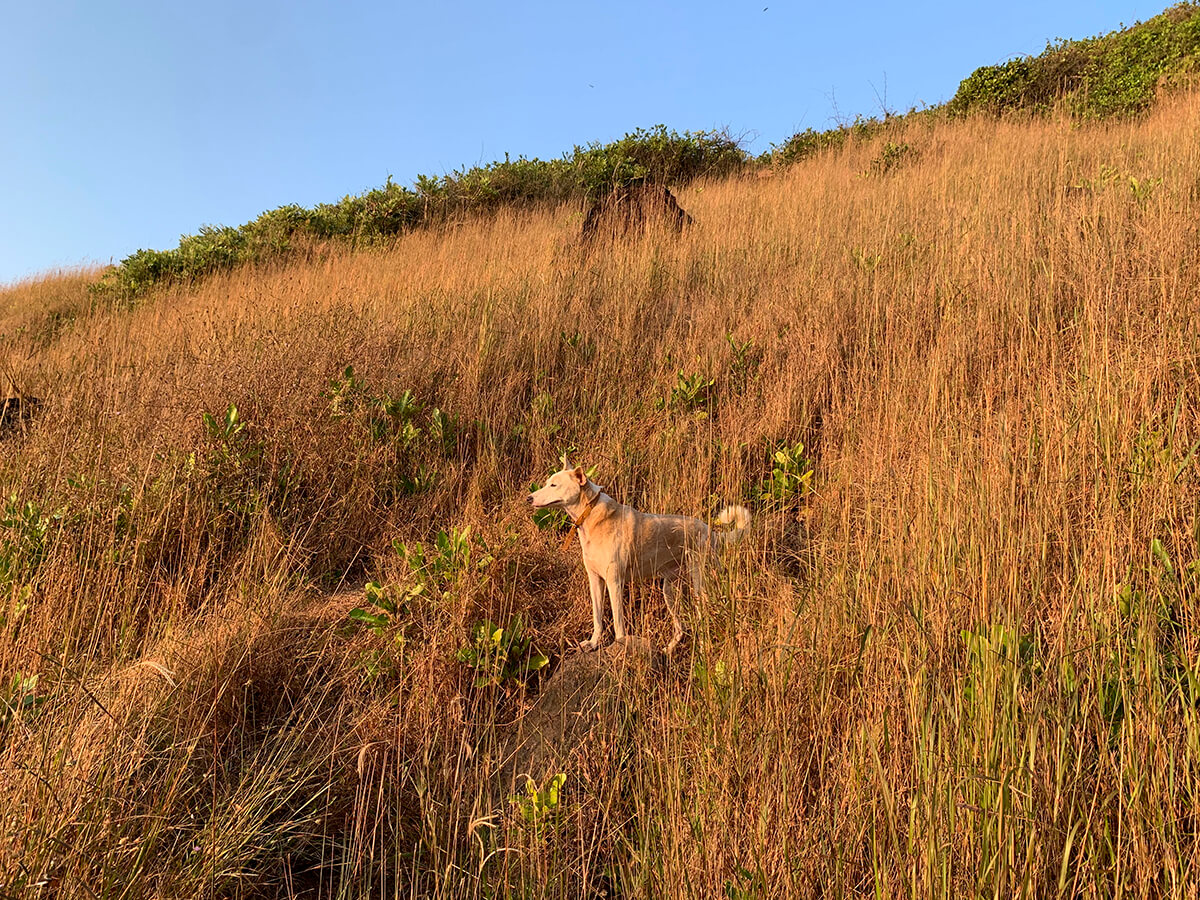 We walk up the small mountain overlooking South Anjuna Beach, to the edge of cliff, with the sea crashing below. She has a gaze of awe about her, wonderment like she's never seen this before, and is totally absorbed in the present moment, a dog yogini, with all her senses open to the five elements. It is such a pure moment of consciousness that I have tears in my eyes. She has won my heart. Yoga changes our relationship with ourself and by extension, all those around us.
Rajita is exhausted and wants to go home. The possibility of spending the night in King Cobra country where she could be prey for wild boars, leopard or civets is looming large. 
A gentle afternoon walk turns into near disaster as Rajita and I get lost in the jungle. In all my years of trekking, I've only been lost once before, in the Pacific Northwest where it was more dangerous because it was winter, snow covered the ground, and I was getting hypothermic. But that's another story. We head out for a mid-afternoon walk along an old trail in the jungle above Mojigao that connects Assagao and Siolim. We've been up here before, but this time the trail is covered in sickled Eucalyptus leaves and the path dissolves into a tangled forest with vicious vines, thorny trees, and scary Funnel Spider nests that cover the ground. We are lost for four hours. I back track to find the path and end up going round in circles. Rajita is exhausted and wants to go home. She refuses to move, or go in my sense of direction. I think maybe she can find the way out. I follow her for a bit, but my body doesn't fit through the tangled undergrowth. My legs are cut and bleeding. GPS doesn't work. I can't call anyone. We're out of range. The batteries on my two iPhones die, so we have no torch. Technology lets us down. The possibility of spending the night in King Cobra country where she could be prey for wild boars, leopard or civets is looming large.
We've been up here before, but this time the trail is covered in sickled Eucalyptus leaves and the path dissolves into a an entangled forest with vicious vines, thorny trees, and scary Funnel Spider nests that cover the ground. 
I yell 'help' on top of my lungs for 20 minutes. Despite being so close to Mojigao no one hears me. Both of us are really shaken by the gravity of the situation as dusk approaches. In the back of my mind, I have trust, faith, that even if we have to spend the night it will be OK, we will survive. But I'm seriously worried. I even cry. But the only way I avoid panic and total meltdown is to apply all my yogic powers. I feel the Shakti energy of the greenness, keep my breath long, don't project into future disaster, hone my observation skills, try to keep the view that things are not really as they appear, pray to my gurus and every god I know. I'm hyper-alert and absolutely in the present moment. I chant the mantra given to me by my guru that connects us by vibration through time. It's my only hope. 
I see a tree that I photographed earlier and remember its position in relation to the path. We give one last push and step on to the path as darkness falls. 
Incredibly, a tree appears that I photographed earlier. I remember its position in relation to the path. We give one last push and step on to the path as darkness falls. I've never so happy to be back in Mojigao. The staff are so kind. They bring us water and a first aid kit to clean my wounds. I order tuna and rice for Rajita and pumpkin soup for me. She wolfs it down. An inseparable trust is built between us. Anything can go wrong at any moment.
Throughout all the monsoon drama – the intense thunder and lighting storms, torrential rain so loud I think the roof will cave in, the constant electric outages, my Goan tattoo (or first degree burn) from an exhaust of an Enfield motorbike across my calve that takes a month to heal – Rajita is the absolute best companion I could hope for, saving me, time and time again, from the abyss of loneliness arising from an eight-month pandemic self-isolation. Bless her! 
Suddenly, my Argentinian friend comes home at the end of October. I have a week to find a new place. Again, yoga skills are required not go into heartbreak meltdown having to leave Rajita behind. I let go of my attachments, my habitual patterns, pull the rug out from under my feet once again, embrace change and transformation, and fall into the third phase of the pandemic. ♦
Missing the beginning? Start with My Pandemic Life in India: Part One – Morjim, Goa
---
In January 2020, I pull the rug out from under my comfort zone and leave London to live in India. A month later the Covid pandemic ravaged the planet. I decide to stay in India. Photography, travelogue and memoir is used to share my experience as a travelling yogini and how spiritual practice helped me to stay grounded in challenging times. As always, deep gratitude to my guru, Dzongsar Jamyang Khentsye Rinpoche, for his presence and teachings.  🙏🏽  Any misrepresentations of facts or dharma are totally of my own doing for which I'm sorry.