Teaching yoga high in the Swiss Alps at the 39th International European Union of Yoga Congress 
In August I flew to Geneva and took a train to Zinal to teach at the 39th International European Union of Yoga Congress in Switzerland. I had no idea what to expect as someone who usually shuns organisations of any kind and was pleasantly surprised to find myself in a beautiful village high up a mountain valley. The Valais holiday resort of Zinal is situated at an altitude of 1670 m at the end of the Val d'Anniviers (Eifischtal) where it becomes the Zinal Valley. It nestles amidst this majestic mountain landscape crowned by the 4000-metre-peaks of the Weisshorn, Zinalrothorn, Obergabelhorn and Dent Blanche.
The theme of the conference was 'Yoga & Ayurveda' and it was refreshing to see a large group of yogis interested in other aspects of yoga than just asana. The daily schedule was a bit overwhelming with four yoga sessions a day and a choice of 12 different presentations in each one, offered in several languages. The guest of honor was Swami Yoganand Bharati, a really sweet, 86-year-old, Ayurvedic doctor and Kundalini yogi from Benares, as well international presenters from Europe who lectured on the spiritual and philosophical dimensions of Ayurveda, as well as the curative and preventive aspects of Yoga. Evening programs included Classical Indian Ragas, a Kalari Martial Arts performance from Kerala, as well as Bollywood Dance Show and disco. All of this was set in front of the epic Swiss mountain landscape of Zinal.
I was one of a handful of yoga teachers invited to teach asana – others included Claire Dalloz, Philippe Djoharikian, Walter Ruta and Ronald Steiner. We each taught two classes a day. Sadly, it was difficult to attend other yogic sessions as we were so busy. Philippe Djoharikian taught dynamic Himalayan pranayama techniques at 7 am and people took the teleferique cable car up to a an outdoor yoga shala high up the mountainside. About 60 students followed their dreadlocked and blanket-swathed leader in a series of obscure and interesting looking exercises. Walter Ruta from Italy has also spend a lot of time in India and taught the Shat Kriyas as well as asana to his devoted followers. Ronald Steiner led the Astanga Primary Series, as well as a few interesting Yoga Therapy workshops. Claire Dalloz taught several rigourous Hatha yoga classes laced with Iyengar detail and Ashtanga flair. I attended Swami Yoganand Bharati's Kundalini chakra mediations in the early hours and loved his precise visualisations for each energy centre. Each day was dedicated to a different chakra. It all seemed very authentic sitting in front of the swami swathed in orange robes, who continually swayed playfully as if the snake were arising, kundalini energy rising up his sushumna column, and his mediations felt like ancient transmissions. I felt inspired and purified for the rest of the day.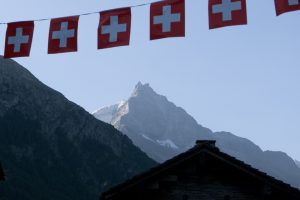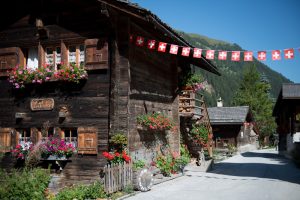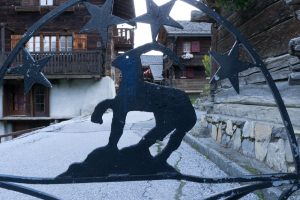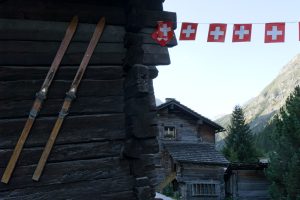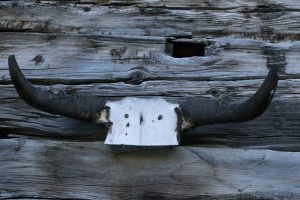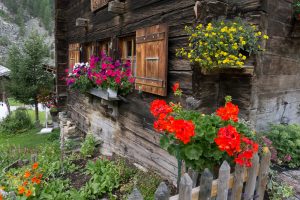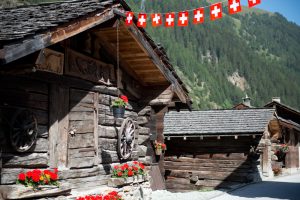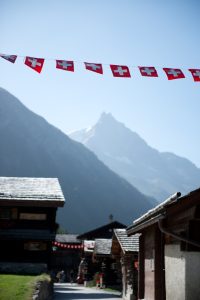 After breakfast in the Swiss chalet with Claire Dalloz (who was the perfect room mate and we quickly discovered many similarities in our practice and teaching) I walked through the Vieux Village with its rustic wooden chalets, grain stores and barns. Everywhere is the melodious sound of rushing water and the cowbells. Thirty minutes later up a long winding road I begin the trek through the forest to a high alpine yoga shala, the Alparge, to teach Vinyasa Flow yoga. The first day, I was escorted by Rodolphe Milliat, the conference visionary and yogi legend in his own right, without any idea about where we were going, how long it would take, what i should bring … I arrived a out of breath and feeling the altitude and a bit pissed off that I had come unprepared in terms of clothing and water. I'm not sure why he thought I'd be game to climb up here twice a day – perhaps he thinks Canadians are hardcore? I soon realised that my reaction to the situation had made it all the more extreme and when I settled into the present moment, to deal with reality as it is, I was immersed in the epic Swiss Alps landscape with the Val d'Annnivers unfolding before me. I truly felt blessed to be teaching here. Each subsequent morning the trek grew less strenuous and turned into a joyful silent meditation as preparation for the class. I decided it was a good thing to have arrived confused and breathless because that was the state everyone else arrived in and I knew exactly how they felt and what to do when they arrived late and anxious.
The photo above is taken from the opposite side of the valley. The yoga shala was at the top of the last alpine meadow to the right of the waterfall.
Although it was a rigorous climb to get here (and a bit too strenuous for most of the more academic participants), the 'effort' made to do the practice made the rewards much greater. Upon arrival I had them lie down to calm their breath and their mind and invite ease into the body as a gateway into the practice. Once   the breath was calm and the mind focused we began a mindful Vinyasa Flow practice, taking our dristi out the mountains beyond.
New friends were made and new terrains explored both within and without. What a wonderful yoga experience!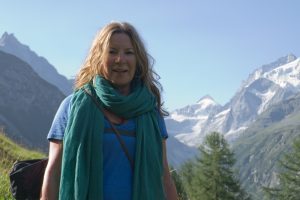 The grandeur of the mountains always make me feel small, humble by comparison, and my mundane worries in this earthly plane shrink to a more manageable perspective. Hari Om!