Khecheopalri Lake
Khecheopalri Lake is one of the most revered Buddhist pilgrimage sites and is believed to be an emanation of the goddess Tara. It's shape looks like her footprint. The miraculous part of the lake is that surface of the lake remains clean in spite of it being surrounded by the thick forest. When leaves fall on it birds fly in and instantly pick them up. There is a big full moon celebration here in Jan/Feb attracting thousands of pilgrims who float butter lamps on to the lake. That must be quite a sight and I'm sorry to have missed it.
Khecheopalri is located 27 km from Pelling, at an altitude of 6000 ft., and can be reached either by car, or along the walking trail (5 hours). I arrive by jeep and as I wander along the path decorated with prayer flags, past the tiny Lepcha village of Tsojo, towards the lake hidden behind the rich forest cover, I feel a deep sense of peace. It helps that no one is here. Close to the lake is a powder blue stupa with eyes; a small replica of Boudhanath stupa outside Kathmandu.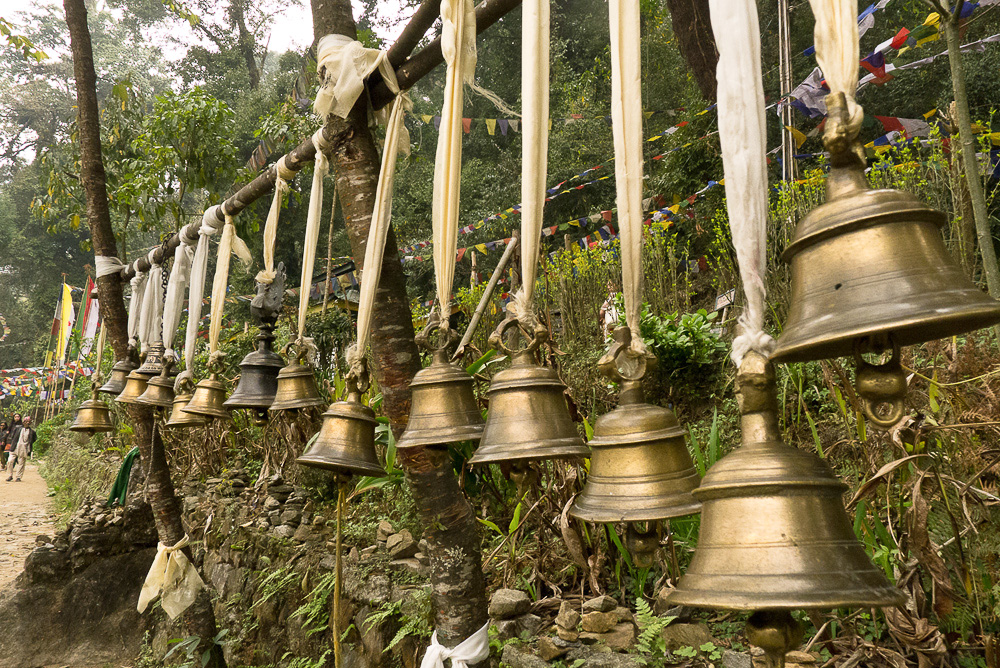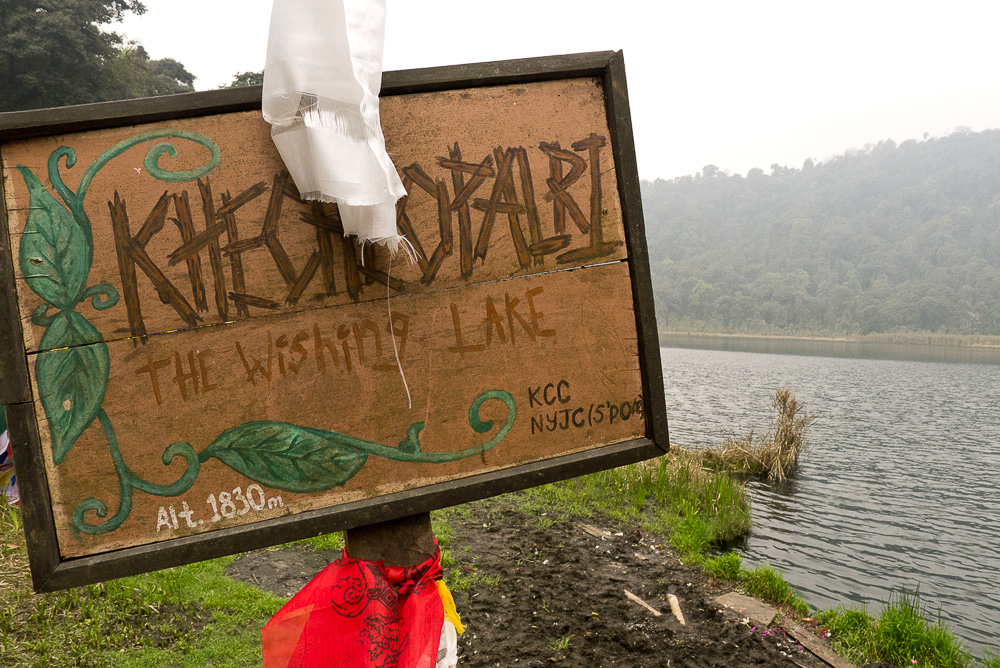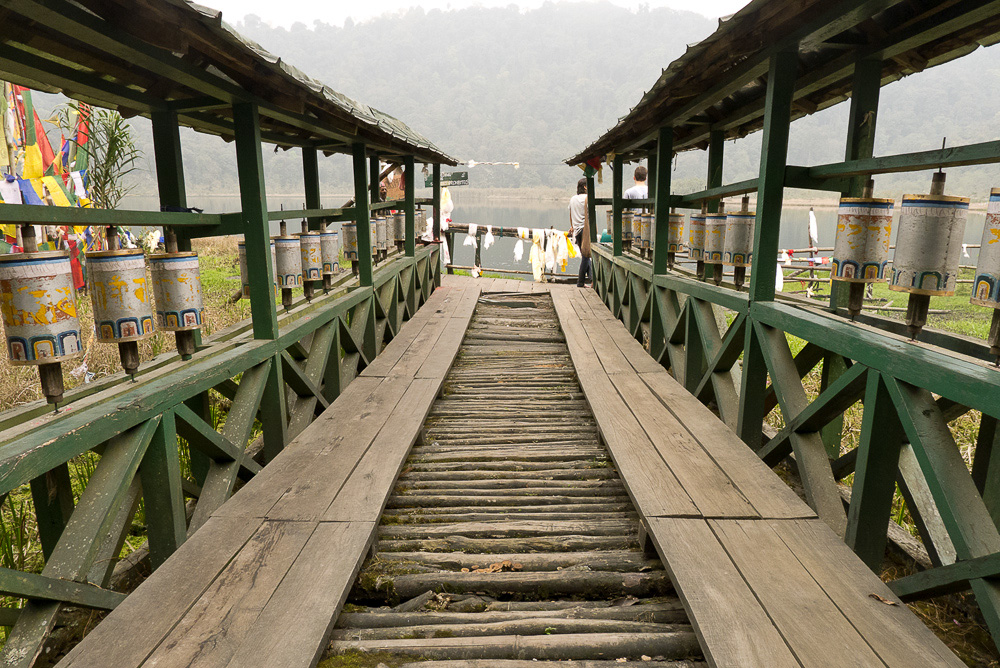 I've come to hang prayer flags for all my friends and family and for the benefit of all sentient beings. I dip them in the sacred lake, and then string them between two poles, on the far side of the lake. I feel the Dakini wind blow threw me sending all my prayers down the valley. A string of temple bells and a narrow wooden bridge, flanked by prayer wheels, leads to the lake. The water is green and dark fish swim towards me looking for food. I light some incense and receive a blessing from a Nepali priest. A noisy family of West Bengalis arrive and I head back to the parking lot and suggest to Sonam that we climb up to the Khecheopalri Gompa.
Thirty minutes later (1.5 km) we arrive at a small Lepcha village.  Time seems to stand still here. It's pastoral and peaceful. Most of the houses are wooden, painted in different shades of blue, and built on stilts. Others have woven walls and thatched roofs. Orchids decorate the balconies and a string of dried corncobs hang above the doors. 104 people live here. Chickens run wild and a family plows their field with their ox. Sustainable farming is big here. After visiting the gompa we eat an excellent lunch from truly regional produce and have a cup of tea at a guesthouse. This would be a beautiful spot to stay for a while. It's middling afternoon but we decide to hike up to the Tara Cave. The owner gives us a map and the landscape is beautiful with low-lying ferns, wild orchids, and strands of iridescent bamboo, old stupas and an occasional farmhouse. Soon the path ascends straight up the mountain. The Sikkimese are hardy people and climb mountains all day long. This path is not engineered for humans; rather it's like a fire road direct up the mountain. We meet a local farmer and his wife who are both wearing gold wellies. All of the Lepcha tribe wear these boots and I like them so much I purchase a pair in Gangtok.
Three hours of arduous climbing later, we finally arrive at the top of the mountain. There is a wooden cabin, apparently used by monks who come here to meditate or by weary travelers deciding to spend the night. A stupa stands guard outside, wrapped in old prayer flags.The Green Tara cave is medium sized and has shrine decorated with white silk katas and prayer flags. Inside the caves the vibration is calm and meditative, but it's cold and damp. I know the cave opens on to a spectacular view of Khecheopalri Lake below that looks like the footprint of Tara. Her feet grace the earth and her head is up here at the cave. But the sky is overcast and we are enshrouded in mist. We head back down, and on the way comes into view and indeed it's shape is reminiscent of a footprint.
Om Tara Tutare Ture Soham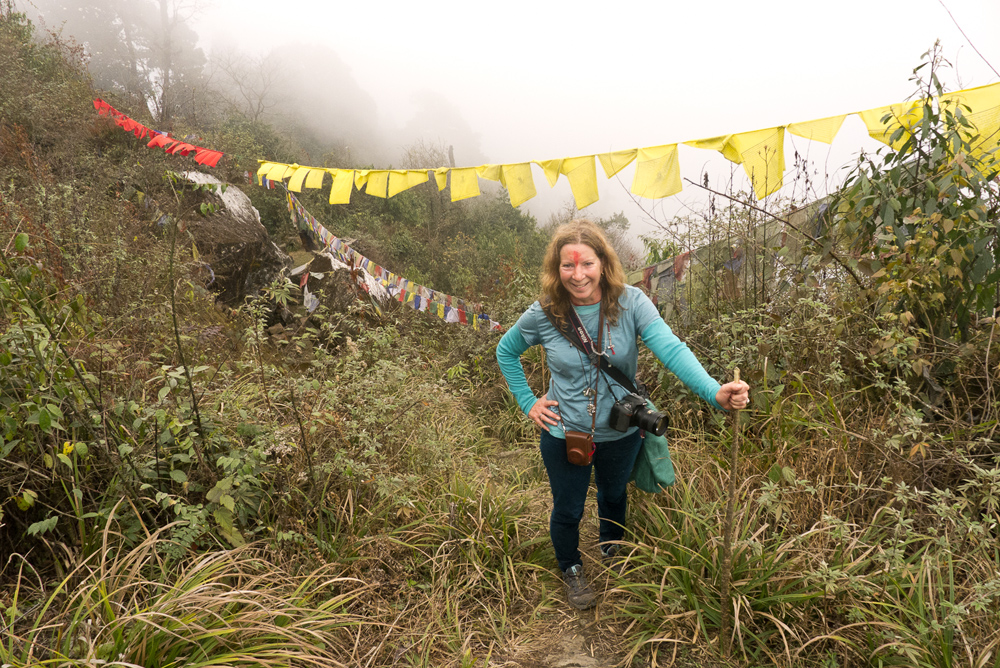 Heather Elton is a yogini, writer and photographer living in London. 
© Heather Elton 2013